Mohegan Colony Supports Lease of School to Church
We are part of The Trust Project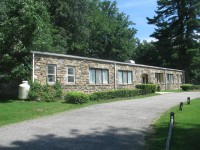 The Mohegan Colony community showed a united front last week in urging the Cortlandt Planning Board to support a change of use of its longtime school building for church services.
For two years, Mohegan Colony Association members explained financial constraints had forced them to search for a tenant in the 91-year-old building that sits on nine acres at 99 Baron de Hirsch Road, and along came Calvary Chapel of Westchester, which has been renting the facility.
"Calvary came in and seemed like a perfect fit," said Mohegan Colony Association President Lyle Puente. "We welcomed them with open arms."
Ken Belfer, who has lived in Mohegan Colony since 1987, said not being able to afford the upkeep of the building was a difficult decision for Colony residents.
"We had to come to grips to the realization that we're not the community we once were," he said. "We looked very hard at alternative uses and what would be the best fit for the Colony. We were looking at what would be the most compatible use. When the church came to us, this was amazing."
Over the years, the building, which has a capacity of approximately 100, has been used as a preschool, after school for the Lakeland School District, and meeting place. Under the proposed arrangement with the Mohegan Colony Association, Calvary would lease the property.
The Planning Board closed the public hearing and authorized a resolution to be approved at its August meeting.