News Based on facts, either observed and verified directly by the reporter, or reported and verified from knowledgeable sources.
Mixed Reaction to Chappaqua's Carbon Neutral Plan at Hearing
We are part of The Trust Project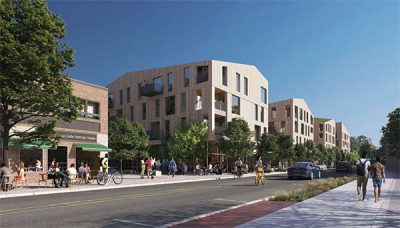 New Castle residents voiced mixed reaction last week for a proposed mixed-use development at the former Rite Aid property at 50 N. Greeley Ave. that would feature a structure that is carbon neutral.
At a public hearing last Tuesday to help the Town Board determine whether it should grant a special permit to the applicant, some speakers viewed the proposal as an exciting opportunity for the community to have the beleaguered site redeveloped. There were others who had reservations, including some supporters, about various aspects of the plan, such as density, building mass, parking or whether the applicant's request to tailor the permit and zoning for the property is effectively spot zoning.
Resident Cynthia Schames said she would like to see the site redeveloped and provide the town with an alternative type of housing while bringing some energy to the downtown Chappaqua area.
"Vibrancy is sort of lacking in the downtown," Schames said. "The fact that it's 12 percent affordable house is a step in the right direction, as far as providing a place for people to live that is more diverse than our current housing stock, and I think many of us would agree it's needed here."
Schames expressed concern that with North Greeley Avenue being a relatively narrow street and a lack of parking in front of the building, if emergency vehicles needed to get through, they might have a difficult time if cars are parked or double-parked.
Property owner Don Feinberg is proposing a building with 45 apartments with about 4,300 square feet of ground-floor retail, the majority of which would be for a diner with seating and the necessary back-of-the-house space that comes with a restaurant. There would be another 1,100 square feet of retail space in addition to the diner.
There would be one parking space for each unit plus another eight spaces – four each for vehicles that would be used by residents as part of car sharing and another four for visitor parking, said Jeffrey Davis, a member of the applicant's development team.
The residential component would feature a mix of three studio apartments, and 21 units each of one and two bedrooms. Davis said the constraints of the site, particularly the Metro-North train tracks behind the building, makes it challenging but they also want to create a project that would be exciting.
"We tried to create something different than you would normally see," he said. "We didn't want a 400-foot site that's just this one big monolith."
But another resident, Suzanne Chazin, said the renderings make the building appear too large for the site and inappropriate for downtown Chappaqua. She suggested that there should be more variation with the building's exterior appearance with varied roof lines and maybe a setback roof.
"I also think we have to consider this building is taking up an entire lot," Chazin said. "Where are you going to put the cranes, where are you going to put the construction materials? Where are you going to live with this process for a long time? I do think this is too overwhelming a building for this part (of town)."
Karin Antin, a 37-year town resident, said she understands that the site has to be improved and appreciated the efforts of the development team, but the proposed building doesn't go with the surrounding area.
"It looks like this thing landed from somewhere," Antin said. "That's how I feel, because it doesn't match the aesthetic at all of our town."
Others liked the prospect of the project adding activity to downtown or that it would be an ecologically green building. Norman Hirsch, a resident of nearby King Street, said the applicant's professionals have done a good job at making a four-story building appear to blend in with the area, a view that differs from some of his neighbors. But the town needs to try to do something to help attract people to downtown.
"I certainly believe that if you want to support the stores and downtown, we do need additional residents downtown and that's one of the reasons why I support this project," Hirsch said.
Maggie Christ said the proposal is an exciting opportunity for the town while eliminating what has become an eyesore with the abandoned Rite Aid building.
"Its owner is willing to invest time and money creating a new building that is forward-thinking and handsome. It will be an excellent addition to our downtown," Christ said. "The design is innovative and modern, bold and interesting."
The Town Board, which is lead agency, referred the application to the town's Planning Board and Westchester County.