Miller House Refurbishment Plans to Be Announced; Will Remain on Site
We are part of The Trust Project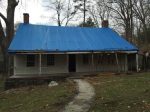 A plan to refurbish the deteriorating Elijah Miller House/Washington's Headquarters and enhance the grounds will be unveiled in the upcoming weeks with the intention of maintaining the landmark at its North White Plains site.
Last week, the North Castle Town Board unanimously reaffirmed its 2014 resolution asking that Westchester County, which has owned the 280-year-old structure and property since 1917, keep the house at 140 Virginia Rd. despite a lack of parking and being located next to a cement plant.
Supervisor Michael Schiliro said after recently communicating with County Executive George Latimer's office the plans could be made public as soon as the Town Board's Apr. 11 meeting.
"The indication I got is it's all positive," Schiliro said. "It is an exciting time to get this done."
In addition to the restoration of the house, a small structure could be built to serve as a visitor's center, he said.
During the past 10 years, efforts to refurbish the house, which served as George Washington's headquarters during the Battle of White Plains in October 1776, have bogged down in debate. Attempts have also been made to relocate the house to a more accessible site, including nearby Kensico Dam Plaza, which is also owned and operated by the county. However, groups such as North Castle's Elijah Miller House Committee, the North Castle Historical Society and the Friends of Miller House/Washington's Headquarters want to see it remain at its current location.
The house has been closed to visitors for well over a decade because of its worsening condition. A blue tarp was placed over the roof several years ago to protect the structure.
County Legislator Margaret Cunzio (C-Mount Pleasant) said last Thursday that after about a year of work, the county's Parks Department has completed design plans for the house's refurbishment. She said there could also be the addition of classroom space to make the property more attractive to the general public and school groups.
"The design plan will make it so that it will be able to be utilized not only by the public but by schools," Cunzio said. "That's something that we really wanted to be able to do, make it useful. Will it be refurbished? Absolutely, but we also want to make it attractive for events, for the public and for the school districts."
About $2 million has been set aside for the work, she said. There is the original $1.3 million bond that was approved by the Board of Legislators in 2010, plus another $700,000 county lawmakers appropriated last year, which is still available, Cunzio said. Small grants from the state and other sources are also being pursued.
Last year, there had been talk of a complicated agreement that would see the county complete the refurbishment while the town would take title to the property. Programs would have been supported by private donations. That arrangement will no longer be necessary, Schiliro said.
At last week's Town Board meeting, some residents urged the town to restore the Miller House and keep it at its current site while others said it would attract more visitors and volunteers if it were placed in a better location.
Linda Fernberg, president of Friends of Miller House and an Elijah Miller House Committee member, said relocating the house would jeopardize its landmark status. The house is on the National Register of Historic Places.
Furthermore, it would be out of place at Kensico Dam Plaza, Fernberg said.
"The dam represents something from the early 1900s," Fernberg said. "When Miller House was first constructed in 1738, with an addition in 1770, you're talking about a farmhouse that existed centuries before, and how it specifically relates to that area," she said.
Daughters of Liberty's Legacy co-founder and Elijah Miller House Committee member Cynthia Kauffman said the house would lose its historical context if moved.
"It would be nice to pick it up and put it somewhere everyone would want to see it, but what you're looking at there is just a farmhouse," Kauffman said. "The story can't be told if you move it because the location that it's in was important to it when it was a home, but it was also important when the generals were there."
John Diaconis, a board member of the Friends of Miller House/Washington's Headquarters, added that the cost to move the structure would be prohibitive and it might not withstand a move. Estimates have ranged from as much $250,000 to $500,000 for relocation.
However, other residents said Miller House is just as out of place next to the cement plant, which detracts from its historical significance. Plus, the location is extremely inconvenient for visitors.
"It's really not someplace where you would want to go," said North White Plains resident Terri Lobermann of the current site. "You may want to see the building but it's really not accessible. The (dam) property would still be North White Plains. It's a desirable location, the dam plaza. You can see it, you can drive to it and you can park there."
Schiliro said there are valid arguments to be made on both sides, but the board would support the town's committee, the Historical Society and Friends of Miller House.
"I think you can make the argument on the other side of it, that there's a historical loss if the building is moved from the property," he said. "I think we've heard that from all three of these organizations."