'Miles for Miles' Mental Health Fundraiser Set for May 31 in Armonk
We are part of The Trust Project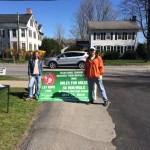 When Miles Applebaum was a student at Byram Hills High School, running on the cross-country team was one of several activities he loved to do.
On Sunday, May 31, community members will turn out on the same trails he traversed near the school's grounds to remember and honor Applebaum at the inaugural running of the Team Daniel Runs Miles for Miles 5K. Applebaum, a 21-year-old Armonk resident and talented musician, committed suicide early last fall after having battled depression.
Organized by Armonk residents Ann and Rob Laitman, the event is designed to raise awareness and money for organizations that are involved in research and help people with mental health issues.
"It really hits home and it's all very close to us," said Ann Laitman. "People are really desperate. They need answers."
Although the Laitmans hadn't previously known Applebaum and his family, they reached out about holding an event for suicide prevention. Applebaum's family wanted to focus on a more hopeful aspect of mental health, Laitman said.
The Laitmans understood the concern, having been familiar with how mental health issues can affect families. Their son, Daniel, also a Byram Hills graduate, has battled schizophrenia. After being prescribed Clozapine, he has been able to graduate college and has been working as a standup comic.
But part of his return to health, has been helped by running regularly, said Rob Laitman, which he and his wife now take part in as well. Laitman also recalled how running and exercising regularly helped his own health.
"Running for me is really what saved my life," Rob Laitman said.
The family has organized several other events under the Team Daniel name. Last year, they raised about $20,000 for organizations such as the Brain and Behavior Research Foundation, the National Alliance on Mental Illness (NAMI), the Mental Health Association of Westchester and Fountain House.
Applebaum's mother, Shari, said when she was approached by the Laitmans she wanted to participate despite the family's tragedy still being fresh.
"We're touched personally by it," she said. "I know in my heart if I could save one life it would make a world of difference."
Applebaum said that it was appropriate to hold the event at the high school not only because that's where Miles went to school and competed. Byram Hills has been at the forefront of addressing mental health matters with its students and trying to eliminate the stigma that still surrounds the issue.
Principal Chris Borsari said for the past three years the school has run various  programs to remove many of the barriers that have traditionally prevented students from reaching out. Incidents when they do happen also tend to have greater impact in a community like Armonk.
"We're a small enough community where if one family in the community is affected, it tends to affect us all," Borsari said.
Rob Laitman said with the help of the business and school communities they are optimistic that several hundred runners will participate
A treat for running enthusiasts who participate in the event is the scheduled appearance of four-time New York Marathon and Boston Marathon winner Bill Rodgers.
Miles for Miles will start at 9 a.m. The more serious runners can use the cross-country course that the school's team competes on. Walkers are encouraged to use the high school track. Same-day registration begins at 8 a.m.
For more information and to sign up, visit www.teamdanielrunningforrecovery.org.