Menu Movers: Dine Around the World in Westchester
We are part of The Trust Project
By Morris Gut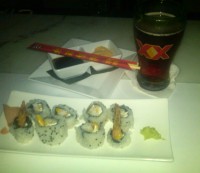 Latin Sushi Now Being Served at Sofrito
Leave it to the dynamic team at Sofrito in White Plains to come up with another tempting treat. Owner JR Morales and Executive Chef Ricardo Cordona have introduced a Latin American Sushi menu fusing Latin flavors and textures with the popular Japanese sushi roll.
Using such ingredients as avocado, sweet plantains, cilantro and sofrito, the new Latin Sushi menu offers a variety of fully cooked hand rolled options: Southern Roll, guava bbq ribs, sweet plantains, avocado, cilantro; Market Roll, asparagus, eggplant, goat cheese, avocado; Island Roll, coconut shrimp, mango, cucumber; Spanish Roll, chorizo, chicken tempura, white cheese, sweet plantains, avocado; Westchester Roll, cooked salmon, sweet plantains, avocado, jalapeno, white cheese; Chino Latino Roll, grilled spicy shrimp, cucumbers, cilantro, peanuts; Sofrito Roll, shrimp tempura, grilled pineapple, mofongo plantains; Brooklyn Roll, smoked salmon, cream cheese; and Cuban Roll, roast pork, sweet  plantains, ham, white cheese. The Latin sushi rolls will run $10 a piece.
Plans are to open the retractable windows in the main dining room to reveal the open kitchen where a chef will be preparing the Latin Sushi menu, just like sitting at your favorite sushi counter. Let Felix, the genial general manager and his staff take you through it along with the many other Latin specialties on the menu.
Special Hint: Felix tells us that a special Sunday brunch menu is coming soon. It will be prix fixe at $24.95. Also, summer hours start July 1. The restaurant will close for lunch and open for dinner and Happy Hours at 4 p.m.
Sofrito Puerto Rican Cuisine is located at 175 Main Street, White Plains.  Summer hours. The restaurant is open daily for dinner starting at 4 p.m. Bar/lounge with daily happy hours. Dancing, occasional live entertainment.  Municipal and valet parking. Phone: 914-428-5500. www.sofritowhiteplains.com
Guinea Pig Served at Peruvian Festival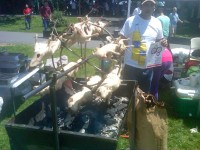 A recent episode of intrepid eater Andrew Zimmern's Bizarre Foods on the Travel Network had him in Peru tasting local specialties throughout the country. At one stop he encountered a rustic restaurant where they were raising and serving a local delicacy called: cuy. It was bbq Guinea pig, popular in the Andean regions of South America.  And during a recent stopover at the first annual Peru Food Festival & Expo sponsored in part by Westchester Hispano at Crawford Park in Rye Brook, there was a booth serving up rotisserie bbq cuy with all the trimmings. Of course, there were also perhaps a dozen other booths preparing a variety of Peruvian specialties as well. Between the entertainment and the food it was like taking a trip to Peru without leaving Westchester. It was a fun learning experience.
Ok, for those of you who are wondering about the cuy: it is similar to rabbit with dark meat like chicken. I have since learned that is high in protein and low in fat and cholesterol. And it is served in certain ethnic restaurants around the county.
Lupper at King Street, Chappaqua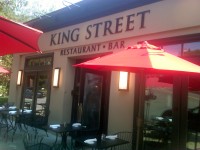 What do you call a meal that falls between lunch and dinner? It may be brunch, of course, but I have always dubbed this type of repast: lupper. Anyway, we had 5 p.m. tickets to a film at the Jacob Burns Film Center in Pleasantville last Sunday and we were early as well as hungry and we opted to go to nearby Chappaqua and visit the fairly new King Street Restaurant & Bar (formerly Grappolo Locanda). There wasn't much happening in the dining room when we entered but the friendly waitress let us choose a booth. It was a most comfortable, cool spot on this hot, sticky mid-afternoon. The space had been handsomely rearranged under its new ownership, pleasantly so. A big blackboard on the rear wall listed the daily craft beers and wines on hand.
They were still serving their Sunday brunch/lunch menu and we pondered the choices. I had been hearing some good buzz about the place from locals so I was happy to try it. We did not get carried away; it was to be a lupper meal after all, so we ordered one of their big burgers topped with the works as well as a loaded Cobb salad. Both were quite good. As we shared plates we agreed that their crispy fries were up there with the best. A cold Guinness helped wash it all down.
I must admit we were amused with such brunch options as: Red Velvet Pancakes. Owner Roy Reeves also operates The Bissell House in Ridgefield, CT.
King Street, 76 King Street, Chappaqua. Open 7 days for lunch, dinner and weekend brunch…and lupper. Seasonal outdoor patio. Phone: 914-238-9600. www.kingstreetrestaurantandbar.com
Gigi's Market Launches Hudson Valley 'Agriturismo Dinners'
Laura Pensiero, dynamic owner of Gigi Hudson Valley in Rhinebeck and Red Hook is launching another series of 'Agriturismo Dinners' every Saturday evening at her Gigi Market which is housed in a rustic barn alongside Greig Farm.
'Agriturismo' refers to a popular Italian-style of vacationing in farmhouse resorts. It allows farmers to reacquaint visitors with traditional Italian country living including food grown and prepared right on the premises. You can't get more 'local' than that. Pensiero will source ingredients right from their backyard in Red Hook and nearby Columbia County: Migliorelli Farms, Mead Orchards, Northwind Farms, Montgomery Place Orchards, Hearty Roots Farm and, next door at Grieg Farm. All meals will be served in a rustic family style including: homemade crusty breads, an antipasti course with fresh farm vegetables, and the option of local cured meats and cheeses. A main course will either be a pasta/risotto or local beef, pork or chicken along with salads and side dishes. For dessert you can indulge on ripe local fruit or rustic tarts, pies, cobblers, even homemade gelato, she says.
The 'Agriturismo Dinners' will be served every Saturday thru October. Three courses of local farm flavors for $35; children $10. Beverages will be available. Menus will be updated and posted the day of the dinner and rely solely on what local farmers have ready to harvest. Sounds great, doesn't it? A wonderful reason to visit the lovely Hudson Valley this summer.
Laura Pensiero is also the author of "Hudson Valley Mediterranean," an innovative book of stories and recipes combining the Hudson Valley bounty with her Italian roots.
Gigi's Trattoria is located at 6422 Montgomery Street, Rhinebeck. 845-876-1007. Gigi Market & Café is located at 227 Pitcher Lane, Red Hook. For information and reservations call: 845-758-1999. www.gigihudsonvalley.com
Enjoy Oktoberfest on July 4th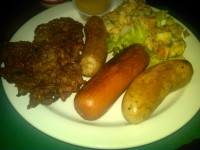 Sean Dunne of Dunne's Pub, 15 Shapham Place, White Plains, 914-421-1451, tells us he will be serving his monthly Oktoberfest menu all day July 4th, and it is a good one. We recently enjoyed the Triple Wurst Platter and it was hearty and delicious. The Oktoberfest menu is served the first Thursday of every month.
(Morris Gut is a restaurant consultant and former restaurant trade magazine editor. He has been tracking and writing about the food and dining scene in greater Westchester for over 25 years. He may be reached at: 914-235-6591. E-mail: gutreactions@optonline.net)