McKenzie Makes History as First Black Female Mayor in Peekskill
We are part of The Trust Project
History was made Saturday when Vivian McKenzie was sworn in as the first African-American woman to be mayor in the City of Peekskill.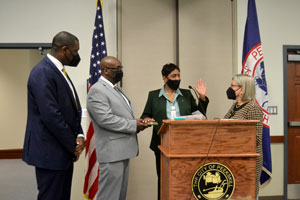 A crowd of about 200 filled the large meeting room at Peekskill's Central Firehouse in what was a celebratory event marked by countless rounds of applause and standing ovations. The two-hour inaugural ceremony also had moments of pomp and circumstance highlighted by personal recognition of many in the audience.
McKenzie, who is the third woman to hold Peekskill's top elected post, specifically named several important people in her life and those from her church, Park Street A.M.E. Zion, all of whom supported and helped her. When she spoke about being born and raised in Peekskill, McKenzie became tearful remembering her parents, prompting her husband Eric to approach the podium and hand her a handkerchief.
"My parents instilled in us strong values, morals and the importance of education, of saving money and serving your community, church and God," she said.
The historic swearing in saw high profile officials in attendance such as U.S. Senator Chuck Schumer (on zoom), U.S. Congressman Mondaire Jones and Valerie Eaton, NAACP president, both there in person. Among those present on zoom were Westchester County Executive George Latimer, New York State Assemblywoman Sandra Galef, Peekskill City Court Judge Honorable Reginald Johnson, Westchester County Deputy Executive Ken Jenkins, and Westchester County Legislator Colin Smith.
Jones joined McKenzie's husband as she was sworn in by former Peekskill Councilwoman Drew Claxton. In a heartfelt speech of gratitude, McKenzie thanked her large, extended family and those who had supported her.
"I also realized that I didn't just become mayor or accomplish the things that I have on a whim," she said. "I had the strong shoulders of other women of color in my life to stand on to reach these goals."
Schumer lauded McKenzie as a natural-born leader. "This is a great day," he said. "Vivian has always given back to this community, not only as a small business owner of Kathleen's Tea Room, but Vivian got here the hard, old fashion way, by working her way up the ladder step by step. Vivian has worked so hard on so many issues — grants for small businesses, outdoor space, revitalizing downtown Peekskill."
Schumer added that McKenzie's voice will speak out for the working poor, immigrants, exploitive workers, the elderly and for diversity. "It's a great day for Vivian, for Peekskill and for our country. This installation represents the best of America," Schumer said.
Jones had equal praise for McKenzie. "Vivian is going to be an incredible mayor. She's very talented and she will rise to the occasion. I look forward to partnering with her in running local government."
Longtime Peekskill resident and business owner Pam Johnson directly addressed McKenzie. "You were made for this," she said. "It's a new day, God is doing a new thing. You made Peekskill a place for hopeful entrepreneurs who are realizing their dreams. You will continue to move the community forward."
In his last official appearance, former Mayor Andre Rainey served as master of ceremonies.
"We have made history again in New York State," he told the audience. Rainey's 97-year-old great-grandmother gave her a blessing at the beginning of the program.
Reelected Peekskill Common Council members sworn in were Ramon Fernandez and Dwight Douglas, followed by newly elected Rob Scott. Peekskill Common Council member Patricia Riley was appointed as the new Deputy Mayor.
Also sworn-in were five Peekskill Fire Department chiefs: Fire Chief James Seymour, First Assistant Chief Michael Sniffen, second Assistant Chief John Kelly, third Assistant Chief James Sniffen and Deputy Chief John Rose.