News Based on facts, either observed and verified directly by the reporter, or reported and verified from knowledgeable sources.
McKenzie Delivers Optimistic State of the City Address
We are part of The Trust Project
Peekskill Mayor Vivian McKenzie received a standing ovation in the chamber of City Hall after delivering her State of the City address last week.
Two years ago, McKenzie made history being elected the first Black female mayor in the City of Peekskill. A councilmember since 2013, she is looking to retain her seat in November on top of the Democratic ticket that features three other incumbents on the all-Democratic council.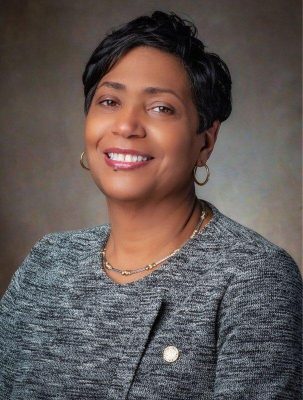 "There is no question about it, the state of the city is strong," McKenzie declared in her hour-long speech. "We will continue to grow smartly and develop the city in a way that brings us together."
McKenzie touted the diversity of the council, the city's dedicated workforce and the solid financial condition of Peekskill.
While the city's debt has decreased by $14.3 million, McKenzie said Peekskill boasts an unassigned fund balance of $7.8 million.
"The city is financially strong," she said. "We as a team are thinking smart and planning for the future."
McKenzie maintained the city has become a desirable place for many looking to plant roots, citing the 11% increase in the median sale price of homes ($481,500).
"People want to live in Peekskill. People are moving here because we are so diverse," she said. "Our city is growing. Quality of life issues are important to residents and must be addressed."