Mayer Seeks Re-election to Help Put State on the Road to Recovery
We are part of The Trust Project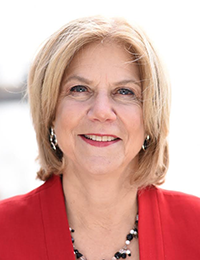 Virtually everyone is facing extreme challenges in 2020. State Sen. Shelley Mayer knows that if she is re-elected to a second full term to represent the 37th Senate District next week, her job and that of her legislative colleagues won't be easy.
The impact of the pandemic economically, emotionally and physically has left some families, businesses and schools in tatters in her expansive district that stretches from Yonkers to Bedford.
"It's an incredibly sad moment in Westchester history to have lines of people waiting for food," said Mayer, 67, a Democrat who is completing her first full term in the seat after winning a special election to replace George Latimer in April 2018.
The first item on Mayer's agenda is to help rebuild the business community, where so many of the jobs have been lost, and bolstering municipalities to avert layoffs and service cuts. The second, said Mayer, chair of the Senate's Committee on Education, is to make sure public schools are on solid footing.
Gov. Andrew Cuomo has begun withholding portions of state funding in certain areas as the state faces a more than $14 billion deficit, but is holding off on making a decision on education funding until after the election, she said.
While the state hopes for federal aid from Washington, Mayer said New York needs to combine that assistance with borrowing while increasing revenues. She favors a series of relatively small measures such as imposing a 2 percent increase in the top tax rate for those making more than $5 million, a stock transfer tax and a tax on those who own a second home in Manhattan.
"I agree you can't tax yourself out of it, but I don't think you should have blinders on and won't do any (new) tax," Mayer said. "That's were I think the governor is wrong. We need to do a combination, mindful of the fact that I guess some wealthy people could move their residence. Many are willing to be contributors to our economic recovery."
Mayer said she supports full table gaming at Empire Casino in Yonkers and World Resorts in Queens. Although the senator has been hesitant to support legalization of recreational marijuana because of opposition by many school groups, she said it will soon be approved.
"In my heart I'm skittish, but in my mind I'm pragmatic right now," Mayer said. "We need revenue. It's ultimately going to happen. It almost happened (already). I'm very worried about young children. I'm very concerned about the school community. They're really opposed to it. The PTA is opposed to it statewide, and some in the medical community.
"That being said, it's a source of revenue. I will always push to make sure that some of the revenue reserved is for schools and is not diverted to other purposes," she said.
Mayer said that nursing home visitation restrictions should be relaxed under a proposed bill with more realistic parameters. The 14-day period requiring a COVID-19-free facility before allowing visitors is too stringent and leads to residents' deterioration.
While many school districts worked hard to switch to remote learning on the fly last March and devise plans for this academic year, Mayer said the pandemic has widened inequities. She has proposed a bill to provide universal broadband for all students at home and school buildings, a significant enough number of which still have substandard connections.
Mayer said foundation aid needs to be revised and districts should be repaid what is owed them. She backs a plan to move a portion of the school property tax burden to an income-tax based system.
The senator defended many of the legislature's bail reform measures that increased the number of suspects who were released without bail for nonviolent offenses. She said revisions were made early this year to incarcerate the repeat misdemeanor offenders and expand the list of crimes eligible for bail.
Spikes in certain crimes are more likely a result of the state releasing suspects because of the pandemic, Mayer said. However, the reforms needed because poor people and people of color were disproportionately being held for minor offenses, she said.
"The unions, in particular, and some of the chiefs and some of the more conservative elements in our communities misrepresented the changes that we made," Mayer said. "We were responsive to our communities. I fought hard for them. I didn't get everything I wanted. We made substantial improvements that didn't take away from the basic premise (that) your wealth shouldn't determine whether you're in jail."
Mayer supports expanded health care coverage but isn't necessarily on board with the NY Health Act. She said ideally the federal government should address widening coverage.
Last year's passage of the Climate Leadership and Community Protection Act was one of the strongest environmental bills in the nation, Mayer said, which calls for a 40 percent net reduction in carbon emissions by 2030 and 85 percent by 2050.
She backs the $3 billion green referendum that was postponed for at least a year.
Mayer said she enjoys fighting for all constituents in a diverse district.
"I'm very proud to have this job," she said. "It's an unbelievable opportunity but it's a tough time."