Medical Examiner: Mary Kennedy Died from Hanging
We are part of The Trust Project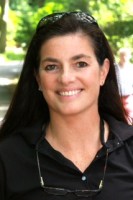 Mary Richardson Kennedy, the estranged wife of Robert Kennedy Jr., was found dead in her Bedford home early Wednesday afternoon in an apparent suicide.
The 52-year-old Kennedy was found in the family's home on Route 172 shortly after 1:30 p.m., according to Bedford police.
The Westchester County Medical Examiner's office did an autopsy on the body of Kennedy on Thursday.
"The cause of death was put at asphyxiation due to hanging," an official statement released by the medical examiner said.
The family has yet to release a statement.
Two years ago her husband and environmental lawyer, Robert Kennedy, had filed for divorce.  The couple had been married for 16 years and had four children.
Days after divorce papers were filed, Mary Kennedy, who was his second wife, was charged with DWI. A month after her first arrest, she was charged with driving under the influence of drugs.
Longtime friend and Katonah resident Peter Michaelis said he was deeply saddened when he heard of Kennedy's passing on Wednesday afternoon. Friends since they were 17 years old, Micahelis, who attended Brown University with her, said Kennedy was passionate about her family and her career as an architect.
"She was a wonderful person going through a tough time," Michaelis said.
Kennedy was involved in a number of causes over the years. The family had retrofitted their home at 326 Bedford Road to be a model of green technology and provided visitors with tours of the home when they hosted the 2009-10 Boys & Girls Club of Northern Westchester's Youth of the Year Awards in April 2010.
On Wednesday night, no information regarding arrangement was available.