Mariano Rivera Honored at Friends of Karen Benefit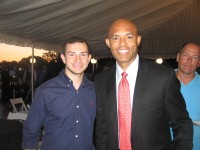 As phenomenal as his record-breaking career was with the New York Yankees as Major League Baseball's most dominating relief pitcher in history, Mariano Rivera's accomplishments on the field actually pale in comparison to his philanthropic successes, especially for children causes in the United States and Panama.
One of the many organizations where Rivera, who retired last year and resides in Harrison, has made a difference is Friends of Karen, which provides emotional, financial and advocacy support to children with life-threatening illness and their families in order to keep them strong, functioning and able to cope.
Rivera was honored Saturday night with the Humanitarian Award by Friends of Karen at its "An Evening in Venice" benefit at the Mamaroneck Beach and Yacht Club. Former White House Press Secretary Ari Fleischer and his wife, Becki, received the Sheila W. Petersen Award, named after the Somers resident who founded Friends of Karen in 1978 after her friend's 16-year-old daughter, Karen MacInnes, was diagnosed with a terminal rare genetic disorder.
Last year, Friends of Karen helped a record 1,480 children (581 ill children and 899 of their siblings) and their families in 22 counties in the tri-state region.
Executive Director Judith Factor relayed a story about Rivera where on December 21 he visited a fifth grader from West Harrison being treated for Hodgkin's Lymphoma. With signed memorabilia in hand, Rivera surprised the child at his home and brought a smile to the face of a young Yankees fan.
"It was an act of kindness to lift the spirits of a family and a child that were having a rough time," Factor said.
In addition, Rivera offered words of encouragement to families at an event produced by Acura of Westchester and has donated autographed baseballs, caps and jerseys to sick children and their siblings.
In accepting the award, Rivera downplayed his efforts and called those involved with Friends of Karen "the heroes."
"The Lord has blessed me a lot. My heart feels when I see families going through this," he said. "That is something we need to change as a team. It's a privilege and an honor for me to be with so many kind and loving people. I wish the world would have tremendous people like you guys. You come to love, like I did. This is a beautiful event."
Rivera then proceeded to auction off a signed jersey and a baseball clinic run by him that whipped the crowd into a frenzy and raised thousands of dollars for Friends of Karen.
Ari Fleischer, who lives in Pound Ridge, took a moment to recognize Rivera's willingness to selflessly give back.
"He's the most generous person you'll ever run into," he said. "Mariano, you made me happy for saving games. Now you've made so many others happy by saving lives."