Maria Fareri Doctors Successfully Separate Conjoined Twins
We are part of The Trust Project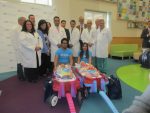 A groundbreaking procedure performed at Maria Fareri Children's Hospital last week has given a pair of baby girls a chance at a normal and healthy life.
A team of more than 50 medical professionals separated 11-month-old Ballenie and Bellanie Camacho, who were conjoined at the lower back, in an operation that lasted more than 21 hours starting on Jan. 17.
It is the first time conjoined twins were separated at the Valhalla children's hospital and is believed to be only the second time in medical history that minimally invasive laparoscopic techniques were used to separate twins joined at the sacrum, an area near the base of the spine.
Led by pediatric surgeons Dr. Samir Pandya and Dr. Whitney McBride, the medical team required months of preparation and coordination among doctors from various specialties. Numerous preliminary operations were required before the separation could be attempted.
Parents Laurilin Celadilla Marte Camacho and Marino Abel Camacho, who traveled from their home in Moca, Dominican Republic, said they felt blessed to have the hospital take on such a risky operation to help their family.
"Our family does not know how we can ever repay everyone for the happiness that you have given us," Laurilin Camacho said through an interpreter during a Tuesday afternoon gathering at Maria Fareri Children's Hospital that included an appearance by the two girls. "We thank you from the bottom of our heart and ask that God bless each and every one of you."
Barely a week after the surgery, doctors said the girls were recovering nicely. They are alert, eating well and moving all their extremities. While still early in the recovery process, Pandya and McBride said the medical team is optimistic that Ballenie and Bellanie will lead full and normal lives.
"At this point the girls are going really well," Pandya said. "We're very happy with the progress. There are a few things that we're wanting to get through, and once we're happy with the condition and how they're progressing, we're going on to the next level of care."
It is not known how long the girls will remain in the hospital, but there will be extensive rehabilitation needed to enable them to learn to walk. It will also take more time to see how their reproductive organs function as well as excretion of their waste, Pandya said.
The Camacho family's journey to Maria Fareri Children's Hospital began last spring when the twins' condition was brought to the hospital's attention by a family friend who knew a staff member.
The hospital is a member of the Westchester Medical Center Health Network, a leader in telemedicine to help its patients connect with off-site doctors throughout the Hudson Valley.
They used that capability to communicate with the family and medical professionals in the Dominican Republic to evaluate whether the twins would be candidates for the procedure, said Dr. Michael Gewitz, the physician-in-chief at Maria Fareri Children's Hospital.
"Once we felt there was a viable and reasonable chance of success we brought them here for further evaluations," Gewitz said.
Preliminary operations included the girls undergoing tissue extender procedures to expand the skin surface so plastic surgeons would be able to close each baby's wound after separation.
Four teams consisting of general surgeons, plastic and reconstructive surgeons, pediatric orthopedic surgeons, pediatric neurosurgeons, urologists, pediatric nursing teams and pediatric anesthesiologists needed to be assembled for the marathon surgery.
The operation began shortly after 6 a.m. on Jan. 17 and separation was completed by about 10:30 p.m. The children had gastrointestinal connections and McBride and Pandya collaborated with Dr. Paul Zelkovic, a pediatric urologist, to separate the bladders and reproductive areas. Pediatric orthopedist Dr. Damon Delbello separated the girls near the base of the spine.
Post-separation work continued until about 4 a.m. on Jan. 18.
Despite the complicated nature of the procedure, particularly separating an artery branch and the spine, McBride said everything proceeded rather smoothly. A chief concern was the possibility that one or both children could be paralyzed.
"This was a relatively high-risk portion of the procedure as well as the spinal cord portion of the separation that required careful planning, and we were able to successfully divide a major blood vessel without any blood loss and both twins remained intact," McBride said.
Pandya credited the use of highly advanced 3-D reconstruction and 3-D imaging in their surgical planning, which gave surgeons a clear picture of how the babies were conjoined in advance of the main operation.
McBride said that once the girls, who will celebrate their first birthday on Feb. 4, are healthy enough to go home, the medical team will be able to monitor them through the telemedicine technology. Since the Camacho family has relatives living in Queens, they will be able to return to New York for future evaluations if needed.
The day before the operation Pandya recalled a conversation with the twins' father that he was able to use as inspiration for himself and the rest of the team.
"You lose every battle that you don't participate," Pandya recalled Marino Camacho telling him. "Tomorrow you go to battle for our daughters. We pray for you and we go to battle with you."
"That stuck with me," Pandya said. "I shared that with all the team members and for me it gave me a lot of courage. I think for all of us it gave a lot of courage."
Twins who are born conjoined occurs about once in every 200,000 births, according to the hospital.