Manhattanville College Dance Program Featured on PBS's 'Let's Learn'
News Based on facts, either observed and verified directly by the reporter, or reported and verified from knowledgeable sources.
We are part of The Trust Project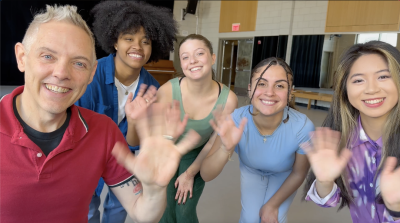 Manhattanville College dance students Jessica Bessler, Danielle Chu, Alexa Rivera and Paije Pasols, along with Professor/Program Director Shawn Bible, recently had the opportunity to develop an educational segment for the PBS program "Let's Learn."
Professor Bible was approached to work on a segment for the show and put together content for a pitch script and test footage.
"When they approached me about doing a segment, I was astounded," recalled Bible, an Ardsley resident who has taught at Manhattanville for the past six years. "I have always watched and supported PBS and was now in a position to create content for them. It is a dream come true."
Bible explained that PBS gave him specific directions for his pitch.
"I was asked to create a segment around concepts of mathematics," he said.
"The show they were currently developing was related to mathematical skills and problem-solving. They asked me to create a segment using spatial awareness as an elemental skill of mathematics. From there, we met several times and developed a more focused narrative around the specific concepts of personal and public space and the three pathways we teach in dance: straight, curved and zig-zag."
Bible said the process of going from idea to execution was pretty linear.
"Since dance can be used to teach just about any subject, it was beautiful to develop this connection between two different subjects," Bible explained. "We developed a script that went through multiple rounds of editing, and I did a few test shoots in the dance studio to illustrate lighting and sound in preparation for the actual video shoot."
He soon heard back from PBS that the segment was approved, at which point he recruited a small, diverse group of four dance students to represent the college and the program.
The group worked together in the on-campus dance studio in January and filmed footage to educate children three to five years old on the connection between spatial awareness and math. This was new territory, especially for Bible, who has taught college-age students his entire career.
Bessler, a senior, said the experience was "was very different, especially given our younger audience. It was an interesting process learning how your mannerisms, the colors you wear and the way you speak affect our younger viewers and the simple and steady process in which they learn."
While this was a new experience for the students, they were prepared for the process after taking courses tailored to dance outside the theater space, most notably Dance on Camera.
Rivera, also a senior, took this course, as well as several digital media production classes through the communications and media program. She felt "the process was like what we experienced in the classroom. This project took it to the next level, but it helped to have that background to understand how everything works and what we needed to do to get great footage."
For Pasols, it felt like a full-circle moment. Pasols watched PBS frequently as a child and believes, "When you're that young, your mind is so sculptable. It's so cool that the roles are reversed, and I, along with the rest of the dancers, get to be the ones who hopefully spark something for at least one kid."
Chu is also a Clark Scholar on-campus and volunteers with several programs that work with youth groups in the community by participating in games and educational activities. Chu sees a natural connection between movement and education.
"(I'm) grateful to be using dance to help educate my community…[it] provides a universal language for everyone to learn," she said.
Bible insisted that he was unfazed by tackling mathematics.
"Actually, it was invigorating," he said. "I am the type of artist that loves a challenge and subject matter I haven't worked with in the past. While dance inherently involves a great deal of math through moving dancers around stage in geometric patterns, counting complicated music scores and dancing on syncopated rhythms, I've never approached movement to communicate such elementary concepts. It was refreshing to scale back the movement so that its intent is not decorous, rather intellectual in composition."
Instead, what really stressed him out was performing to a much younger audience.
"That was my biggest concern. It has been a considerable amount of time since I have taught or engaged with young children. The youngest age group I generally teach is high school, but almost always college age. I had to dissect the script, the movement and the presentation of the human body to be appropriate for young kids. It was a distinct pleasure to analyze my pedagogy and revisit curriculum through a different lens and age group.  It's also very humbling to work with children."
The segment will air as part of episode 1211 ("There's a Silent 'e' in Kite!") on Thursday, May 25 in the WNET viewing area. The episode will be available online at www.letslearn.org/episodes.