Man on 800-Mile Trek to Promote Trail Traveling Through Area
We are part of The Trust Project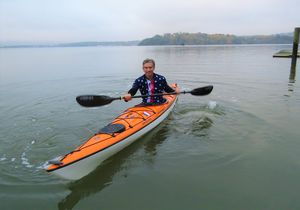 Sal Lilienthal, director of a bicycle tour company, is planning to bike 33 miles along the North County Trailway, then kayak 1.5 miles across the Hudson River.
The bike ride will take him into Yorktown Heights, where a ceremony will take place at noon, with reenactors, at the memorial honoring the First Rhode Island African American Regiment.
The trip will continue to King's Ferry in Verplanck. The French and American Armies crossed the Hudson River between Verplanck's Point and Stony Point, an enormous 18th Century logistical undertaking for more than 10,000 people and equipment. At 1:30 p.m., from Verplanck's boat launch, the kayak section crosses over to West Haverstraw's Hudson Water Club for a reception.
Members of the 5th New York, Dillon's Irish, and 1st Rhode Island Regiments will escort Lilienthal from Yorktown to Verplanck Point and across the Hudson to West Haverstraw.
Jeff Canning, a resident of Cortlandt and former president of the Van Cortlandtville Historical Society, will be riding a support van.
In addition to promoting the trail's historical component, goals of Lilienthal's trek also include economic development between the big cities, a healthy lifestyle and preparing for the country's 250th Anniversary in 2026.
A link to the Washington-Rochambeau Bike and Kayak Tour can be found at:
https://w3r-us.org/washington-rochambeau-2021-bike-kayak-tour/.