Mahopac Students, Teachers Save Boy from Choking
We are part of The Trust Project
William, a sixth-grader at Mahopac Middle School, was walking through the hallway with a friend during change of class on Friday, Nov. 12 when the friend suddenly stopped and started motioning toward his throat. Then the boy's face turned red, and a terrified look came over him.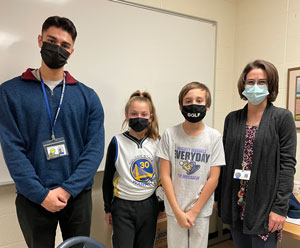 Thinking fast, William ran into a classroom, where Jenifer Maloney was preparing to teach her MMS Success class and Michael DiLeo was gathering his things after teaching a Spanish class.
"Help, Help," William yelled. "My friend is choking!"
Maloney has taught in the Mahopac Central School District for 22 years and, like all teachers, has had training in life saving. DiLeo, a first-year teacher in Mahopac, had also received training when he worked as a lifeguard.
"We looked at each other and just said, 'Ok, here we go,'" DiLeo recalled.
Maloney quickly jumped into action. She grabbed the boy and tried to perform the Heimlich maneuver, wrapping her arms around him and pushing her fist into his abdomen. The Lifesaver that was blocking his windpipe remained lodged in the boy's throat.
"He had his backpack on, and it didn't work," Maloney said. "It was terrifying."
She pulled the boy's backpack off and asked DiLeo to step in while she directed the other students out of the classroom and into the gym.
With the backpack removed, DiLeo tried the Heimlich again, and this time, the boy started breathing.
"The Lifesaver didn't pop out," DiLeo said. "It moved enough so he could breathe, though."
The minute the child could catch his breath, he began to calm down.
It had all happened so fast that the teachers did not even notice 11-year-old Abby was in the classroom. When she heard the commotion, Abby did not stop to ask permission. She just ran to the school nurse's office to get help.
"Someone's choking," Abby yelled to the nurse.
When asked how she knew to get the nurse, Abby said: "It was instinct."
Abby and the school nurse ran back to the classroom. By the time they got there, the boy was already breathing again. Then the Sheriff's deputy arrived and transported him to Putnam Hospital Center where he was soon released.
"It felt like it took forever," Maloney said. "But it was probably really just seconds."
Scott Sterbens, the boy's father, said he knew all was well when he got to the hospital and saw his son smiling.
"The school was fantastic," Sterbens said. "The teachers deserve as much credit as they can get. You never know how you're going to react in a situation like that, but the teachers definitely did exactly what they were supposed to do. Even the 11-year-olds knew not to wait, just run and tell someone. We really want to thank everybody that was involved."
The boy, who the district is not naming for privacy reasons, posted on Snapchat thanking his friends, teachers, first responders and others who came to his rescue.