Mahopac Students Select Wolf Pac as New Mascot Name
We are part of The Trust Project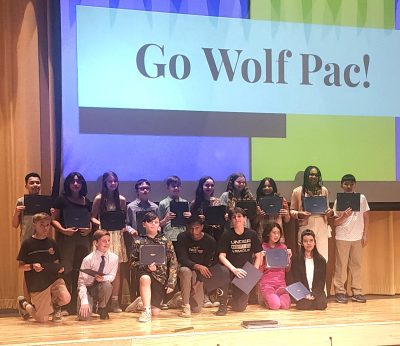 Students in the Mahopac School District have chosen Wolf Pac to replace the longstanding Indians mascot.
In April, the Board of Regents voted unanimously to adopt a regulation reinforcing the Education Department's position on The Dignity for All Students Act that addresses using Native American symbols or depictions. The Education Department first recommended the changes in 2001.
The Mahopac School District is one of about 2,000 nationwide that still use a Native American as a mascot, and one of about 60 in New York.
On May 16, students from kindergarten through 12th grade voted electronically among three choices narrowed down by a Mascot Selection Committee: Mavericks, Mustangs or Wolf Pac.
During a presentation before the Board of Education May 17, it was revealed that Wolf Pac was the top selection that "embodies the Mahopac spirit, provides school district recognition and invokes pride and enthusiasm."
The Board of Education is scheduled to officially adopt Wolf Pac as the new mascot and transition plans on June 15.
Last December, the Board of Education decided to only put an "M" on the new artificial turf field being installed, instead of the "M" plus arrow and feather the district has used for several years since it dropped headdress imagery.
School districts have until the end of the 2024-25 school year to remove all Native American references, but can request an extension if needed.
Legislation has been introduced in the Assembly and Senate to provide financial relief to all districts statewide that are being forced by the state Board of Regents to eliminate using Native American mascots, team names and logos.
Mahopac School District officials have estimated it will cost about $500,000 to change the Indians mascot districtwide. Mahopac Superintendent of Schools Christine Tona has said the largest expenses with the mascot change are with signage, uniforms and field alterations.