Mahopac Spinning Heads, Indians Defeat Yorktown, Nisky
News Based on facts, either observed and verified directly by the reporter, or reported and verified from knowledgeable sources.
We are part of The Trust Project
Huskers Retain Murphy Cup; Class D Pleasantville Still No.1 in NYS
By Ray Gallagher, Examiner Sports Editor @Directrays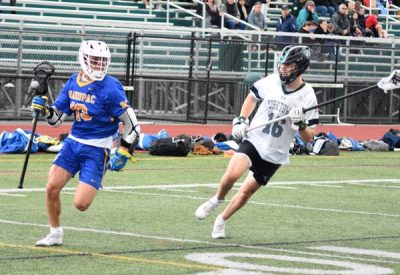 It was May of 2011 the last time state-ranked (No.7) MAHOPAC knocked No.6 YORKTOWN from its mighty perch on a late tally from rain-soaked senior captain Anthony Berardis. More than a decade had passed before Mahopac junior A Danny Koch ripped one past Yorktown's bonafide freshman G Hunter Mezzatesta with 1:52 remaining to cap a thrilling 8-7 come-from-behind victory for the visiting Indians last Thursday at Charlie Murphy Field where Indian senior G Tommy Jacobellis held off a few furious last-ditch attempts from Coach Tim Schurr's Huskers. Yorktown went on to defeat LAKELAND/PANAS, 12-4, in Saturday's fabled Murphy Cup game where they are now 30-3 in the "rivalry" series, while Mahopac went on to stun state-ranked No.2 Niskayuna, 13-10, in an upset that caught the eye of both Section 1 and NYS laxers.
These few games told us much about the forthcoming Class B postseason, which has one giant monkey wrench in the form of HORACE GREELEY, the current top seed in Class B, which has passed a few moderate tests, including a 16-10 win over Class C BYRAM HILLS last week and a 7-4 win over Class A CARMEL, neither of which are head-spinning triumphs, but wins nonetheless. Those wins that have vaulted the Quakers (11-0 in Section 1, 11-1 overall) to the coveted No.1 seed, which comes with home field advantage through the semis before it all ends at Charlie Murphy Field in early June, where Yorktown, should it be so fortunate, would have the home field edge.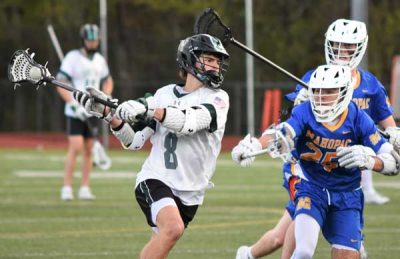 That edge provided nothing last Thursday when nary a soul from its infamous fan base – the Crop – turned out to support the Cornhuskers #WhatsUpWithThat. Same goes for the Mahopac Maniacs, who were nowhere to be found. Luckily, some diehard parents were on hand to witness a gem of a game, which went back-and-forth, but it was ultimately Mahopac FOGO Chris Morris, who provided the Indians (7-3 Section 1 , 7-5 overall) with more possessions and cranks at the cage by winning 12 0f 19 faceoffs and scooping seven GBs.
"We've taken a lot of punches throughout the years," Mahopac Coach Jon Bota said, "but Chris Morris has been a phenomenal faceoff guy for us at the X. He's been heating up the last couple of games. He has that wrestler mentality, which makes him one of the toughest kids on the team.
"It's been a while since we beat this team, and it feels good, but I firmly believe we'll see Yorktown again, so we wanted to go out all and push the limits, so this is definitely a good win for us," said Mahopac Coach Jon Bota, who also pushed his team to the limit in Saturday's upset of Niskayuna, who certainly prepped the Indians for their playoff push. Mike Rettberg spotted the Indians a 6-3 lead at 8:11 of the third before Yorktown scored four unanswered, two from freshman Gianluca Marchini, who looks like a keeper. Justin Meyreles and Aiden Boyle scored the other two for a short-lived 7-6 lead. Mahopac's Gavin Viglucci tied it at 8:40 of the third with a nifty, momentum-shifting, twine-tickler before Koch nailed the GWG.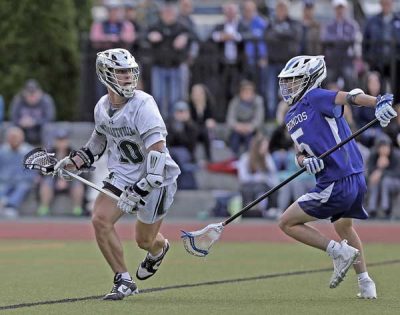 Nisky made the mistake of leaving lefty-cranking Jake Degnan (4G, 1A) alone on the wing and the All-Section senior made them pay. Koch (5G, 1A), Rettberg (2G, 2A), Ryan Geoghegan (2G, 2A), John Kearney (1A), Nolan Keenan (1A) and Morris (14/27, 11 GBs) were huge in front of Jacobellis (16 saves), who stood on his head in perhaps the finest performance of his career.
"This is just another chapter for us kind of getting this program back on track again," Bota said. "Coach Haddeland and I tried to impress upon the team how important it is to get over the hump with teams like Yorktown (and Nisky) in order for us to be successful, and I think the guys understood that."
Everyone understood that the two teams could meet again, depending on how the seeds shake out. It could be in the semis on the same side of the bracket, as the current No.2 (Yorktown) and 3 (Mahopac) seeds, or in the finals if Greeley stumbles against John Jay CR and loses its grip on No.1.
"We might see them again, they're very good," Coach Schurr said of the Indians. "They played hard today. I know we had chances to win. Our defense didn't play very well today. That was the difference. We gave up a lot of goals and they were better. I have no idea how this is going to shake out, but they're very good."
Jacobellis (11 saves) was stellar between the pipes and he'll need more games like that if the Indians are going to overcome any deficiencies they have with a much-improved defensive unit, which opened the season with question marks that were not evident in the win over Yorktown.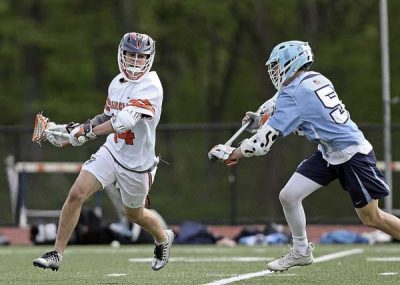 "I have full trust in my defense," Jacobellis said. "I knew we were going to make the stops late to win the game. I knew that once I made the save, the outlets would be there and we were going to make the play and win the game. We have full trust and faith in our coaches to put us in a winning position. To this point, this is probably the biggest win of my career, but we have a feeling we'll see these guys again in June, hopefully."
The Saint John's-bound Koch finished with three goals and two assists with his future Red Storm coaches taking in the action.
"It was nice to put on a show, but I have to thank my teammates, who have the confidence in me, even when I turn the ball over or something they always find a way to help me out of it and keep me positive and working hard," Koch said. "It's a nice win, but we know we'll see them again.
"We were man-up on the goal and Jake (Degnan) made a nice feed. I caught it. I saw a lane and I ripped it top right. It was a good feeling for sure. They're a great program, always have been, so it felt great to beat them for the first time in like 10 years. We're finally ready, but we need to keep preparing."
Husker A Jack Duncan put up two goals and two assists in the win over the Rebels (5-8) while Dylan DelVecchio notched a hat trick. Weissman (2G, 1A), Aidan Boyle (1G, 2A) had multiple points while Gianluca Marchini, Connor Fastiggi, Chris Constantine and Ryan Cane each scored once to support Mezzatesta (7 saves).
Will Moore scored twice for the Rebels while Kyle Gallagher (1A) and Justin Stabile added one apiece.
Greeley passed a big test when Connor Lummel scored seven points in the win over Byram Hills, including three goals and four assists. Jameson Blakeslee (4G, 1A) and Jack Holub (4G) were also unstoppable for the state-ranked (No.11) Quakers, who were threatened by the Bobcats before scoring six in the final stanza, much of it behind the playmaking skills of Matthew Byrne (1G, 5A). Bobcat Gavin Javorsky (5G) did what he could to keep Byram afloat for the three quarters of back-and-forth action.
CARMEL's Matt Risley and Thomas Connolly had the Class A Rams up 3-1 before Greeley bounced back for a 7-4 win. Ryder Goodman (1G), Blakeslee (3G, 1A), Jack Holub (2G) and FOGO Ethan Stogsdill (11 for 14 at the X) turned the tide in Greeley's favor while G Toby Moskow posted 10 saves for the Quakers.
SOMERS had a chance to open some eyes but fell to John Jay – CR, 12-7, despite three goals from Grayden Carr and three assists from Mac Sullivan as the Tuskers (5-8) slipped to the No.4 seed and lost for the fifth-straight game against some extremely tough competition (Ridgefield, Greeley, Rye, Yorktown).
FOX LANE started off a solid week with a 17-6 win over BREWSTER, who saw Jack Ciccheli tear up the Bears (2-8) with five goals and four assists. Ryan Nathan (3G, 2A) and Tate Morrow (3G, 2A) each had five points for the Foxes (5-7), who also manhandled Harrison, 17-5 behind another six goals from Cicchelli (3A). Tate Morrow (4G, 1A) added a five-point night while Jordan Gruber and Declan Connors tickled twine twice.
L/P made short work of PUTNAM VALLEY in a 15-1 win over the visiting Tigers, who have lost three in a row, including a 12-7 clunker to Brewser, and had no answers for Rebels Michael Pisacreta (3G, 2A) and Moore (3G, 1A).
CLASS C/D
With four of the locals amidst the top 13 of NYSSWA poll, the Section 1 playoffs figure to be insane with No.1 PLEASANTVILLE, No.6 BRIARCLIFF and No.13 HALDANE joined by No.4 Bronxville. This should make for quite an interesting postseason.
Erik Coleman has been on fire for the Panthers but knows there's work to do.
"As a team, we have been playing pretty well, but there's always room for improvement," he said. "Going forward, we need to be at our best and continue to play together as a team.
It was Coleman who led the Panthers with two goals and two assists in a 7-5 win over Byram Hills, who played a tight zone defense, which might be the blueprint to slow down Coach Chris Kear's Panthers (13-0)   .
"They play a good zone defense and the goalie is pretty good, but we played a sloppy game," the coach said.
Nick Reich (1G, 2A), Aidan Cotter (1G), Daniel Picart (1G) and Michael Hundzynski (1G) helped to unlock a 3-3 deadlock while G Andrew Nessel (9 saves) did his thing. Sean Siegel (2G), Alex Kahn (1G) and John Chicoine (1G) scored for the Bobcats (5-7), the current No.9 seed in Class C.
P'Ville has a huge finish ahead of them as they take on Pelham, Briarcliff and Westlake to close out the regular season.
HALDANE junior Evan Giachinta took care of three milestones in a 15-1 win over Pawling, dropping two goals and three assists to amass 100 career goals, 100 career assists and 200 career points, just the fourth Blue Devil to do so.
"It was a special day for both Evan and our program," Haldane Coach Eddie Crowe said. "He is a great young man, who has put a lot of time and effort into his craft and helping our team succeed."
Zach Cannova and Rowen Kuzminski each added three for the Blue Devils (11-2), winners of six in a row with two major tests on the upcoming docket, including Briarcliff and Chenango Forks.
HEN HUD's Dean 'The Dream' Hiltsley scored his fifth goal with 2.2 seconds left in OT to send the Sailors back home over the Tappan Zee bridge in one heck of a mood with a 7-6 victory.
The Sailors (8-5) came out on fire and took a 6-1 lead but complacency sunk in before Logan Moore and Dean Pastalove found the back of the net. Thomas Popolizio (2A) was a monster at both ends and G Aidan Mazzoni (17 saves) came up strong for the Sailors, who have won five of the last six and hold the No.6 seed in Class C.
"It was a big team win for us over the bridge," Hen Hud Coach Troy Lepore admitted. "Quite a rivalry we've developed between us and TZ. Love their coach and their team over there. It was a good bounce-back win after just not competing and falling flat against John Jay."
In the Sailors' 11-2 win over OSSINING, Hiltsley (5G, 1A), Popolizio (2G, 3A), James McManus (2G, 2A), Logan Moore (1G) and Dylan Lennox (1G) all found the back of the net while G Aidan Mazzoni had 10 saves on the Pride (4-8), the current No.9 seed in Class A field that features state-ranked (No.6) Scarsdale, No.12 Mamaroneck and very little else, perhaps top-seeded North Rockland (10-2), which has very few, if any, quality wins, and No.4 Carmel (7-6), much the same, which hung on for an 11-10 win over Arlington behind several strong performances, including Thomas (5G, 2A), Risley (2G, 3A) and Adam Boehiem (2G).
CROTON's Sean Grimes bagged a hat trick and won 19 of 21 faceoffs in a 14-6 win over North Salem, who also had no answers for Noah Bovone (4G, 3A), Bryce Laemmel (2G, 2A) and Casey Trapasso (2G, 2A). The surging Tigers, winners of three in a row got an eight-point effort from Carter Schmidt (5G, 3A) in a 10-8 win over Ossining. Bovone (2G) and Casey Trapasso also scored for the Tigers (5-6), the No.9 seed in Class C. Jacob Miller (2G, 3A) and Nick Gallery (3G) kept the Pride close.
Ossining was also bested, 10-9, by a two-win BREWSTER club that saw Josh Walsh provide the highlight of the Bears' season, including the game-tying and game-winning goals in the waning moments to finish with five goals and three assists. Joe Anfuso (2G, 1A), Paul Rienzi (2G) and Luke Cunningham (1G, 2A) helped to offset a six-goal effort from Miller.
The Bears also posted a 12-7 win over Putnam Valley when Anfuso (6G, 1A) put up seven points. Jason Weller (2G, 1A), Luke Cunningham (1G, 4A) and Josh Walsh (1G, 3A) all had multiple points for the Bears. Andrew Grippo (2G), Chris DeGiorgio (4G, 1A) and Caden Glenn (1G) scored for PV.
The one thing you can say about BRIARCLIFF is that the two-time reigning sectional champion Bears (5-8) will be battle-tested, despite some tough losses, including an 8-4 setback to Yorktown, which saw Weissman (3G, 2A) dunk on the Bears. Jack Duncan (2G, 2A) and Marchini (2G) put up enough to fend off Shane Dean's three goals and Lucas Proctor's three assists. The Bears have lost five of the last six against some solid competition, so there's little panic regarding the state of the club and its potential to reach the Class D semis, despite its current No.6 seed.