News Based on facts, either observed and verified directly by the reporter, or reported and verified from knowledgeable sources.
Mahopac Couples Pitch in to Create an Upstate Glamping Experience
We are part of The Trust Project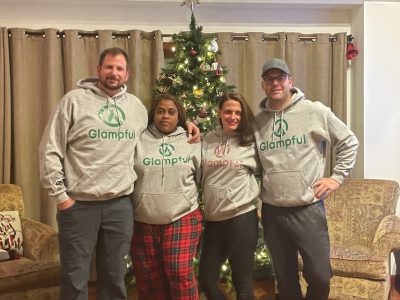 Two Mahopac couples are testament to the old adage from Alexander Graham Bell, "When one door closes, another opens," even if that door happens to open with a zipper.
Like many people, during the COVID pandemic, Cody Leclaire experienced a shift in the tech industry where he had worked for years and began exploring career options. At the same time, he and his wife, Elina, formed a bond with Nathan and Keisha Cavanna over their fondness for the outdoors.
Following some research and inspiration to pursue a venture, the nine-year Mahopac foursome created Glampful—The Adirondacks Premier Glamping Experience, a family-owned and operated glamping destination that is set to officially open May 1.
"We wanted to create a glamping experience that was affordable and not too far from the city, blending outdoor adventure, hospitality, and modern comforts," Elina Leclaire explained. "We call it glorified camping."
When their first idea to set up shop in Lake George proved to be cost-prohibitive, the couples shifted their attention to a 50-acre site at the foothills of the Adirondacks, a stone's throw away from Great Lake Sacandaga, considered one of the Adirondacks' best-kept secrets.
"My husband had a clear vision of what we needed to make this a successful investment," said Elina, who works as a career coach. "He met other people in the industry. He got to understand the data and where the industry was heading. The challenge is just in the uncertainty of starting a new venture. We're embracing it as an adventure and a journey."
They were looking to launch Glampful last summer but ran into some setbacks in obtaining the required permits. Some family and friends were able to spend time in some of the eight tents and Elina said the feedback has been positive.
"The tent was so spacious and very clean. The décor created a relaxing atmosphere. The bed was super comfy!" M. Grant stated. "Thanks for making our experience a memorable one. We can't wait to come back next summer!"
Each of the canvas safari tents is situated on raised wooden platforms and comes with luxury mattresses and amenities. Each site has Adirondack chairs, a BBQ grill, and firepits. Within walking distance, guests have access to newly renovated private restroom stalls and hot showers, a communal campfire, and a cottage where fresh coffee, beverages, pastries and other locally-source fresh food are available.
Within a short drive of the property are a blueberry farm, horseback riding, a brewing company, a live rodeo and a drive-in theater.
"Glampful's biggest appeal to travelers is its private location, which serves as a home base for an Adirondack adventure," Elina said. "We're located in the heart of a variety of outdoor activities and attractions."
Open from May 1 through October 31, the cost for a one-night stay in one of the tents, which can accommodate two to six people, is $217. The price for the lodge, which can hold up to 12 people, ranges from $497 to $627 per night.
"Our glampground is perfect for families, singles, couples and groups of friends who want to enjoy the great outdoors without having to haul their own gear or pitch their own tent," Elina said. "Whether you are looking for a romantic getaway, a family vacation, or a weekend retreat with friends, Glampful offers a one-of-a-kind experience that is perfect for all. Glampful offers the best of luxury, nature and adventure. We've got you covered—literally."
Elina noted the new entrepreneurs are hoping to take the Glampful brand and acquire additional property, either in the Adirondacks or somewhere else.
For further information, visit www.glampful.com.