Mahopac (16U) Mercy's Mount Pleasant; Somers (9U) Defeats Bedford Hills
We are part of The Trust Project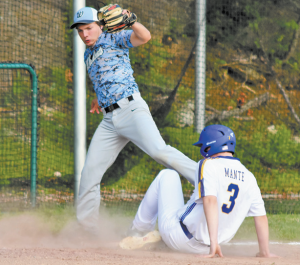 Examiner Sports Editor@Directrays
Greater Hudson Valley Baseball League (GHVBL) action is beginning to heat up on diamonds across the Hudson Valley.
The Mahopac Indians (16U) won their B-Division season-opener at Crane Field last Thursday in a 12-2 win over Mount Pleasant.
"It was an encouraging start to our season, considering it was our first game and we were only able to have two practices prior to it," Indians' Coach Paul Mante said.
Erik Andersen got things rolling for the Indians with a clutch two-out, two-strike, two-run single up the middle in the second inning.
"We then broke the game open in the third inning with a 10-run, eight-hit inning, which saw 15 batters come to the plate," Mante said. Ten out of the 11 hitters in our batting order scored throughout the game. All in all, a very well-rounded offensive, defensive and pitching performance."
Gianluca Santoro pitched a gem, going four innings and yielding two runs before RJ Horvath fired a scoreless fifth to close out the game. Steven Perrone went 2 for 3 with an RBI and two runs. Anthony Mante went 2 for 2 with a walk and 2 RBI. Dominic Campo had a hit and scored two runs.
The Mahopac Wolves (11U) lost in walk-off fashion to the Patterson Pirates, 4-3. Patterson pitchers combined to fan 15 Wolves and hold them to five hits. The game was tied at three when Logan Martucci came up with the clutch hit, singling on a 2-2 count to plate the winning run while send the Peckham Field faithful home. Owen Gabriele started the game for Patterson Pirates, lasting four innings, allowing two hits and two runs while striking out eight. Mikey Covell threw three strong innings in relief out of the bullpen. Gavin Mammola (2 for 2) led the Patterson Pirates at the plate. Affy Middlebrook went 1 for 1 at the plate and led the Pirates with three stolen bases. Patterson (2-2) didn't commit a single error in the field. Max Sorrentino drove home two runs to lead the Wolves, who got even in Sunday' 12-7 win over Patterson behind three RBI from Jake Cotter and two apiece from Lorenzo Echandy and Nick Lucia. Tommy Vitello was a menace on the base paths, stealing bases and scoring multiple runs.
Nevan Nystrom singled to knock in the go-ahead run that led the Mahopac Indians (14U) to a thrilling 9-8 come-from-behind win over Bedford Hills/Katonah Saturday. The Indians (2-1) handed BH/K (3-1) its first loss in the B-Division action.
Yorktown Rebel (16U) Ryan Campobasso drove home four runs in a 11-1 win over the NY Drillers as the Rebels improved to 4-0 in GHVBL A-Division action. Yorktown hurlers Patrick Ryan and Jacob Krauss combined to scatter three hits and whiff six.
The Yorktown Heat (9U) are 2-1 in a very competitive A-Division of the GHVBL.
The 17U Patterson Pirates took 7-0 win over the Hen Hud Sailors behind two hits apiece from Sandor Kozma and Mike Peters. P Matt Demme fired a gem, throwing five scoreless innings with six strikeouts, zero walks and one hit. The Pirates also posted a 2-1 win over Minisink earlier in the week when P Tim Albano threw a complete game with seven K's and zero walks. He also went 1-2 at the plate.
Somers Red Storm (9U) had a nice come from behind victory over Bedford Hills/Katonah last Wednesday at Reis Park. Down 4-2 in the fifth, Somers scored five runs to take the lead and get the 7-4 win. Johnny DeVito had the big hit — a two-run double in the fifth — to plate the tying and go-ahead runs. P Chris Azimi came away with the win.
Somers also swept a doubleheader on 7/12 against the Cornwall Dragons, winning 9-8 in the first game and a 4-0 shutout in the second game.
Lifeless through the first five innings, the 14U Putnam Valley Wild erupted for eight runs in the sixth and seventh to secure a thrilling 8-7 triumph of the Yorktown Bandits. Mikey Venezia stroked the game-winning single for the Wild. Putnam Valley racked up 12 hits in the game. Tommy Tan, Ryan Moriarty, Ricky Meister, Chris Borassi and Jason Douglass all managed multiple hits for Putnam Valley.
PLEASE HELP: GHVBL coaches are encouraged to send weekly recaps and photos to raygallaghersports@gmail.com to highlight local players' exploits.