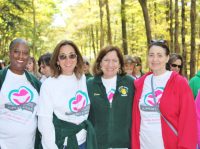 On Sunday, October 7, Support Connection's 24th Annual Support-A-Walk for Breast and Ovarian Cancer will be held at FDR State Park in Yorktown, and one person who can be counted to be in attendance is Diane Buschel.
Buschel, a 38-year resident of Yorktown, is a close friend of Support Connection Executive Director Kathy Quinn and has been lending a hand in a variety of ways to the non-profit organization for 20 years. She has never missed the walk, which is Support Connection's largest fundraiser of the year.
"I'd do anything for them," Buschel said. "I get such personal joy out of helping a group like this. They treat the volunteers so kindly. I've recommended them to many, many people. They truly are amazing."
Support-A-Walk was founded by local residents to bring attention to the needs of people affected by breast and ovarian cancer. Proceeds help fund Support Connection's free support programs and services for those living with these diseases. Last year, more than 9,000 people participated in the inspiring community event.
Participants complete a three-mile walk, which kicks off promptly at 10 a.m., often in honor of loved ones – a celebration of life and a tribute to those who are affected by breast and ovarian cancer. Families, friends, co-workers and teams of walkers are invited to walk together. Individuals are also welcomed to participate.
Buschel has a team with her own namesake made up of individuals from Church of the Good Shepherd in Granite Springs and the Golden Apple Chorus, which she has been a member for 40 years. The Chorus performs at the walk, including at the ribbon-cutting ceremony where participants begin their leisurely stroll through the park.
"There's magic in the air," Buschel said of the atmosphere surrounding the walk. "It's just an amazing showing of love and support for family and friends who have been through difficult times."
Besides the walk, Buschel volunteers at Support Connection's annual gala and Survivor's Luncheon.
"Everything is free and everything is confidential. To me that is unbelievable and beautiful," Buschel said of the services offered by Support Connection. "They are so supportive and so understanding. They've been there. They get it. They know what the people calling are going through."
At the Walk, Honorary Chairpersons Kacey Morabito Grean of 100.7 WHUD Radio's "Mike and Kacey in the Morning," and Bill Powers of PowersPR Video who leads the "Not For Women Only" campaign will be on hand.. They will be joined by Walk Ambassadors Mary Heagle, a breast cancer survivor, and Mary Jane Taxter, an ovarian cancer survivor.
Pre-walk activities at 9 a.m. include music, welcoming remarks, complimentary Team Photos, face painting and characters for the children, plus warm-up and stretching to music led by staff from Club Fit. There will be a Survivors Welcome Area as well as information about Support Connection's free breast and ovarian cancer support services. After the Walk there will be free refreshments and musical entertainment.
For more about Support-A-Walk, or to make a donation, visit www.supportconnection.org or call 914-962-6402.