Locked Out Con Ed Workers: Utility Trying to Bust Union
We are part of The Trust Project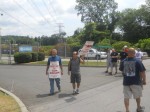 Locked out Con Edison workers who entered their third week of round-the-clock picketing accused the utility's management of trying to divide the union with their settlement offer.
Last week several hundred angry employees demonstrating outside the utility's Valhalla campus and locked out since their contract expired on June 30, charged that Con Edison has resorted to hardball corporate tactics in hopes of busting the Utility Workers Union of America (UWUA) Local 1-2. About 8,500 workers in Westchester and New York City are out of work in the absence of a new contract.
Through the end of last week union representatives and a Con Edison spokesman gave no indication that the two sides had made progress despite talks being scheduled to resume on Monday. Over the weekend Con Edison did agree to reinstate health care coverage retroactive to July 1 for the workers.
"What the company is offering is to basically roll back everything we've fought for for the past 75 years as a union for the rights of our members," said Scotty MacNeill, business agent for Local 1-2 who served as the demonstrators spokesman where the locked out workers camped out on Route 9A. "We don't get a great deal of money here. Our benefits are just average. We're just average middle class workers trying to make a living."
Increasing the workers' contribution to their health care plans from 17 to 24 percent during Con Edison's proposed four-year contract and ending the current pension system for new workers are two of the key points opposed by the union. MacNeill also expressed dissatisfaction with the utility's offer of increasing pay by a little over 10 percent over four years.
As the two sides attempt to hash out their differences, Con Edison has been using about 5,000 managers are in charge of maintaining power for the estimated 3.2 customers in Westchester and the five boroughs. About 10 percent of those are in Westchester. Contracted out-of-state crews are also available.
Rank and file workers said that having two sets of pensions would eventually split the union.
"We can't allow that either because eventually the new hires will outnumber the people who have a pension and that will split the union, they'll divide the union. A union means one by definition. You can't have half the people with, half the people without," Halloway said.
Con Edison spokesman Allan Drury said union leadership was presented with a plan to extend the recently expired contract for two weeks while negotiations continued. However, Local 1-2 rejected that offer. Con Edison also asked the union to first provide seven days notice of any job action, then 72 hours. Both requests were also rejected.
Drury said Con Edison maintains that the latest offer, the main points of which were released by the utility on July 10, are fair and equitable.
"The employees are not out of work because of any dispute over wages, pensions, health insurance or any other benefit," Drury said. "They are out of work because their leadership refused to extend the old contract or give us adequate notice of a strike."
Regarding the proposed pension revision, he said new management employees hired since 2001 receive a cash balance defined pension. The union in Staten Island agreed to a similar arrangement. The Local 1-2 workers would continue to have both a pension and a 401k, which is unusual in today's economy, Drury said.
While MacNeill and Holloway acknowledged that public and private sector employees are being asked to contribute significantly more to their health insurance and the dwindling number of pension plans, they said that Con Edison continues to reap in record profits of more than $1 billion annually. The company reported 2011 profits at between $1 billion and $1.1 billion.
"I could understand if the company wasn't making money or went bankrupt or they had to take a loan to stay in business," Holloway said. "Con Edison is making more money than they ever have, they're making money hand over fist."
Meanwhile, two elected officials–Westchester Board of Legislators Democratic Majority Leader Peter Harckham and Republican state Sen. Greg Ball–each criticized Con Edison last week for failing to bargain in good faith.
"Not only is it grossly unfair to lockout unionized workers who were bargaining in good faith, this lockout raises serious safety concerns and could cost county taxpayers millions in public safety net payments," said Harckham, who also expressed concern about the use of out-of-state crews.
Ball, who visited the picketers on July 11,urged Con Edison to "negotiate with labor in good faith and avoid the unacceptable position of putting 8,500 local families on the unemployment line, at taxpayer expense, while hurting consumers and residents in the process with greatly diminished services."