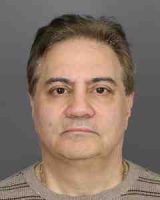 A Yorktown man was charged last week in an eight-count indictment with tax fraud and related crimes following an investigation by the New York State Department of Taxation and the Westchester County District Attorney's Office.
Steve Sabba, 60, and his company TaxPro Financial Network, Inc. were arraigned July 30 in Westchester County Court before Judge Anne Minihan on eight separate felony charges, including scheme to defraud in the first degree, criminal tax fraud and identity theft.
"The flagrant nature of the scheme alleged in this indictment—a deliberate attempt to conceal income and use the stolen identities of unsuspecting clients for personal gain—is especially disturbing given the defendant's previous conviction for tax fraud," said Acting New York State Commissioner of Taxation and Finance Nonie Manion.
"Anyone who steals money from the State of New York, steals money from all of us," said Westchester County District Attorney Anthony Scarpino, Jr. "We are proud of our collaboration with New York State Department of Taxation and Finance in bringing to light this serious ongoing tax fraud and we will prosecute the perpetrator to the fullest to see justice done for the residents of Westchester and New York State."
The indictment alleges that Sabba defrauded New York State from February 2012 to March 2018 by engaging "in a scheme constituting a systematic ongoing course of conduct." Sabba sold a tax preparation business in 2009. Sabba allegedly failed to have the corporation, which received installment payments from that sale, report the income in the corresponding years. In addition, he concealed taxable income paid to him by clients and stole personal identifying information from others to obtain credit cards and charge his personal expenses to those cards. He used corporate accounts to pay the bills on the fraudulent cards. In this way, Sabba did not report to the authorities the income he used to pay those bills and did not pay taxes on that income, thereby falsifying his own tax return, according to the indictment.
Sabba was previously convicted of tax fraud. In 2009, he pleaded guilty to filing a false state personal income tax return. As part of that agreement, Sabba agreed to dissolve his business, TaxPro Financial Network, Inc. and no longer electronically file tax returns under personal identification numbers that he previously obtained or used.
Sabba is next scheduled to appear in Westchester County Court August 21. The Westchester County District Attorney's Office Investigations Division Economic Crimes Bureau is prosecuting the case.