News Based on facts, either observed and verified directly by the reporter, or reported and verified from knowledgeable sources.
Local Synagogue Packs School Supplies for Kids in Need
We are part of The Trust Project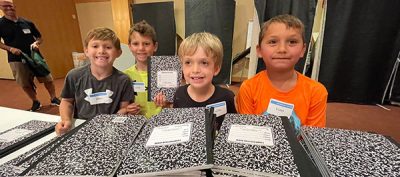 Buying all the school supplies that a child needs to start school in September can come with a hefty price tag.
While most families in the area probably have little difficulty footing the bill for the ever-growing list of required items, there are plenty of households that need a helping hand.
Bet Torah in Mount Kisco was one of three synagogues in Westchester and many others across the New York metropolitan area to spend part of Sunday filling backpacks with the supplies that a child needs to start off the new school year on the right foot.
The effort was organized by UJA-Federation of New York and Supplies for Success, a New York-based nonprofit organization that partners with schools, houses of worship, social services agencies and food banks across the United States to provide help. This was the fifth year that UJA-Federation has been participating in the school supplies drive in Westchester.
"It came about because we had one of our lay leaders in Long Island realize that there was a need for this and people don't have the funds to get supplies for school," said Deborah Lane, director of the northern Westchester campaign for UJA.
At Bet Torah alone, more than 100 volunteers, nearly all with young children in tow, packed over 300 backpacks as part of the effort. Along with the two other congregations, Westchester Reform Temple in Scarsdale and Congregation Emanu-El of Westchester in Rye, the volunteers filled at least 1,000 backpacks.
Katrina Schermerhorn, assistant executive director at Westchester Jewish Community Services (WJCS), one of the largest mental health providers in the county, said it not only provides an opportunity for the volunteers and their children to give back, but the new supplies ensure that many of the recipients will be excited about the start of school.
Recipients can be anywhere from the pre-school years through high school, she said.
"They're already looking forward," said Schermerhorn, adding that they have partnered before with UJA-Federation, particularly during the pandemic when services were desperately needed. "They're already asking for it."
Along with WJCS, other partner organizations that will receive some of the backpacks that they will distribute for free among their clients are Hope Pantry, Westchester Coalition for Immigration, the Edenwald Center and various local Jewish day schools.
The filled backpacks included a binder, a package of filler paper, two highlighters, a spiral notebook, three pocket folders, four pens, a box of pencils and a box of colored pencils, three pocket folders, a ruler, two glue sticks, two erasers, a pencil sharpener, a box of fine tip washable markers and a small pair of scissors.
Lane said the event not only helps the children of families in need but it also makes children in more fortunate circumstances understand that they are expected to assist those in need.
"It's wonderful because this is all for families for younger children to start them on the path of what it's like to give back so that they understand they are in a position to do that and help others," she said. "All these families want their kids to start learning this now to carry it on through their life."