Local Reps Urge Life-Saving Suicide Prevention Bridge Fencing
We are part of The Trust Project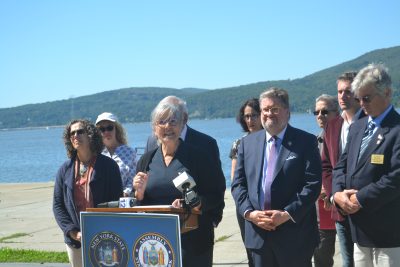 Roy and Lucille Ettere sadly recalled the loss of their daughter Nicole to suicide six years ago and that one of her several attempts had included jumping off an overpass above the Saw Mill River Parkway.
The Etteres shared their tragic story last Friday with a group of state representatives and suicide prevention advocates who gathered at the Riverfront Green Park in Peekskill to call for installing restrictive fencing on local bridges.
Another heartbreaking story was shared by Westchester County Legislator Erika Pierce (D-Katonah) who lost her uncle by suicide.
"A little over two years ago, I received the call no family should ever have to receive, a beloved family member had just ended his life on the Bear Mountain Bridge," Pierce said. "Since that day, 11 more families have received the same news."
In hopes of preventing bridge-jumping incidents, state senators Peter Harckham (D-Lewisboro) and James Skoufis (D-Cornwall) co-sponsored a bill two years ago that would require the installation of restrictive climb-deterrent fencing on the Rip Van Winkle Bridge, Kingston-Rhinecliff Bridge, Mid-Hudson Bridge, Newburgh-Beacon Bridge and Bear Mountain Bridge. The bill was reintroduced in January and remains in the state Senate's Transportation Committee.
Harckham said the legislation would mandate that the New York State Bridge Authority (NYSBA) build the fencing. NYSBA operates and maintains the five aforementioned bridges along with Walkway Over the Hudson in Poughkeepsie.
"But we have voluntarily sat on the legislation," Harckham explained. "That's because a year ago they (NYSBA) came to us and said they would look into it. They voluntarily did the engineering study so we didn't want to be hostile and push legislation through. We want to be collaborative."
The bridge authority's Board of Commissioners is scheduled to meet this Thursday to review NYSBA's Capital Improvement Plan. NYSBA spokesperson Chris Steber said the review will consist of a budgetary forecast for projects expected to take place over a five-year period.
The engineering study was completed in April and addressed retrofitting the entire NYSBA system to incorporate deterrent fencing," Steber said.
"The cost would be between $10 million for simple chain link fencing to $85 million for picket-style fencing," Steber said. "For context, the largest capital expense in NYSBA's history was the recent $95 million project to replace the deck on the north span of the Newburgh-Beacon Bridge necessitating a toll increase of more than 30 percent as NYSBA receives no state or federal funding. Revenues are derived almost exclusively through tolls."
According to the National Institutes of Health, safety fences are effective in preventing suicides from the bridge.
"Fencing gives individuals what they need – time," said Harckham. "Time to think.
Time to reconsider. Time for the intense risk to diminish and for someone to intervene with mental health support and resources."
NYSBA's first suicide prevention phones were installed on the Mid-Hudson Bridge in 1984, the first bridge in the nation to have that resource. Since then, its helpline phone system has been expanded to all bridges along with ongoing comprehensive training for security staff and state-of-the-art, 24/7 security monitoring systems on all of its spans.
Ilan Gilbert, one of the five NYSBA board members, said the commissioners are sensitive to the issue.
"We already have been proactive in doing the study," Gilbert said. "Our mission is to provide safe access so individuals can traverse the bridges in a safe manner."
Gilbert referenced the upcoming Transportation for Life Summit this Friday, Sept. 22 at Dutchess Community College in Poughkeepsie. The one-day event coincides with Suicide Prevention Awareness Month and will focus on building a first-of-its-kind coordinated approach to mental health awareness and suicide prevention in public spaces.
Assemblywoman Dana Levenberg (D-Ossining) said bridge fencing must ultimately be part of a more complex approach to suicide prevention.
"Two of our Peekskill constituents lost their lives to suicide earlier this year, not far from where we are standing now," Levenberg said. "They joined too many others lost to our society's ongoing mental health crisis. Safety measures like the fencing we are proposing must work together with proactive support for mental wellness and interventions for those who are at increased risk of suicide."