News Based on facts, either observed and verified directly by the reporter, or reported and verified from knowledgeable sources.
Local Publisher Celebrates 20th Anniversary
We are part of The Trust Project
Twenty years ago, Chappaqua resident Grace Bennett founded Inside Press, Inc., with the launch of her local magazine, Inside Chappaqua & Millwood. Over the years, Bennett has expanded her publishing portfolio with Inside Armonk and Inside Pleasantville & Briarcliff Manor. We spoke with Bennett about her career as a local publisher and editor and the evolving state of the media landscape.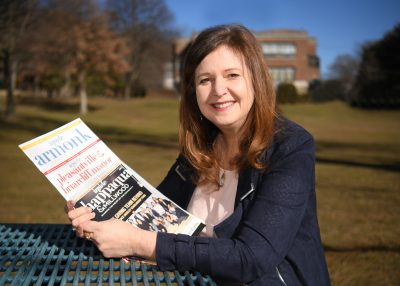 Congrats on the 20th anniversary of Inside Chappaqua. Does it feel like it's been 20 years?
Actually, as I'm busy producing three spring editions post recovering from COVID, but with some long symptoms still present, it feels more like 40 years today! But seriously, yes, I am proud of producing a long-term body of work and have many wonderful memories as a result, too.
Take us back to that time. How did the idea to launch Inside Chappaqua come about?
I was living in New York City and had a full-time career in magazine journalism prior to having children. With the kids really little, I scaled back as a freelance writer/editor. When the kids got a little older, and the pressure for a second "real" income increased in our suburban life, I grew despondent about the prospect of a commute to the city and a full-time job, to be honest. I began to think of other career options and even tested some out, including a position as a kindergarten reading teacher at Westorchard Elementary School in Chappaqua. I filled in for six months when a teacher unexpectedly left. It was there that I had free time in between my adorable charges to ponder my career.
When a school district newsletter landed on my desk at school, and a town hall organ landed on my kitchen table at home, it struck me that Chappaqua was devoid of any independent publication – Horace Greeley would be appalled, I thought! – and so, the idea struck me that perhaps I could start one. I conferred with different friends and colleagues in the business for guidance and support and got a lot of both! Once I felt confident with the how-to aspect, I rolled up my sleeves and got to work. I never envisioned the enthusiastic response and the adventures that lay ahead, including an invite from then-Secretary of State Hillary Clinton to include me as a member of her press corps on a 12-day State Department trip to Africa and Turkey. That experience was one definite highlight of my career as Inside Press publisher.
What was your background prior to founding the publication?
It was both in newspaper and magazine journalism. I was a senior editor at McCall's magazine at the time that it was owned by The New York Times Company. I edited relationships and parenting columns but also contributed stories to a section called McCall's Investigates, which took on harder topics. Prior to that, I was health editor at Woman's Day magazine, editing a variety of articles in the health and medicine arena. Post McCall's, when my daughter was turning two, I got a plum three-day-a-week senior editor gig with Sesame Parents Magazine, which was a supplement to parents of preschoolers subscribing to Sesame Street Magazine.
Are you from Westchester originally?
I was born in Detroit, Mich. My parents, both Holocaust survivors, moved to the Bronx from Detroit after arriving there from Israel. My dad, who never finished high school due to the war, was driving a school bus. He had a lot of handyman skills that weren't being utilized. An opportunity arose to work in a maintenance department at Yeshiva University, which welcomed him as a survivor, too, and we moved to Washington Heights, where I grew up with my dad, mom, and brother in a modest university-owned property. I moved to Chappaqua 26 years ago when my daughter was four, and I was pregnant with my son, too. For most of my publishing career here, by the way, I've actively supported the Holocaust and Human Rights Education Center.
What were your initial vision, goals, and intent with the publication?
As I was always juggling mom duties with publishing, from the get-go, I hoped to simply offer a fun and engaging "articles and ads" publication that spotlighted people, themes, and events around town, one that offered extra insight into local communities on a host of topics. It has always been a compilation of upbeat, compelling features that help elevate a community's spirit. Anyone flipping through its pages will see that the local real estate houses, in particular, strongly embrace it because of its relentless positivity.
What was the response/reaction to the inaugural issue?  
Amazing. I still have a folder full of letters congratulating my efforts or offering a host of ideas to pursue. I also had hopeful writers and editors in the community contact me for freelance work. I quickly discovered so much talent and a desire to help that I decided to open the magazine widely to many voices and assign articles to an exceptionally large freelance stable. I really wanted as many people as possible to be its voice, along with my own.
How has the magazine evolved and changed over these 20 years?
It went through an important redesign nine years ago with my art director, Lisa Samkoff, who, like myself, had a career in magazine journalism. I feel that has made a difference in its pull for attracting advertisers, which, let's face it, is still the bread and butter in our industry. For the editorial, I continue to employ a tried-and-true formula that actually works, and I have stuck to it. If it ain't broke…I also have had to respond to the marketplace like any other media. I jumped on the social media bandwagon early on, and in particular, use Facebook and Instagram – I recently swore off Twitter – to help drum up excitement and shore up the Inside Press brand. I continue to navigate all that, and I know every other media does, too. It worries me as it distracts from the actual production of articles, etc., but that's a topic for another day.
When and why did you expand to produce your other two editions, Inside Armonk and Inside Pleasantville & Briarcliff Manor?
The plan was always to produce more than one local publication to both provide expanded coverage and earn a little more income. I just wanted to be sure Inside Chappaqua & Millwood, my flagship pub, and my reputation as a local publisher was solid and well-established. Neighboring towns seemed the logical next step for new titles. I'm proud to note that Inside Armonk will be celebrating 10 years in 2024, and I am in my third year this year producing Inside Pleasantville & Briarcliff, alternating the title to Inside Briarcliff & Pleasantville. Also, if you are wondering if there are any more titles coming, the answer is you never know!
What's your favorite aspect of producing it?
Getting to know any number of contributors and/or advertisers on a more personal level. And similarly, meeting people in the community. I'm, by nature, an extrovert. But I have had to find the introvert in me sometimes just to stick to the screen and get the job done.
What's been your greatest challenge? 
I don't think you'd be surprised to hear that it's the 24/7 marketplace. When I got my journalism degree at Columbia University in 1984 and went to work for a small daily newspaper as a first job, the hours were pretty grueling. But even then, as a young reporter, there was a sense of closure after a hard day's work. I worry about today's young full-time journalists who are required to always be "on" …especially if they are required to do social media along with their articles. As an empty-nester, I'm no longer juggling parenthood and career. The challenge is juggling my career and protecting the precious time I've earned to enjoy life, too.
Tell us about your 20th anniversary commemorative issue that was released on Feb. 27.
It's a good bit of the same: a mix of fun, upbeat features – [just] more of what you can always expect in our editions with a personal nod to our turning 20, too.
---
[Editor's Note: This story has been modified from its original version by adding Bennett's affiliation with the Holocaust and Human Rights Education Center,  where she is a former board member and current advisory board member. This addition was made as a courtesy, at her request, to acknowledge an organization central to her backstory and life's work.]