Local Performer Brings Musical to Home Town to Benefit School
News Based on facts, either observed and verified directly by the reporter, or reported and verified from knowledgeable sources.
We are part of The Trust Project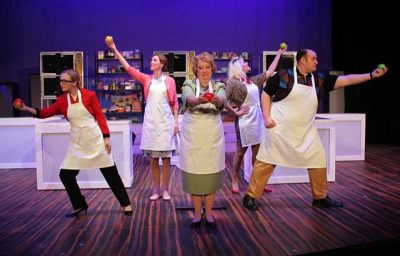 Whenever Chappaqua singer and actor Frank Shiner gets a chance to bring a production to his home community, he looks forward to the opportunity – especially when it's for charity.
That's what Shiner has done previously when he's scheduled concerts and what he will look to accomplish again the final weekend of the month with an upcoming set of three performances of "Just Desserts: A Musical Bake-Off" at the Chappaqua Performing Arts Center.
The longtime performer who was trained in classical acting and was a theater major in college, has returned to the stage as a singer over the past decade. Now, Shiner is one of six cast members in a production that he calls a "Broadway-style musical."
Through his acquaintance with the musical's composer, Brad Ross, another Chappaqua resident, Shiner looks forward to the opportunity to bring an enjoyable time to local audiences and help children.
"They did a little production of it in Connecticut and I got to know Brad," he said. "Brad and I got to know each other and he came to a couple of my concerts and he invited my wife and I to go see the show, and I thought this is fun. It's fun."
The story centers around a baking contest in the Midwest and the five cut-throat contestants are engaged in backbiting in their hope to be crowned champion. But along the way they end up pulling for each other and helping one another out.
The best part is that the San Miguel Academy of Newburgh, a school where Shiner has devoted time and money, will receive 100 percent of the ticket proceeds. Shiner is funding the cost of the production himself that also includes actor Alan Cohen (Zack/Donny), Sandra Karas (Mildred), Gina Lamparella (Jean), Lauren Nicole Sherwood (Brandy) and Jessica Threet (Emma).
Shiner, who performed a concert at the performing arts center last spring to benefit the school, said if they can max out the sales in the roughly 420-seat theater, as much as $47,000 could be raised.
San Miguel opened as a middle school in 2006 and offers its students a top-notch 12-year education in one of the poorest and most dangerous communities in the state. The school provides its education exclusively through scholarships.
"The kids, they stole my heart," Shiner said. "I tell you, when you go up there, you just want to help. Some of them are from really desperate situations."
Shiner has his work cut out for him. Selling out a venue for three consecutive performances takes a lot of hard work.
Meanwhile, the cast has been rehearsing Monday through Friday from 5 to 10 p.m. and Saturdays from 10 a.m. to 5 p.m. to pull the production together. Three of the cast members, including Shiner, belong to Actors' Equity, the union for professional actors and stage managers, and those that aren't have made the choice not to join.
"To me, it's not a jump," Shiner said of the difference between performing concerts and acting in a musical. "I've done musicals my whole life but my original training is in classical acting."
He just hopes to pack the house, or get as close to capacity as possible, and help youngsters and the students of the future at San Miguel.
"I hope it's successful," Shiner said. "I don't know. I get scared."
"Just Desserts: A Musical Bake-Off" will be performed on Friday, Apr. 28 and Saturday, Apr. 29 at 7:30 p.m. and Sunday Apr. 30 at 3 p.m. at the Chappaqua Performing Arts Center at Chappaqua Crossing, located at 480 N. Bedford Rd. Tickets for premium seats are $40 each with the rest of the seating at $30. There are also opportunities to sponsor a family for $100 or a student for $25.
For tickets and more information, visit www. https://newburghsanmiguel.org/, www.chappaquapac.org or www.frankshiner.com.