Local Highway Departments Relish Increase in State Funding for Roads
We are part of The Trust Project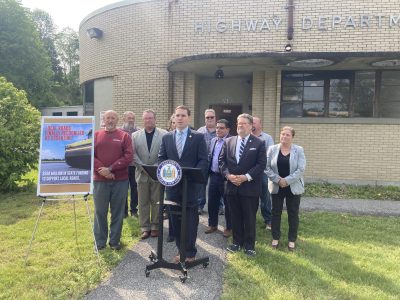 Highway superintendents across the state are rejoicing over a $60 million increase in state funding for road repairs over last year's budget.
During a press conference last Friday at the Yorktown Highway Department garage, Assemblyman Matt Slater (R-Yorktown), Assemblywoman Dana Levenberg (D-Ossining) and state Sen. Peter Harckham (D-South Salem) delivered the good news that the state's Consolidated Local Street and Highway Improvement Program (CHIPS) had been funded with $598 million.
Slater said initially Gov. Kathy Hochul only proposed $538 million, but he and other state legislators from both parties voiced concerns that additional funding was needed.
"In my short time in Albany, there has been an effort to work in a bipartisan manner on important issues, and one of those important issues is local infrastructure," Slater said. "We worked hard to be able to increase CHIPS funding by $60 million to help maintain our local roads, which brings our total CHIPS funding to $598 million. Local roads are something all residents focus on because they deal with them every day, thankfully this investment will keep pace with the increased cost of paving roads. This will have a positive impact on all residents in the Hudson Valley."
Overall, each municipality in the state will receive about 13 percent more from CHIPS than what was delivered last year.
"It's no secret our local roads are in better shape than our state roads," Harckham said. "This is a big win. Our constituents deserve roadways that are safe and drivable."
"This money will really make a difference. It will be chipping away at the needs we have," Levenberg added. "We'll keep on trucking!"
Yorktown Highway Superintendent Dave Paganelli said he will be receiving $80,000 more.
"Local roads matter because everyone drives on them and we all benefit when they are paved and done correctly, and this funding helps to accomplish that," he said.
Somers Highway Superintendent Nick DeVito said the town is set to receive an increase of $60,000, while Putnam Valley Highway Superintendent Shawn Keeler is expecting between $30,000 and $40,000 more than a year ago.
"This additional funding will help us tackle the much-needed paving in Putnam Valley and will be a significant investment for the town," said Keeler, who noted he will be able to pave two or three more roads than originally planned.
"This increase in CHIPS funding will provide the Somers Highway Department the opportunity to address the roads that are in critical shape. Local roads are essential, and it is great to see it funded, which reflects its significance," DeVito said.