Local Flare! Mahopac vs. Yorktown, P'Ville vs. Briarcliff
News Based on facts, either observed and verified directly by the reporter, or reported and verified from knowledgeable sources.
We are part of The Trust Project
State-Ranked Powers vie for Section 1 Class B, D Titles
By Ray Gallagher, Examiner Sports Editor @Directrays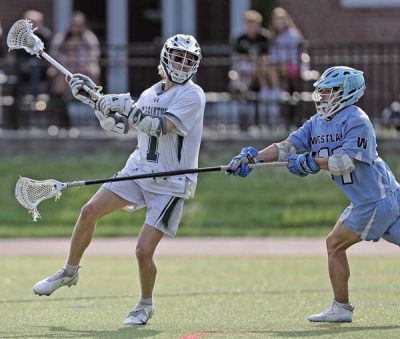 And in the blink of an eye the 2023 Section 1 boys' lax campaign has flipped the page to this week's championship games at Charlie Murphy Field on the campus of Yorktown High; something about the venue that checks all the boxes for Section 1 lax fanatics, for that is where the game was born when you boil down the grassroots of Section 1 stick. It all begins on Tuesday, May 30th when Class C No.1 John Jay – CR and No.2 Rye get things started at 4:00 p.m., followed by an epic 6:30 p.m. Class B title tilt that could float anyone's boat between No.1 YORKTOWN, ranked No.8 in NYS, who will take on third-seeded MAHOPAC, No.6 in NYS.
The Huskers advanced to their 42nd consecutive championship game courtesy of an 8-5 win over fifth-seeded LAKELAND/PANAS last Thursday while the Indians overcame a valiant effort from No.2 HORACE GREELEY in a 13-8 victory, giving the Indians their first crack at the crown since a 2015 OT loss to Mamaroneck, four years after winning their last and ninth overall sectional title in 2011. Yorktown, the 40-time Section 1 champion and seven-time NYS champ, need not be reminded that the Huskers have been totally skunked since 2017 after winning seven in a row from 2011-17 and 10 of 11 since 2007.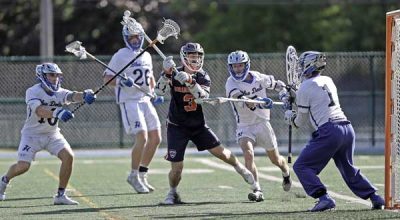 The Class A and D finals will follow on Wednesday, May 31 with top-seeded and state-ranked (No.1) PLEASANTVILLE taking on No.6 BRIARCLIFF, ranked No.7 in NYS, at 4:00 p.m. in the Class D tourney and No.1 Scarsdale taking on No.2 Mamaroneck at 6:30 for the Class A crown.
Getting to the finals was anything but easy but the matchups are provocative and should draw some serious gate revenue for Section 1 if folks flock to 'The Murph'.
CLASS B
In Yorktown's 15-3 win over No.9 FOX LANE, Duncan posted one of the finest games of his star-studded career, leaving the field with four goals and three assists. Husker M Andrew Weissman added four goals and two assists. Middies Connor Fastiggi and Justin Meyreles each snapped off a pair of goals. Ryan Nathan (2G) was the only Fox to seriously compromise the seven-time NYS champion Huskers (12-6), who have appeared in every sectional but one since 1972 (in 1979 White Plains beat Fox Lane for the title).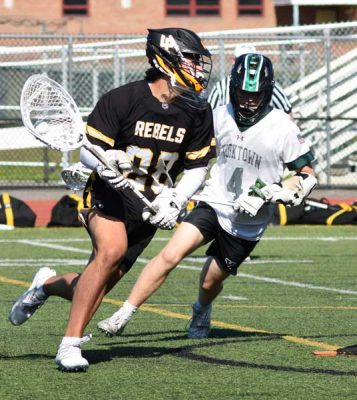 It was fifth-seeded LAKELAND/PANAS that fired the first shot at the bow of this tournament when rookie Coach Joe Macchi's Rebels declared war on No.4 SOMERS in a 12-8 quarterfinal win for the Rebels (8-10), who saw senior sniper Justin Stabile drop a career-high six-goals on a helpless Tusker defense in a year when opposing defenses keyed on him.
L/P junior Will Moore bagged a hat trick while Kyle Gallagher (2G, 1A) and super soph Oban Rader (1G, 4A) baffled the Tuskers (8-9), who failed to solve Lakeland/Panas G K.C. Bryan (14 saves). Tuskers Mac Sullivan (3G), Miguel Iglesias (2G) and Mason Kelley (2G) scored for a Somers club that hasn't exactly met the expectations many heaped upon them.
No.3 MAHOPAC (13-5) advanced to the semis after a 17-6 victory over No.6 Clarkstown North in the final home game for the Indian seniors, which is the vast majority of this unit.
Indian senior A Jake Degnan went for a career-high six goals and set up another while junior M Danny Koch (2G, 3A) and senior A Mike Rettberg (2G, 3A) had five-point efforts. FOG Chris Morris scored and won 13 for 17 faceoffs.
Morris went 17 for 23 on faceoffs and lost just twice in the second half. He also scored a goal.
Koch (3G, 3A) took it to Greeley in the semis, teaming up with Rettberg (4G, 21A) to turn a 6-5 halftime lead into a secure, much-ballyhooed win over the upstart Quakers, who nobody will sleep on in 2024. Indian Ryan Geoghegan (2G, 2A) may have played his finest game of the season and speedy John Kearney set up three tallies.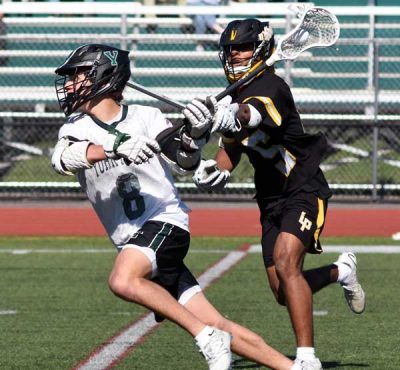 'Big T', senior goalie Tommy Jacobellis, notched 10 saves for the tribe.
The second-seeded Quakers (15-3) will have to wait another season to challenge for its first sectional title, but make no mistake, Greeley has the tools to put it all together next season.
Junior Connor Lummel (3G, 1A) kept the Quakers in contention until the Indians pulled away in the fourth. Jack Holub (2G), Matthew Byrne (1G, 5A), Jameson Blakeslee (1G, 1A) and Jason Kim (1G) all found the scoresheet and all of the aforementioned return in 2024 for what should be a more seasoned, battle-tested club.
GREELEY handled No.7 Clarkstown South, 14-3, behind six points from Lummel's (4G, 2A) and Byrne (2G, 4A). Junior Jack Holub (2G, 2A) and sophomore Blakeslee (2G, 1A) did their thing.
CLASS C
No.5 HEN HUD reached its third Final 4 since 2018 after a fairly big 7-5 upset of fourth-seeded and state-ranked (No.10) Pelham behind two goals and three assists from Thomas Popolizio. Dean Hiltsley, who notched his 200th career point earlier in the week, and Dean Pastolove each slipped a pair between the pipes. Conor Prokopiak had two assists and the Sailor defense had one of its finest efforts of the season in front of G Aidan Mazzoni (9 saves).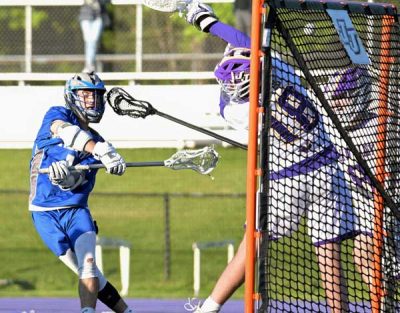 State-ranked (No.8) John Jay saw midfielder Dom Savastano go 21 for 21 on faceoffs in a 13-6 semifinal win over the Sailors.
Hiltsley (5G, 1A) was the only Sailor to provide a consistent push against the top-seeded Wolves, and T-Pop was the horse the Sailors rode in on.
"They're top notch kids," Hen Hud Coach Troy Lepore said. "Those two love practice, they love the sport, they play high level club ball off season. Just two fine young men, who also are best friends and get to keep playing and growing together in college (Scranton). We'll miss them, no doubt, but they were great examples to everyone on our team who got to see them each day. I think the world of them and all our guys for their efforts this season. We gotta get better, though. Our expectations are to get better and get to the next level above us."
No.7 BYRAM HILLS, which was hoping to make a bid for its third-straight championship appearance, nearly pulled off the upset of the tournament but had its season end in stunning, heartbreak fashion instead after No.2 Rye, the reigning Class B champ, scored in OT for a 6-5 quarterfinal win with 1:47 left in the stanza. The Bobcats held a 5-3 lead and were poised for the win when the Garnets took over down the stretch.
CLASS D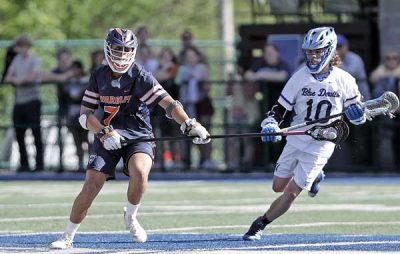 Top-seeded PLEASANTVILLE reached the semis after a 19-5 triumph of No.8 WESTLAKE, who had no answers for four-goal scorers Daniel Picart, Hank McCourtney and Erik Coleman. Nick Reich (2G, 2A), Michael Hundzynski (2G) and Nick Vecchiarello (2G) helped the Panthers pull away early in this one, despite two goals from Wildcat Nicky DiNapoli.
The Panthers went on to eke out an 8-6 semifinal win over state-ranked (No.6) Bronxville in Friday's semifinal round when Picart (4G,1A), McCourtney (1G,1A), Aidan Cotter (1A), Reich (1G,1A), Coleman (1G, 2A) and Hundzynski (1G) each put up pivotal points against one of the premier programs in Section 1; the Broncos winners of five titles and seven championship appearances between 2011-22.
After a shaky start, Pleasantville G  Andrew Nessel (9 saves) was strong between the pipes on a day Bronxville opened the game with the first four goals. Pleasantville scored a goal by Nick Reich with 2:49 remaining in the first quarter to stop the proverbial bleeding. Pleasantville outscored Bronxville 4-1 in the second quarter to knot the game 5-5 at half.  Pleasantville then opened the second half with a man-up goal with 11:26 remaining in the third quarter from Picart, assisted by Hank McCourtney. Bronxville then tied the game with 4:10 remaining in the third quarter on a goal by Jack Reilly.  Pleasantville's defense stiffened from there and Michael Hundzynski scored the game-winning goal off a feed from Aidan Cotter who was at X. Picart put up an insurance marker as time wound down (15.5 left). P'Ville lost 12 of 16 faceoffs and needs to adjust in the finals.
Did we mention that two-time reigning Class D champion  BRIARCLIFF would be a deadly No.6 seed, who could bust a bracket in a minute? We did, and they did in a 9-6 quarterfinal win over No.3 Rye Neck and then a 10-8 win over No.2 HALDANE in Friday's semis.
Lucas Proctor (2G, 3A) triggered the quarterfinal win and then went for a hat trick and two assists off a rugged Haldane club that might take that next big step next season.
Against Rye Neck, Harrison Winger and Shane Dean both tickled twine twice for the Bears while G Jameson Wong (7 saves) stood tall in net.
Luca Meola, among the most versatile players in the state, powered his way to two goals and an assist against Haldane while Alex Kirshenbaum (3G, 2A), Shane Dean (1G, 1A) and Bobby Colangelo (1G) all found the score sheet.
Wong's 10 saves were crucial and the battle-tested Bears (8-10) are stoked for another crack at their crosstown rivals, according to Providence-bound Meola, an All-Section senior with All-American potential.
"Haldane was a great battle, they never quit throughout the whole game," said Meola, the son of Bears' Coach Alfredo Meola, a former All-American D at Lakeland. "Pleasantville is definitely going to be another tough battle, and I think the key to winning this game will be taking the best shots, controlling the pace of the game and time of possession. We also have been in the championship a few times in a row, so we know the atmosphere and how to prepare leading up to it this week. We played many tough out-of-class and -section games to prepare us as best as possible for the playoffs and so far it's paid off. We also must stay out of the box and not make dumb decisions because Pleasantville is good at capitalizing on other teams' mistakes, especially in transition. Everyone has to play their role and I think it will be a great game."
As was the Haldane game. Coach Eddie Crowe's state-ranked (No.10) Blue Devils (13-4) are on the come, make no bones about it. Haldane reached its third Final 4 since 2015 and should be right among the mix of serious challengers next with all they return.
Haldane handled No.10 Irvington, 15-8, in the quarters behind three goals and three helpers from Evan Giachinta, a junior with a ton of promise. Liam Gaugler and Rhys Robbins added four goals apiece while sophomore Fallou Faye and Ryan Van Tassel tickled twine twice. Just about the entire lot of them are back next year.
CLASS A
CARMEL (9-9) did just about everything it could do to make 2023 a highly successful campaign, perhaps the best in program history. There's nothing about a 16-8 semifinal loss to top-seeded Scarsdale last Friday that could dampen the enthusiasm of the Carmel Crazies, who turned out in force for the Rams' 18-5 quarterfinal win over visiting, fifth-seeded Suffern Tuesday.
Carmel junior Matt Risley needed a top-notch sidekick and Thomas Connolly was that dude from the jump in the thrashing of Suffern, putting Coach Matt Caione's Rams in the Final 4 for the first time in school history. Connolly dropped a nickel on the Mounties and set up two more tallies while Risley (3G, 3A) did Risley-like things.
"It's all falling into place, finally," Risley exclaimed! "It's been quite the process but I couldn't be happier then where we are right now. Everything we've always wanted and worked for is finally coming to life. It's amazing to see. I know the younger guys are great, too, and love the game, so I'm happy leaving it in good hands once I'm out of here. The boys are fired up for Scarsdale with the underdog mentality. Everyone is loving it right now. We're more ready to roll than we've ever been! I was blessed to be put in a position to help my team succeed and I think all of us are willing to do whatever it takes. Next year, we're coming even stronger, I can't wait."
Against Suffern, Adam Boeheim (4G, 1A) had his best day yet. Jake Lotz (2G, 2A), Ryan Aabel (2G, 1A), Damien Santiago (1G, 2A)got a goal and Jake Ellner (1G, 1A) put the Mounties on alert early and often.
Against two-time reigning champion Scarsdale, Connolly (4), Risley (1G, 2A) and the Rams met their match but there's a new bar in place and the Rams are on the brink of bigger and better things in 2024.
State-ranked (No.7) and No.2-seeded Mamaroneck ended No.7 WHITE PLAINS' season in a 17-5 quarterfinal game.  Ricky Strobel bagged a hat trick for the Tigers (8-10).