Local Baseball Foundation to Host Fundraiser With Dwight Gooden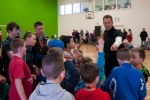 For the last eight years, John Fitzgerald's nonprofit organization has raised money to provide equipment and improve fields for children in Ireland who are interested in baseball.
The lifelong Valhalla resident is now also looking to help youngsters who play baseball closer to home.
On Saturday, Feb. 21, Fitzgerald and the organization he founded in 2006, Baseball United Foundation, will be hosting a luncheon featuring former Met and Yankee standout pitcher Dwight Gooden to raise money for cash strapped Little Leagues and other baseball programs in Westchester and New York City. There are still tickets available for the luncheon, which will take place at Graziella's Italian Bistro in White Plains.
"This is kind of going to be our first big event in Westchester, and that's where I'm from, so we're starting to look in Westchester and in New York City and fund programs that need our help," said Fitzgerald, a 1995 Valhalla High School graduate who played varsity baseball.
The idea to assist local youth baseball programs to accompany its highly successful initiative of raising money for Irish baseball was started after Superstorm Sandy. Fitzgerald was approached to participate in a fundraiser with a minor league player from Monmouth County, N.J. for families along the Jersey Shore who had been hard hit by the storm.
By being involved in that effort, which raised about $20,000, Fitzgerald gained contacts from within the Major League Players Association.
When he had an opportunity to hook up with Gooden, a household name in New York baseball who was part of World Series winning teams with both the Mets and Yankees, Fitzgerald jumped at the chance.
"It's kind of another step in that direction, former players, current players, that's really what we're trying to do in the U.S. to kind of raise awareness," Fitzgerald said.
He said that since getting a recognizable name was key for the first major local fundraising event, he wanted to make it worth everybody's efforts. Those who sign up and attend the fundraiser will be treated to a three-course meal, receive an autograph and be invited to participate in an extended Q&A with Gooden about anything baseball related.
"We want to make it baseball-centric," Fitzgerald said. "It's not just about Doc Gooden talking about his life, and he's got an amazing story, but he's going to take questions about anything."
Fitzgerald, a filmmaker by trade, launched the Baseball United Foundation after he completed a documentary about a relatively small group of kids in Ireland who play baseball despite the lack of decent equipment and coaching and unsafe or unsuitable playing surfaces.
Even so, the country, where an estimated 500 youngsters now play the sport, has been able to field a national team since 1996, he said. They're hardly an international power, and while the goal isn't to groom the next Major League phenom, being able to compete has been an accomplishment.
The foundation has been able to ship thousands of pounds of equipment and raise money to send coaches at various levels of organized ball to conduct clinics during the summer. There are also coaches who are American ex-patriots or native Irish who spent time in the U.S. and fell in love with baseball.
In one effort, Baseball United raised $4,000 to create a small youth baseball park in County Meath, Ireland, since virtually all playing fields there are for soccer, rugby or Gaelic football.
"We don't want it to seem like we're trying to push baseball in places where it doesn't exist," Fitzgerald said. "That's really not what we're doing. These are places where baseball does exist, but it can be made safer and easier and more cost-effective and more affordable to play."
Given the seemingly insurmountable odds of making a difference in Ireland, helping children locally shouldn't be difficult.
"We've sent coaches over to Ireland, to send them to the Bronx or Brooklyn should be pretty easy," Fitzgerald said.
There are still availabilities for the Feb. 21 luncheon with Dwight Gooden. Tax-deductible tickets are $150 each. For more information, visit www.lunchwithdoc.com or www.baseballunitedfoundation.org.