Local Art Class Featured in Mt. Kisco Rock Portrait Exhibit
We are part of The Trust Project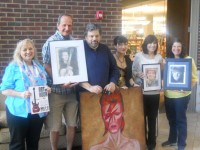 As a teacher at some of the country's finest art schools, one of Alan Reingold's favorite assignments for his students has been to develop a portrait of their favorite rock musician.
Earlier this year, Reingold gave the students in his weekly color pencil class at The Lutheran Church of the Resurrection in Mount Kisco the same task. What they came up with has fascinated him.
"I've seen 17-year-olds and 60-year-olds working on the same face and how those two age groups work on a portrait is delicious to look at," said Reingold, a Mount Kisco resident whose work over the past 35 years has graced more than 100 national magazine covers and movie posters.
This month the public will be able to view the professional quality work created by Reingold's students in an exhibit called "Art of Rock" that will be on display from May 2-31 in the upstairs community room at the Mount Kisco Public Library. About 35 portraits will be featured.
In most cases, students chose their favorite musician or an artist that held a special memory for them. For Nancy Anton, who has taken Reingold's class for about two years, she selected James Taylor since one of his songs reminded her of her youth.
"One of my favorite songs in college was 'You've Got a Friend,'" Anton said. "So I relate to that and it brought me back to the '70s."
Celia Teichman of Cortlandt Manor was 13 years old when The Beatles exploded onto the music scene. Like many girls of that age, she idolized the Fab Four. When she got the assignment there was little doubt what she would do.
"Any portrait that you work on, especially when you're dealing with eyes, there's a connection to the soul," Teichman said. "It's unbelievable. And if you're doing somebody like The Beatles that you idolize, you'll find so much more of a connection."
Mount Kisco resident Rich Alexander drew Eric Clapton because he likes nearly every song. Alexander, who helped design the 9/11 memorial near the library, which is how he met Reingold and eventually enrolled in the class, said it was an honor to draw his favorite musician.
Reingold said certain patterns continue to develop from the classes. Invariably, the subjects chosen by the students are almost always men despite an impressive list of female performers available such as Carole King, Carly Simon, Janis Joplin and many others.
What he also finds intriguing is how many of his younger students often choose artists that their parents or even grandparents are fans of. One 17-year-old chose Frank Sinatra, which Reingold permitted even though Sinatra is not considered from the rock era.
Holly Athas, 19, found a piece of old plywood on the side of the road and used it to depict David Bowie. She said that Bowie has been a favorite of her parents and growing up listening to his music she learned to like him as well.
But not every student selected their subject based on their musical preference. Pleasantville resident Fran Saracco featured U2's Bono because of his humanitarian work. Over the years she has repeatedly tried to appreciate the band's music but still doesn't have a single CD of theirs.
"To me, when I think of Bono I think of courage because he's not afraid to put it all out there," Saracco said. "He had a real conflict with his religion and the rock 'n' roll way of life and he managed to find peace with that and he used his mission to put out a message."
The public is invited to an opening reception for the exhibit this Saturday, May 5 starting at 2 p.m. at the Mount Kisco Public Library, located at 100 E. Main St. The exhibit is open during library hours.