Local Activists Protest Indian Point at NRC Hearing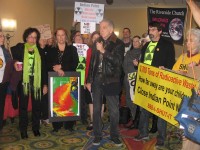 Local activists protested the continued operation of the Indian Point nuclear power plants last week at a hearing hosted by the federal Nuclear Regulatory Commission in Tarrytown.
The NRC, which oversees the Indian Point reactors in Buchanan and more than 100 locations in the United States, was receiving public feedback on a proposal to extend the storage of spent nuclear fuel indefinitely. Nearly 2,000 tons of radioactive waste is stored in open pools at Indian Point.
A successful court challenge by Riverkeeper, New York State and others forced the NRC to publicly discuss its "waste confidence rule." More than 70 speakers signed up last week at the Westchester Marriott.
"Nuclear waste is the waste that keeps on giving," remarked Gary Shaw of the Indian Point Safe Energy Coalition. "This is absurd. It is time for us to stop making deadly waste and leaving it for future generations."
Musician and environmental activist David Amram, 82, said 20 million people who live within a 50-mile radius of Indian Point are sitting ducks if another Three Mile Island accident occurs there.
"When the nuclear waste hits the fan, all 20 million people will die. It's an equal opportunity destroyer," Amram asserted. "20 million people cannot all flee on Route 9 when there is a mistake. Maybe we can stop it from happening by using some common sense for our own survival."