News Based on facts, either observed and verified directly by the reporter, or reported and verified from knowledgeable sources.
Live Prison Plays Create Artistic Outlet for Inmates
We are part of The Trust Project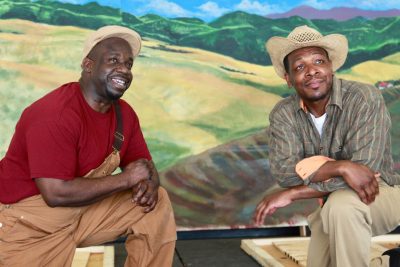 In the Emmy Award-winning film "Twelve Angry Men," the knife is the crucial murder weapon that determines the jury's decision whether to convict.
When a live production of "Twelve Angry Men" is performed on May 12 at Sing Sing Correctional Facility, the knife won't be real, but the rest of the play will look familiar.
"I had to do research and came up with a swiss-blade comb to use in place of a knife," said Charles Moore, director of operations for Rehabilitation Through the Arts. "We can't have any weapons like guns or knives in our performances."
Rehabilitation Through the Arts (RTA) is a nonprofit organization that established an arts program at Sing Sing in 1996 to help incarcerated people cope with imprisonment throughout a variety of creative programs. The classes are taught by more than 30 professionals who exposed the prisoners to theater, music, dance, creative writing and visual arts. Over 225 incarcerated men and women participate in the daily, two-hour workshops at any given time.
The program has seen success. The recidivism rate among RTA participants is a low 5 percent compared to the national average of 60 percent.
"Twelve Angry Men" is directed by RTA teacher Charlie Scatamacchia. The production includes 20 people, including cast, understudies and set crew.
Moore said when he was incarcerated at Sing Sing he actively participated in the RTA program. Upon his release about seven years, he began working full-time for RTA. He said RTA helped him regain his self-esteem.
"When I was deeply involved with a play, my mind wasn't incarcerated," Moore explained. "It helps morale and breaks the monotony of everyday life in prison where it is so easy to get bored. I was given small responsibilities and you learn to work as a team. Any accomplishment is an achievement. For everybody in the correctional facility it's a win-win."
Another RTA performance on June 1 at the Bedford Hills Correctional Facility is "Spring Spectacular," which mixes drama with dance. A new work based on Sophocles' classic play "Electra" will be acted by women who also had input in adapting the play as part of their RTA theater class. In this adaptation, Electra's father, a senator, has been assassinated. Her mother is suspected of plotting the assassination and now wants to take his Senate seat. Electra plans to stop her in her tracks.
RTA Program Director Joe Giardina said teaching artist Vincent Mraz adapted "Electra" to make it more relatable to contemporary audiences. Mraz co-directed the play with Sifiso Mabena.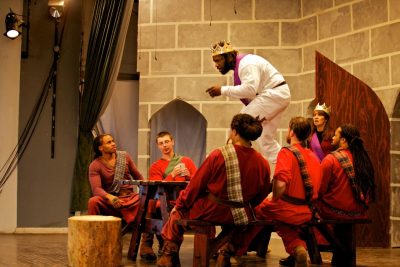 "Vincent worked with the Bedford Hills women who expressed an interest in Greek classical theater and wanted to act in the play," said Giardina.
Scenes of "Electra" will be interspersed with dance pieces choreographed by RTA teaching artist Belle Ritter. Ritter worked with a company of women inmates who will perform "Dance: Dance Around the World" featuring numbers from various countries and "Dancing Through the Decades" showcasing dances from the 1920s through the early 2000s.
All of the RTA programs have had success stories resulting in positive impacts for the participating prisoners. Giardina said while engaged in an RTA program, participants are, in essence, escaping prison.
"The men and women we work with feel that while taking a class it is the one place they can take off their mask," Giardina explained. "When you are in an incarcerated setting it's difficult. You have to keep up a façade of being tough and not being vulnerable. RTA participants appreciate the carefree and safe space where they can let down their guard."
Learning to express themselves, engage with others and building trust are some of the valuable lessons of the program.
"Participants learn to respect different choices and see their choices earning others' respect," Giardina explained. "You think differently how you've done your life and realize there is more than one right answer. Perhaps you also realize that getting a high school or college diploma could be a positive experience."
RTA operates in six maximum and medium security men's and women's correctional facilities in New York: Bedford Hills, Fishkill, Green Haven, Sing Sing, Taconic and Woodbourne.
The upcoming performances will be performed three times, including twice for fellow inmates. Friends and relatives will be invited to Sing Sing for a performance of "Twelve Angry Men" on May 12. "Electra" and the dance programs will be presented on June 1 at the Bedford Hills Correctional Facility. The shows will mark the return of live theater to New York State prisons for the first time since the start of the pandemic.
Two visual art exhibits will also be featured at Sing Sing and Bedford Hills Correctional Facility.
For more information on Rehabilitation Through the Arts, visit www.rta-arts.org.