Legislation Reintroduced to Rename Trump State Park
News Based on facts, either observed and verified directly by the reporter, or reported and verified from knowledgeable sources.
We are part of The Trust Project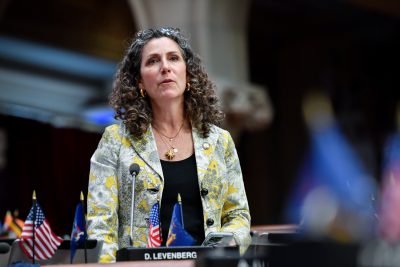 Two state lawmakers have reintroduced legislation to rename a state park in Yorktown that bears the name of former President Donald J. Trump.
Freshman Assemblywoman Dana Levenberg (D/Ossining) and Senator Brad Hoylman-Sigal (D/Manhattan) maintain the 436-acre park's association with Trump is contributing to its neglect and sparse visitation.
"I have received many unprompted messages from constituents who are dismayed at driving past signs for Donald J. Trump State Park," said Levenberg, who has also opened a survey soliciting local opinions on the topic on her section of the Assembly website. "Frankly, it is triggering for many people to have a daily reminder of the hatred and vitriol Donald Trump unleashed in our nation's politics. Having one's name on a park or a sign along our roadways is an honor, one that Donald Trump does not deserve, given his behavior."
"New York wants nothing to do with Donald Trump. Just last week, Trump once again called for public protests. The last time he rallied his supporters, five people were killed and mass destruction of the U.S. Capitol ensued," Hoylman-Sigal stated. "Our public spaces should be named after people that embody the values of civility and inclusivity that New Yorkers are proud to honor. Our bill makes clear that Donald Trump is not that person."
The bill, informally known as the "Anyone But Trump Act," passed the State Senate on June 10, 2021. Hoylman-Sigal and Levenberg hope that the time is finally right for the bill's passage in both houses.
"This park has tremendous potential, and we deserve a great state park," said Levenberg. "This park cannot be great with such an ignoble name."
Senator Hoylman-Sigal added, "It's the shame of New York that we have a state park named after a twice-impeached U.S. president. Let's correct this for the benefit of future generations."
The 436-acre park is mostly located in Yorktown, but does straddle part of Putnam Valley.
Trump purchased the property in 1998 for $2.5 million with plans to build a $10 million private golf course. In 2006, he donated the land to New York State after he failed to obtain necessary approvals.
Upkeep of the passive park was halted in 2010 due to budget constraints, and the park remains largely undeveloped.
In the bill's memo, the legislators argue that "New York State has always been known for welcoming and embracing people of all cultures and backgrounds, and even our park system reflects these values….The names of these parks and green spaces should do the same."