News Based on facts, either observed and verified directly by the reporter, or reported and verified from knowledgeable sources.
Learning CPR Can Provide Others With the Gift of Life
We are part of The Trust Project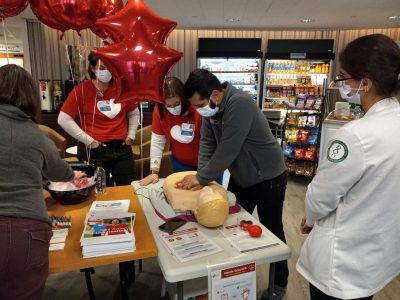 Anybody who watched the Jan. 2 Buffalo Bills-Cincinnati Bengals football game on national television got a firsthand glimpse of the urgency of quickly administering cardiopulmonary resuscitation or CPR to someone in cardiac arrest.
Seconds after Buffalo's Damar Hamlin collapsed to the turf seconds after a hard hit to the chest, the rapid response from emergency personnel at the stadium that night almost certainly saved his life.
Emergency responders, such as Julie Gallagher an Armonk firefighter and emergency medical technician, are keenly aware of how critical time and proper technique is to saving a person's life.
"Every minute that passes when somebody's in cardiac arrest, they have a 10 percent less chance of overall survival, so our response time – we're a volunteer ambulance – so our response time is probably around seven minutes, which is pretty good," Gallagher said. "But seven minutes with no CPR done on someone, the person, at best, is going to have a 30 percent chance of survival."
That's why for the past seven years Gallagher, a longtime hospital nurse who has served as a nurse in the Byram Hills School District for the past 17 years, has been offering a free CPR instructional class, typically the first Thursday night of each month for the last seven years at the Armonk firehouse.
Before she started the classes, Gallagher was reading up on community preparedness, and as a CPR instructor since 2012, thought that a free monthly class might be a good way to achieve that.
"I started looking at statistics and I was going to try and improve our community outcomes in cardiac arrests by putting an intervention in place, and I was going to offer a free class in the firehouse once a month to anyone who is interested in learning the skills, and my goal was to actually certify everyone in the town, at least adult-wise, to improve our outcomes should there be a cardiac arrest out there in the community," Gallagher said.
The class, which is limited to a maximum of 10 participants, runs from 7 to 9 p.m. and provides instruction with hand compressions and mouth-to-mouth resuscitation. Virtually every month every seat is taken, Gallagher said, with usually a wait-list of two or three people who would get bumped to another month.
The only charge is for those who want or require a certification card, which costs $22, she said. Attendees do not have to be Armonk or North Castle residents.
"Not only am I teaching you how to assist in a CPR event, but the first part of (the class) is recognizing that somebody is having an emergency and trying to figure out what that emergency is," Gallagher explained.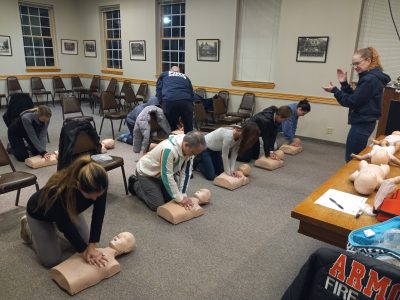 Last Friday, personnel from Northern Westchester Hospital's Cardiac Catheterization Lab was in the main lobby providing hands-only CPR demonstrations to visitors from the general public. Christine Dunning, an educator from the lab, said about 70 percent of people don't know that to do, and would feel helpless if someone was having a health episode.
While not as extensive as including mouth-to-mouth, Dunning said that a person with hands-only CPR can provide those extra precious moments until trained personnel can arrive. She said someone with enough strength to perform CPR should do so at a rate of about 100 chest compressions a minute. Dunning recommended lining up their hands at the nipple line in the center of the chest and to use their body weight if they don't feel they're strong enough.
"We go very hard and very deep because the whole point is to deliver oxygen to the brain," she said.
"The whole purpose of this is to make sure you're able to do something in the event of an emergency, keep the oxygen flowing to the brain until the emergency responders can come and help," Dunning added.
In an emergency, a person should call 911, put their phone on speaker and have the emergency operator walk them through what they should do, she said. Checking the carotid artery on the side of the for a pulse is also needed.
Northern Westchester Hospital emergency nurse Kalyn Hintze said effective chest compressions go about one-and-a-half inches deep. There is typically about six or seven minutes of oxygen reserve in a person's brain before neurological impairment may start setting in.
"I think the most important part that we really need to discuss here is to do something is better than doing nothing," Hintze said.
For anyone interested in the free CPR course at the Armonk firehouse, e-mail Julie Gallagher at cpr@armonkfd.com. The American Heart Association also provides CPR training around the county. To learn more, visit www.cpred.com.