Lawler, RNC Open Hispanic Outreach Center in Cortlandt
We are part of The Trust Project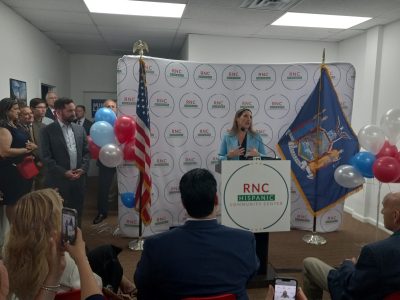 Congressman Mike Lawler pulled off a stunning victory over Democratic Congressional Campaign Committee Chairman Sean Patrick Maloney last fall, the first time in 42 years Republicans defeated a sitting DCCC chair.
The surprise outcome not only caught the attention of Democrats, but national Republicans also stood up and took notice. Now they are going all out to help Lawler keep the district in the GOP column.
On Sunday afternoon, with Republican National Committee Chair Ronna McDaniel in attendance, the party opened a Hispanic Community Center in Cortlandt in hopes of reaching out to the growing Latino community in nearby municipalities and by having a presence in Westchester, which has increasingly become a Democratic bastion over the past generation.
The center, located at 2050 E. Main St., will welcome all community members, serving as an outreach center for the district.
"We have large Latino communities in Haverstraw, in Peekskill, in Ossining, in Sleepy Hollow, in Tarrytown and Mount Kisco, and so by creating this outreach center here, we are saying to all communities, we welcome you, we want you to be part of the Republican Party, we want you to be able to succeed and achieve your dreams, your hopes, your vision for your future and that of your families, and we want you to have all of the economic opportunities America has to offer," Lawler said.
Opened nearly a year and a half before the Rockland County lawmaker will be up for re-election for the first time, McDaniel said it is the earliest in an election cycle that the RNC has opened an office in New York State. She said the office will also have various community events, such as baby formula drives, back-to-school nights, school choice seminars and discussions on a variety of issues facing district voters.
"When we have those conversations here night after night and inviting people day after day, they're going to know that the Republican Party is their home and Mike Lawler should remain their congressman," McDaniel said.
Sunday's event also served as part pep rally for the Republicans, who were buoyed by successes throughout New York last November. They credited their congressional victories in New York, increasing Republican House seats in the state from eight to 11, as a key reason why the GOP flipped the lower chamber. Republicans hold a razor-thin 222-213 advantage in the House.
It also drew state GOP Chair Ed Cox and attracted a Republican who's who of northern Westchester and Putnam counties. Cox called on the party faithful and volunteers to be prepared to defend their hard-won gains next year.
"We need all of you to do that, to work for that because 2024 is a presidential (election) year and that's when in blue states a lot of Democrats show up, so it's going to be a hard fight," he said.
Cox said that the 17th Congressional District is going to be a major battleground, where he said Democrats may pour in as much as $45 million to try and win back the seat. Former Westchester County executive Rob Astorino also highlighted that effort.
"This seat is on every DNC (Democratic National Committee) target list," Astorino said. "There's an arrow with Mike's face on it. We are the shield that not only protects him but also helps him remain and represent us as he goes forward."
Lawler said that for Republicans to continue to make progress they have to be willing to speak to every voter, regardless of party or background, helping residents known about the party's plans of economic opportunity and public safety, among other issues. It's even more important since the district is 19 percent Latino and that number figures to rise.
"It's the fastest growing population not only in the district but across the country, and the Republican Party has made great strides," Lawler said.
"We need to make sure to build upon that success, and the way to do it is to make