Latimer to Challenge Jenkins for Democratic Line for County Exec
We are part of The Trust Project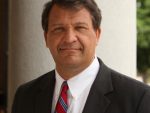 State Sen. George Latimer (D-Rye) will challenge County Legislator Kenneth Jenkins for the Democratic nomination for county executive at the party's upcoming convention but would not force a primary if he falls short in his bid.
Latimer said Thursday he is officially entering his name for consideration at the May 10 convention in part because he has deep concerns about the long-term fiscal outlook for Westchester.
He said County Executive Rob Astorino has overseen zero percent tax increases, which has added to budget deficits and is fueled by an apparent second gubernatorial run.
Astorino has also overestimated sales tax revenue and borrowed to pay pensions and certioraris, which if allowed to continue will imperil the county's finances, Latimer said. Therefore, a shift in priorities is needed to preserve the county's financial standing.
"As I started to look back on some prior budgets I realized over the last couple of years, we're really on the wrong path and if we don't change that path we're going to have a fiscal day of reckoning," Latimer said.
Latimer, 63, who is in his third term in the Senate, is now the second candidate to officially vie for the nomination. Last summer, Jenkins, a Yonkers Democrat and like Latimer a former chairman on the Board of Legislators, announced his candidacy for county executive last summer.
Assemblyman Thomas Abinanti (D-Pleasantville), who in February made it known that he was weighing a run for county executive, said Thursday he will make a decision within the next few weeks. Latimer said another potential candidate, Assemblywoman Amy Paulin (D-Scarsdale), recently told him she will not pursue the nomination.
Although he is challenging Jenkins, Latimer said he would avoid a September primary if he is not designated by the party as the nominee. Instead he would look to help the Democrats unite the party.
"I'm not opposing Ken Jenkins. I like Ken," Latimer said. "I think we have a lot more in common on public policy than what differentiates us. This is not going to be about me making a case about anything negative at all that deals with Ken. This is about me and my credentials and what I've done."
Jenkins said he is encouraged by the Democrats' interest in winning back the county executive's office and welcomed the competition.
"I think we are going to do very well with whatever person we have because we have a great story to tell, we have a lot of enthusiasm and a great dossier to make the case against Rob Astorino," Jenkins said.
However, Jenkins said he would press ahead with a primary should he not be the choice at the convention. When he announced his candidacy last August, Jenkins said he pledged to give his party a choice and would maintain that promise.
Latimer pointed to his three decades of service at the local, county and state levels of government as to why he would be a strong candidate.
He acknowledged that part of his motivation in running for county executive was his ongoing frustration with the power structure in Albany. Not only has it been difficult to make changes with the Independent Democratic Conference siding with Republicans in the Senate, but the Assembly speaker, Senate Majority Leader and governor hold enormous power over state government, Latimer said.
"There are certain things in Albany that are very hard to change," he said. "I'm going to come home and make the effort to govern the county that I grew up in and the county that I love."