Latimer Takes Oath for Second Term at Scaled-Back Inauguration
We are part of The Trust Project
Westchester County Executive George Latimer pledged Monday to finish ongoing projects in his second term and work toward a Master Plan for Westchester Airport and open discussions about the future of the County Center.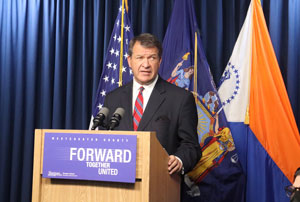 Latimer, who delivered his second inauguration address virtually from the County Building in White Plains with only those in attendance who participated in the scaled-back program, also said he believes that by early spring the county will have made significant strides against the latest surge of the COVID-19 pandemic.
"I intend for us to do the good and necessary things that we need to do, and to do these things confidently," Latimer said during a roughly 10-minute address. "We will do so with consultation and cooperation and all who seek to work together in common cause, and we will work closely with our county Board of Legislators and their voice will be heard loudly in the decision-making that's ahead of us."
He and Deputy County Executive Ken Jenkins took their ceremonial oaths on the first business day of the new term. This will be Latimer's final term after he supported a two-term limit for the county executive seat during his first four years, a proposal that was approved by the Board of Legislators.
After taking a couple of moments to list the accomplishments of his first term, Latimer maintained that his administration would complete the improvements underway for the South County Trailway, Memorial Field in Mount Vernon and various road and bridge refurbishments.
There will also be the start of countywide community discussions on the airport Mater Plan and the future of the County Center in White Plains, the 5,000-seat facility that opened in 1930. Last year, shortly after the start of the pandemic, it was used as a COVID-19 testing site and for most of the time since last January a vaccination center.
Latimer said there will be robust debate among residents and stakeholders and his administration will reach the best decision for Westchester.
"All voices will be included, all voices must be heard, and they will be heard," he declared.
Latimer, 68, who has been in elected office since 1988 at the municipal, county and state levels, said that through self-discipline and practical behavior, life could return to a greater sense of normalcy once winter is over.
"I believe that 2022 will see us finally make the progress back to normalcy that we all crave," Latimer said. "But that normalcy will not come by wishing it so, or worse, by pretending that the pandemic isn't serious. We have tools. We must use them sufficiently to get ahead of the infection. Only then can we breathe a sigh of relief that we are through this."
The county executive said he will work with all of those of goodwill even if they have sharp differences of opinion but will push back vigorously against those propagating lies and conspiracies.
"This administration will fight to protect democracy and the rule of law and the right of the will of the majority of the people to be followed and not subverted by any angry minority willing to end democracy with force of arms and violence," Latimer said.
Jenkins preceded Latimer's address with brief remarks, stating that his top issue for the next four years will be addressing the housing challenges facing many Westchester residents. He applauded Latimer for including $50 million toward affordable housing initiatives in the 2022 budget.
"I am privileged to walk through the doors of the Michaelian Office Building, and I know that every day we have the opportunity to make a positive impact and make a difference for the people of Westchester," Jenkins said.
There were several taped tributes from various elected officials including U.S. Sen. Chuck Schumer, Attorney General Letitia James and state Senate Majority Leader Andrea Stewart-Cousins, among others.
"George is cognizant of doing the right thing and it reflects in his style of government," said Stewart-Cousins, who served on the Board of Legislators when Latimer was chairman and served with him again in the state Senate. "He focused on making county government more inclusive and responsive to what the people need and want."