Latimer Proposes $2.4B Budget for 2024 With Flat Tax Levy
News Based on facts, either observed and verified directly by the reporter, or reported and verified from knowledgeable sources.
We are part of The Trust Project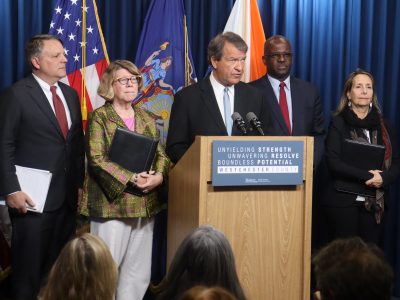 Westchester County Executive George Latimer released his $2.4 billion budget proposal for 2024 last week that emphasizes affordable housing, environmental-related initiatives and public safety while asking for no change in the general tax levy from the current year.
Latimer, touting the improved fiscal outlook from the three major ratings agencies – Standard & Poor, Moody's and Fitch – over what it was when he took office in 2018, said the county is in sound financial shape but warning signs from Albany regarding the state's finances could impact Westchester.
Moody's rated the county Aa1 and Standard & Poor AA+ with stable outlooks while Fitch pegged the county at AA+ with a positive outlook.
"We have made a commitment, both the legislature and the executive, over the last number of budgets, that we expect to be fiscally sound and practice what we preach to (the) people of Westchester County," Latimer said.
"That fiscal prudence has no ideological attachment to it. The people of Westchester County, whatever their political beliefs are in their own private lives, in their professional lives, are people of accomplishment and skill and they expect to see budgets that are properly balanced, budgets that properly address the issues at hand."
If the levy remains the same, this would end the streak of four consecutive reductions. Latimer stressed the levy represents the general budget and not special districts.
Key components of the county executive's proposal include $50 million for new land acquisitions and any needed infrastructure improvements to make a property suitable for the construction of new affordable housing. Up to another $50 million would be placed in an Affordable Housing Investment Flex Fund, which the county could use to close a funding gap that limits the development of affordable housing, Latimer said.
Westchester has seen an additional 2,500 new affordable housing units in nearly six years with another 4,000 units at various stages of the approval or construction process, he said. However, that is still well short of the 11,000-plus affordable units recommended for the county years ago in a study by Rutgers University.
To address environmental needs, Latimer has proposed a $20 million investment next year for electric vehicle charging stations at county parking facilities. Another $5 million has been set aside to help municipalities enhance their EV charging capabilities.
"So it's not only what we do ourselves on county-owned facilities, but what we do to help local governments expand that infrastructure," Latimer said.
To address the devastating flooding that has plagued parts of the county, the budget proposes hiring a director of flood mitigation and resiliency and to set aside $500,000 for consultants to speed the implementation of flood mitigation and affordable housing projects.
Latimer's budget pledges to fully fund the emergency preparedness and public safety.
Two ongoing priorities for the current administration have been initiatives to enhance the Department of Community Mental Health (DCMH) and bolster economic development strategies.
For just under $1 million, Latimer is hoping to expand outpatient clinic capacity to address waitlists for the DCMH.
Nearly $8 million would be set aside to assist in economic development, tourism and minority women-owned businesses. Among the larger proposed expenditure would be $3.7 million to support programs such as the Launch 1000, Biosciences Accelerator and Element 46; about $1.5 million is earmarked for the Downtown Improvement Grant to help communities bolster their downtowns and to support local businesses; and $2.1 million of American Rescue Plan money to promote county tourism.
Latimer said the county government does not develop housing or economic opportunities but its role is to help other organizations achieve that goal.
"We work with the business community and developers to try to enhance this because the rising tide lifts all," he said.
Near the end of the Nov. 9 press conference, Latimer handed the budget document off to the leadership of the Board of Legislators that will review the spending plan. He said he expected he would have to make few, if any, vetoes, even if there are some disagreements.
Jewel Williams Johnson, chair of the Board of Legislators' Committee on Budget and Appropriations, said the work on next year's spending plan begins this week.
"We on the Board of Legislators will review the budget with a lens focused on fiscal stability and what really matters to the people of Westchester County, the quality-of-life issues…no matter what level you're at," Johnson said.
Adoption of the final budget is expected next month.
There have been two public input sessions and a public hearing scheduled on the budget. The public input sessions are scheduled for this Thursday, Nov. 16 at the Warner Library, located at 121 N. Broadway in Tarrytown, at 6 p.m. and on Monday, Nov. 20 at the Chappaqua Performing Arts Center, located at 480 Bedford Rd. in Chappaqua at 7 p.m.
The public hearing will be on Wednesday, Dec. 6 at 7 p.m. in the legislative chambers of the county office building in White Plains.