Latimer Hopes to Oust Astorino, Open Next Chapter in Political Career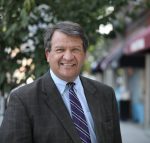 If George Latimer is successful next week in his race for county executive, it would suggest that 13 is his lucky number.
After starting out on the Rye City Council in 1987, county government is where the Democrat served for 13 years as a member of the Board of Legislators, including four years as chairman. In 2004, he was elected to the state Assembly representing the 91st District for four terms before spending the past five years in the state Senate.
Throughout his 30-year political career, Latimer has never shirked from a fight, and he wasn't about to turn his back on one in what has turned into a nasty battle with County Executive Rob Astorino.
"Rob is a terrific politician. He really gets it," Latimer said. "He really understands what moves people – anger, fear, how to hate your opponent, how to manipulate the process. What he's not good at is running government. This job to him is a steppingstone, to advance a political agenda."
Latimer, 63, has set out to puncture holes in Astorino's zero taxes pledge, arguing that many residents have actually seen their taxes rise in real dollars because county sewer and refuse taxes for many have risen. Along with the unpredictable equalization rate, the county's financial picture isn't so strong despite six years of a flat tax levy and one year with a 2 percent reduction, he said.
Furthermore, Latimer argued that Astorino's pledge to never raise the tax levy has resulted in a fiscally stressed county, citing the recent state comptroller's office report, while Moody's reduced Westchester's bond rating in July.
"I have made no commitment to raise taxes upon entering as county executive," said Latimer in fending off allegations by Astorino he would raise taxes. "Instead, I intend to have the state comptroller's office come down and do an audit of our operations."
Latimer said Astorino's pledge to never raise the tax levy has led to other dubious financial decisions, including trying to push through last fall a 40-year, $140 million no-bid contract to monetize Westchester County Airport to plug a $15 million hole in the 2017 budget. After the initial year, payments would have fallen to $5 million annually before shrinking to $2 million a year later in the agreement.
Meanwhile, a private operator would likely press for an increase in passenger limits, resulting in more flights and jeopardizing communities and the environment, he said. The county should raise capital to make the necessary improvements at the airport, not surrender control of the facility.
"We actually have privatization (today). What you're talking about it is actually monetization," Latimer said. "What they're trying to do is break into the piggy bank."
Latimer said he would also take greater responsibility to work with municipalities to share services. He criticized Astorino for not putting an adequate effort into the state's mandatory submission of a shared services plan last month. In that plan, Westchester identified only about $1.2 million in potential savings, while Ulster County, for example, exceeded that with one-fifth of the population.
"Rob doesn't want to cooperate with state government in any way, shape or form," said Latimer, who added that he has greater familiarity with Albany to reach out for help. "He plans to manage state government but not do something that he didn't want to work with. I saw it as an opportunity."
He predictably ripped Astorino's handling of the affordable housing settlement. Frequent sparring with the monitor and continued failure to submit an acceptable Analysis of Impediments cost the county $25 million in Community Development Block Grants.
"He fought elements of the implementation on ideological principle," Latimer said. "He likes to say he was standing up for Westchester. To be correct, he was standing up for his ideology."
Regarding the Immigrant Protection Act, Latimer said he would consult with law enforcement and elected officials around the county as soon as he's in office to see what's working and how policies can be improved. While Astorino's executive order bars law abiding individuals from being questioned on their immigration status, Latimer doesn't want someone stopped to be quizzed after jaywalking.
"I certainly don't want our police, our county police officers, to do the work of the federal government," Latimer said. "I don't want Joe Arpaio policing in Westchester."
Latimer said he's optimistic that an energized Democratic base as well as increasing awareness of Astorino's decisions by the public that run counter to Westchester values.
"All of us do get some shelf life after you've been around so long and there's a series of decisions he's made that for the Democratic base is very controversial," he said.