Latimer Calls for Utilities' Leadership to Resign for Storm Response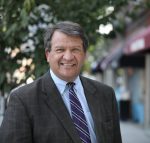 County Executive George Latimer has called for the resignations of Con Edison's and New York State Electric & Gas's (NYSEG) presidents accusing the utilities of having "fumbled the recovery effort" after last Friday's storm.
As many residents entered the sixth day without power while hunkering down for a major snowstorm, Latimer said Wednesday he will bring together Westchester's state and county legislators and municipal officials in White Plains Friday in a show of solidarity to demand change.
He planned to call for the ousters of Con Edison President, CEO and Chairman of the Board John McAvoy and NYSEG President and CEO Carl A. Taylor. Latimer also wants to see a house cleaning of senior management of the two entities.
The county executive accused the utilities of being woefully unprepared for the Mar. 2 storm, which was forecast to be severe at least a few days before it hit, and for inept communication with the public and officials after the damage had been done.
"I listened to enough, and we have put up with enough," Latimer communicated in a letter on Wednesday afternoon to officials around the county. "We are all tired of Con Edison and NYSEG's excuses. There are human beings out there – and we are given statistics instead of real world services."
During a Wednesday morning briefing, Latimer said NYSEG had reduced its number of customers without power to 1,516 while Con Edison had 9,911 customers still out. That number was expected to jump with as much as 12 inches of heavy, wet snow piling up during the afternoon and early evening.
In fact, just before midnight, NYSEG, which serves some of the county's most northern communities, reported on its website that the number of customers without power jumped to more than 15,000 in Westchester. No firm numbers were available for Con Edison.
However, hard hit communities had enough of its residents without power that around-the-clock emergency shelters were open and warming centers, which had been set up last Saturday, were still operational. Somers had its shelter still operating at the Heritage Hills Activity Center, Mount Pleasant was operating a 24-shelter open at Town Hall at least through Wednesday night and North Castle was continuing to have its emergency shelter at Hergenhan Recreation Center in Armonk open. In addition, a warming center at the North White Plains branch of the public library was also open around the clock.
North Castle Supervisor Michael Schiliro reported Wednesday night that about 1,000 customers were still without power as of yesterday afternoon, down from a high of 2,825 shortly after last week's storm subsided. That number ballooned back above 2,000 following the snowstorm.
However, that number was expected to rise with reports of more trees and utility poles falling because of the snowstorm. There were at least a dozen locations of fresh road closures Wednesday.
He said restoration work was suspended once the snowfall picked up.
New Castle, another hard-hit town, continued to have widespread outages on Wednesday. Some residents still without power were notified on Tuesday that they might not have their power restored until Friday.
Last weekend, NYSEG and Con Edison projected that 90 percent of its customers would be back on line at about 11 p.m. Monday and Tuesday, respectively. That has now been pushed to Friday.
Latimer said the utilities' leadership must be held accountable for its failures.
"The way this world works, if I was in charge, I'd have been voted out of office every second or fourth year," Latimer said. "If I was, as I once was, an employee of Nestle and ITT, I'd be brought in and be fired. We're all tired of the excuses."