Lanza Major Player in Helping to Transform Peekskill
We are part of The Trust Project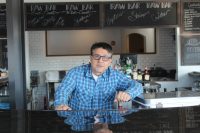 To say Louie Lanza is a mover and a shaker would be an understatement.
Over the last four years, Lanza, 54, has purchased a handful of buildings and opened four restaurants in Peekskill. His fifth eatery, Eagle Saloon, is opening Friday to the public on Division Street, next to his popular Hudson Room. In the summer, he is planning to open an Italian restaurant next to the Peekskill Train Station.
"I can make a difference here," Lanza said during a recent afternoon at Fin & Brew, located on the second floor of the Factoria at 5 John Walsh Blvd, which he and his partners, John Sharp and Scott Vaccaro, opened without much fanfare earlier this month.
"I love it. I'm here for my kids," the father of three young sons said. "I can't keep sitting still. We own this city. You can't let politicians dictate what's happening in the city. There's plenty of room for everything. I can only lead by example."
Lanza grew up in northern California in Silicon Valley before moving to Greenburgh when he was in the fifth grade. He returned to California after high school and went to culinary school. He also went to engineering school for one year, following in the footsteps of his father, but quickly learned it wasn't his cup of tea. "I was miserable," he said.
While working in restaurants seven days a week, Lanza had an opportunity as a 21-year-old to get involved with a restaurant venture with nine other partners that never opened. However, in 1985, when he was 23, an investment in a Cajun restaurant on the upper east side paid off handsomely, and Lanza was on his way to "making big money" in the 1980s and 1990s with a slew of well regarded dining destinations in Manhattan.
"We worked hard, and we played hard," Lanza said.
However, when Wall Street crashed about 10 years ago, Lanza said, "I knew it was time to get out of Manhattan. I was tired of being in Manhattan."
Lanza was already familiar with the Hudson Valley having purchased a 40-acre property in Garrison in 2005 that he and his wife, Joni, turned into Lanza Farms, which sells goat cheese that he uses at his restaurants and has 1,000 maple trees for syrup.
He also obtained an 11-acre site in the Village of Buchanan that he turned into the Hot Rod Hotel, a storage and maintenance facility for collectable and performance cars, boats and motorcycles. Lanza owns about 40 classic cars, which he often puts on display at area car shows.
Lanza then set his sights on commercial properties in Peekskill. After selling a penthouse in New York City for several million dollars, Lanza bought the building where Hudson Room has developed a loyal following. He also purchased buildings on North Division Street, North Water Street and Hudson Avenue, the latter which renovated to house Taco Dive Bar and Buns and Bourbon.
"They were in bad shape. I almost had a heart attack," Lanza said of the buildings on Hudson Avenue. "It was a tough couple of years."
Lanza also became a key player in the renovation of the waterfront structure where The Factoria and Spins Hudson now exists and is on the verge of a finalizing a 15-year lease with Metro-North for his future Stazione pizzeria and saloon in a location that has been vacant for many years.
But the wheels in Lanza's head are still turning. He said he would like to turn the workmen compensation building in Peekskill's downtown into a 40-room upscale hotel, with an art museum on the first floor.
In addition, Lanza said he is planning to start a Peekskill Business Council to use as an entity to address the Common Council with concerns about parking, signage, garbage and other issues.
"I want people who believe in the city that its future depends on common sense," Lanza said. "What motivates me is people in Peekskill approach me for what I'm doing. We have shown much good faith in Peekskill. There's a lot of power in the business community. I'm in Peekskill. I want to be here."
Lanza said the secret to his success comes from simple advice he received from his parents. "Don't think you're a big shot. Treat people like you want to be treated."