Lakeland's Section 1 Unbeaten Streak of 210 on Line vs. Greeley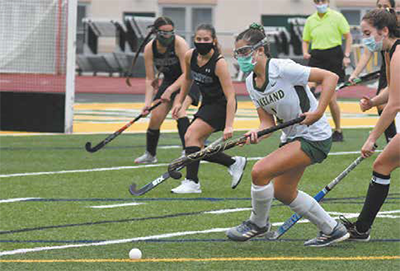 By Ray Gallagher
Examiner Sports Editor
@Directrays
Section 1 field hockey coaches are patiently awaiting a decision from the proverbial bigwigs sometime this week regarding the playoff formats. Unconfirmed reports (aka rumors) seemed to indicate a regional postseason rather than a sectional playoff, one that looks something like this: Dutchess bracket (all classes combined); Rockland bracket (all classes combined); 2 Putnam/NorthernWestchester brackets (large school/small schools); 2 Southern Westchester brackets (large school/small school). It's not what we were hoping for when we entered this COVID-19 abbreviated season, but the hope is to crown as many as six regional champions within the section by late November. It's better than nothing.
Cancellations and postponements continued to be the order of the day last week with many schools in remote learning and student athletes in quarantine due to the coronavirus.
CLASS B
LAKELAND (6-0) has been untouched, in fact, unscored upon through six wins, in which the defending NYS champion Hornets have combined to outscore their opponents 43-0. Lakeland dominance was due to be put to the test Thursday when they host 2019 NYS Class A runner-up Horace Greeley Thursday before taking on perennial Class A powerhouse Mamaroneck Saturday. What a stretch for the Hornets, beginning with a Greeley outfit that many believe is the team to beat in Section 1 this year. What's on the line: Lakeland hasn't lost to a Section 1 foe since losing to Putnam Valley in the 2008 Section 1 Class B title game, going 207-0-3 in that span. That is not a misprint. Greeley was one of those ties, and the Quakers could end it all Thursday.
The Quakers are likely smelling blood in the water, given what they return; a ton of explosive offensive talent, and a defense that has allowed just one goal this season.
"They are very good and their attack is their strength," Lakeland Coach Sharon Sarsen said of the Quakers "It doesn't help that we are without our best defender, Kristen O'Shea, so this will be a huge challenge for us. They are the top team in Section 1 and it will be a great experience for us to play and learn from them."
If Lakeland finds a way to survive Greeley and Mamaroneck and extend this unprecedented streak after all it lost to graduation, the superlatives would be unfathomable. Either way, a tip of the cap is due. Plus, we wouldn't be bringing this up if it weren't an issue worth bringing up.
In a 4-0 win over John Jay CR last week, seniors Keirra Ettere (2G, 2A) and Emma Fon (1G) and junior Jaden Ray (1G,1A) did the bulk of the damage on offense while sophomore G Celeste Pagliaroli (3 saves) notched her sixth shutout of the season.
BREWSTER's Ashley Goodliffe continued a solid season with a hat trick in a 4-1 win over HEN HUD. Bear G Kate Vaughan had 10 saves. But the Bears could not sustain that momentum in a 3-0 loss to SOMERS.
CLASS A
GREELEY went off in a 4-1 win over John Jay CR, the Quakers (5-0) putting 30 shots on goal. Lily Schoonmaker, who is making a bid for player of the year, banged the board twice and Natalie Laskowski and Hannah Lee each scored once while Grace Arrese and Cat Salamida each set up a goal. Greeley G Siena Jarrin had three saves and, remarkably, allowed just the first goal against the Quakers this season. Greeley will prep for Lakeland by taking on Somers Tuesday. A win over Lakeland Thursday would go a long way toward developing additional confidence in what could be a championship season of some kind.
MAHOPAC and CARMEL got after one another on Saturday with bragging rights on the line between the two bordering rivals, but that determination will have to wait after a 2-2 deadlock. Mahopac (5-1-1) looked gassed in the early part of the fourth quarter, allowing the Rams to force the issue and come from behind to salvage the tie on a fourth-quarter corner.
Mahopac senior Krista Dietz scored a goal and set up another while Emma Rooney added one goal. Carmel star-in-the making Laila Rosenquest scored twice for the Rams. Rosenquest scored a hat trick and dished two assists in a 7-0 win over Ossining earlier in the week. Claire Bumgarner added two goals for the Rams, who also beat John Jay EF 2-1.
Mahopac also defeated RCK, 3-1, behind a goal and two assists from Dietz, who set up Marie Camastro and Tatiana Moran.
In a 7-0 win over Ossining, Mahopac saw Dietz score two more and single goals by Carly Ravoli (1A), Ava Jennings (1A), Camastro, Moran (1A) and Annie King.
CLASS B
PLEASANTVILLE took a 3-1 decision from BRIARCLIFF when both Caitlin Rubsamen and Ryan Sullivan notched a goal and an assist and Maeve McCourtney added another. Lexa Halpern scored an unassisted goal for Briarcliff, who was under a lot of pressure in front of G Gianna Gailani (13 saves). Izzie Baxter had four saves for the Panthers, who also suffered a 2-0 loss to mighty North Salem. The Tigers had 10 corners, putting the P'Ville defense under constant pressure.
JPEG Captions: RAY GALLAGHER PHOTOS