News Based on facts, either observed and verified directly by the reporter, or reported and verified from knowledgeable sources.
Lakeland Serves Notice to Class A; Briarcliff Upsets Valhalla
We are part of The Trust Project
By Ray Gallagher, Examiner Sports Editor @Directrays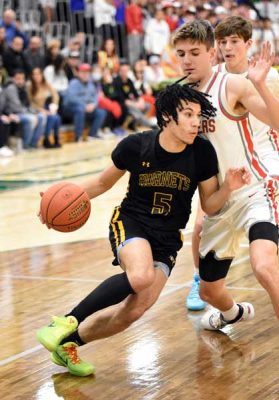 Friday night within 'The Hive' at Lakeland was supposed to be epic, and it was for about a half. Host LAKELAND and SOMERS have but one gold ball between them (Somers, 1992), but you could just sense that both Coach Steve Fallo's state-ranked (No.9) Hornets (12-1) and Coach Chris DiCintio's state-ranked (No.18) Tuskers (8-2) expect to challenge for the coveted Class A crown on March 5th at a site to be determined.
Before a jacked-up crowd, the current No.1 (Lakeland) and No.5 seeds (Somers) got after one another like a sectional title was on the line throughout the first half, but it was Lakeland who signed, sealed and delivered a convincing 62-45 triumph when Lakeland senior G Chris Whyte-Luciano, who is looking every bit the part of the best player in the Examiner region, dropped a game-high 25 points on the Tuskers. C-Whyte nailed five 3-pointers while junior teammate Grady Leonard (14 points) and senior F Logan Shiland (11 points) were legit complementary scorers. Additionally, Whyte-Luciano was straight-up fire on defense, limiting Somers sniper Matt Fitzsimons to a season-low seven points with a little help from his friends.
"Defense come first," said White-Luciano, who averages close to four steals per game. "I was always taught that growing up. My dad put that in my head, defense comes first, and coach drills that into us at practice everyday. We can only score off defense first and getting stops. As a team, we take great pride in that. I think we can go pretty far. Our goal since last year was to set out for the gold ball. As a team, we were heartbroken last year when we lost to Lourdes and we've worked all year to get to a place where we can win a gold ball. We are all looking forward to the Panas game (today). We all went to middle school together, we're all friends and family, so that game is going to be really fun."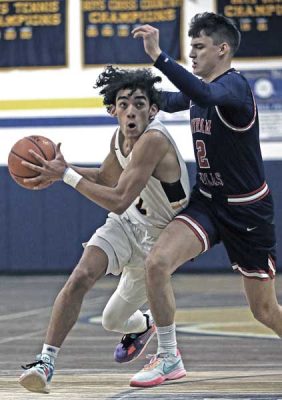 With 29 teams in the Class A field this winter, eight of the current top 13 seeds are Examiner-area schools, including Lakeland, Somers, No.3 PANAS, No.6 FOX LANE, No.7 YORKTOWN, No.11 HEN HUD, No.12 HORACE GREELEY and No.13 BREWSTER. Several, like Lakeland, are still looking for their first gold ball, which we'll dive into in this gold-ball piece.
Lakeland leads the list of Class A contenders and figures to give state-ranked (No.5) Tappan Zee a handful should it play out, though Class A is an absolute beast in 2023.
"It's crazy how tough it is," Lakeland Coach Steve Fallo said. "Any night, any team can beat anybody, 10-12 teams at least. You better be ready to play or you're going to get beat."
But with White-Luciano in the fold, the Hornets are in it to win it for the first time ever.
"Chris is that good, what you saw tonight, he's that good," Fallo said. "He said before the game, I want 10 (Fitzsimons). He said, 'Coach I got him' and look what he did. He's just as good a defensive player as he is on offense. His numbers are off-the-chart good. What separates us from other teams right now is our defense. We have guys that go 7-8-9 deep in the rotation willing to play defense like that. We're very unselfish. Guys let the game come to them."
Somers was led by Dylan Ingraham (11 points) while Mac Sullivan and Brady Leitner scored seven apiece.
Whyte-Luciano helped the Hornets secure their ninth straight win in a 58-46 win over Pearl River, finishing with 20 points. Leonard added 12 points and Sean Perry sparked the Hornets with nine off the bench.
Somers also defeated Eastchester, 80-70 despite Fitzsimons picking up two first-quarter fouls. He failed to score in the first quarter, but finished with a game-high 29 points. Nate Cohen rescued the Tuskers from a miserable start, getting 14 of his 16 points in the first quarter.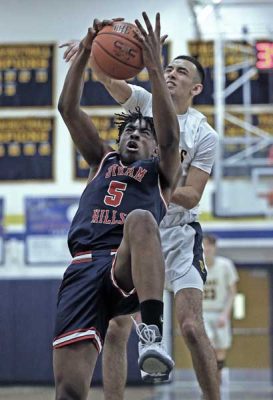 State-ranked (No.21) Panas couldn't pull away but did manage a 56-48 win over Class B BYRAM HILLS. Senior G Alex Tavarez continued to tack on to his all-time scoring record with a game-high 31 points and Tyler Greene added 14 for the Panthers (10-1), who won their last Section 1 title in 2014, just their second ever (1997). The Bobcats also fell to state-ranked (No.5) Class A Tappan Zee, 59-33, so you know Coach Repa's state-ranked (No.24) club will be battle tested as they head into the Class B sectionals.
State-ranked (No.22) Yorktown worked an 86-60 win over Briarcliff to open the week. Brandon Montero (14 points, 6 rebounds), Justin Price (13 points) and Kaden Gonzalez (12 points) led the Huskers (9-3), who's only sectional title came back in 1971. The Huskers also worked a 71-48 win over Sleepy Hollow behind Billy Feeks (23 points), Montero (21 points, 9 rebounds) and Gonzalez (13 points).
Yorktown finished the week with a 64-58 loss to Pearl River despite solid efforts from Montero (20 points) and Feeks (17 points).
Fox Lane was impressive in its 41-33 league win over Class AA WHITE PLAINS, who saw Matt Toscano go for 12 points and three assists for the Foxes (8-2), who last one the big one in 2016, taking out mighty Mt. Vernon for its third sectional title since 1970. Big Niko Dent added eight points and 15 boards while Chris Redhead added eight points and seven rebounds for the Foxes, who limited Tiger hotshot Menzy Carden to seven points. Luke Brooks led the 16-time Section 1 champion Tigers with 10 points while Miles Johnson scored seven.
Fox Lane also took down Port Chester, 53-38, as Dent did a double-double with 14 points and 11 rebounds. Toscano facilitated and finished (14 points, three assists) and Charlie Shevick fill the stat sheet (13 points, four rebounds, three assists).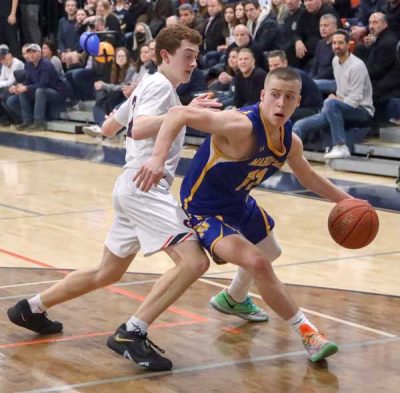 MAHOPAC, the current No.20 seed, handled visiting John Jay-EF, 69-57, last Thursday when Jake Couzens (21 points), Liam Scanlon (12 points, 10 rebounds), John Kearney (11 points), Danny Koch (9 points, 4 rebounds, 3 steals), Joey Koch (8 points, 8 rebounds) and Daniel Dedvukaj (5 points, 6 rebounds) collectively played one of, if not the finest, game of their season.
"I was so happy with our toughness – physically and mentally- and our composure," Coach Matt Calabro said of the Indians, who have yet to hoist a gold ball in the history of the program. "That is the team I know we can be. We executed really well on both sides. John Kearney was all over the floor, Jake Couzens hit big shots, Liam Scanlon has been playing great basketball and continued his strong play last night. And Joey and Danny give us everything they have night in and night out. We had great contributions from the bench as well."
Couzens was at it again in a 58-53 win over GREELEY, leading the Indians to their finest effort of the season with 21 points.
"Our guys were really up for this one after losing to Greeley two weeks ago," Calabro said. "I really like the way we are competing together. We had a great week this week when we really needed it. Our backs are against the wall early in the year and we have become closer and tougher because of it, which is a credit to our guys.
"Greeley is well coached and has a couple different guys who can hurt you," Calabro added. "We know (Justin) Potack is a great player, and we wanted to do our best to limit him. If he gets going, Greeley is tough to slow down. John Kearney did an unbelievable job on him, and his teammates had his back the entire game. We won two tough road games in 24 hours, from Dutchess to Westchester. I'm very proud of how hard our guys are working. We had 12 assists as a team, and just three turnovers as a team."
Scanlon added 13 points and 12 rebounds and was extremely active. Danny Koch had nine points and five assists against the Quakers, who won its second Section 1 title in 2020 (1980).
"Danny really did a great job organizing us and keeping us composed," the coach said.
Joey Koch had seven points and seven rebounds and anchored the Indians defensively.
Ethan Galub led the Quakers with 20 points. The Quakers handled Saunders, 85-42, earlier in the week when Filip Vujanic and Potack dropped 15 and 13, respectively, for the Quakers (7-4). Zach Boyriven went for 11 points while Jesse Goldfarb and Benji Ricardo (10 points apiece) rounded out an attack that had five double-digit scorers.
Rye handled HEN HUD, 59-53, when the Sailors (7-4), who have never touched the gold ball, saw Michael Gagliardi and Gino Wamack lead the Sailors with 16 and 15 points, respectively.
With 18 Section 1 title plaques and gold balls scattered about the hallways of PEEKSKILL, the five-time NYS champion Red Devils are still trying to inch closer to the form that saw them clinch five sectional titles in a row from 2005-09, which seems like eons ago.
Peekskill, the current No.18 seed, inched a bit closer to its glory days in a 77-52 beatdown of Gorton last week when Noah Whitehead went for a career-high 37 points. Travis Brown added 10 points.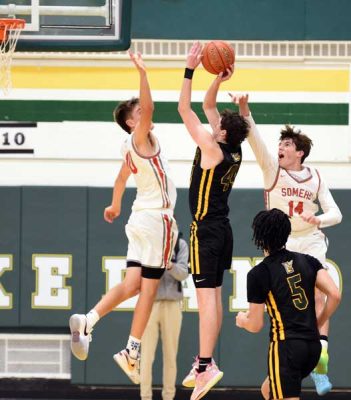 CLASS AA
Greeley handled White Plains, 64-61, when Potack dropped 22 points for the Quakers, who had won 6 of 7 before the Mahopac loss. The bigs were big when Golub added 19 points and Nick Tasso contributed 12 points for Greeley. Carden led the struggling Tigers, losers in three of the last four, with 24 points. Miles Johnson hit for 11 points while Jake Labrosciano (6) and Ethan Senkyire (8) also chipped in. After a 7-0 start, White Plains has dropped four of its last five, so it's time for veteran Coach Spencer Mayfield's Tigers (8-4) to figure stuff out.
OSSINING beat visiting Port Chester, 78-35, when Dominique Bautista put up 13 points and five rebounds for the Pride (6-6), who saw Darien Blalock get 10 points and four rebounds and another 10 points from Jaiden Newton.
Ossining also crushed Saunders, 96-46. Newton dropped 29 points in the win. Dominique Bautista added 12 points for the Pride, who also got seven points and nine rebounds from Blaylock, and additional scoring from Santos (10), Caparelli (9), DaCosta (9) and Shyllon (8).
Ketcham knocked off CARMEL, 46-38, before the Rams (2-9) settled for a consolation victory over Palwing, 58-38, in the North Salem tourney.
CLASS B/C
It doesn't take very long to get a look at VALHALLA before one thinks the state-ranked (No.7) Vikings have enough talent to hold off 19 other Class B challengers and win their first sectional title since former Coach Dave Greiner's club hoisted the gold ball on the County Center floor back in 2009. But, and this is a big BUT, Coach Rich Clinchy's Vikings (8-1) failed to take care of business Friday in a 63-60 loss to 2022 Class B runner-up BRIARCLIFF, after defeating host PLEASANTVILLE, 51-37, earlier in the week.
Surging Briarcliff's Cooper Plank dropped 17 points on the Vikings and Devan Cooper went for a game-high 22 for the Vikings, who suffered their first loss of the season.
The Vikings have, perhaps, the best player in Class B in two-sport star Basiaka Butcher, who scored 22 to lead the Vikings over the Panthers. Silky smooth Viking G Devan Cooper dropped a dime on the Panthers (4-4), who got a team-high 13 points from G Dermot McSpedon and last won the sectional title in 2017. The eight-time sectional champion Panthers will take on a vengeful Westlake team this week and hope to string some wins together in the coming days to secure a top-eight seed and a home playoff game (currently No.11). Westlake has not won a sectional title since 1965, its only crowning moment.
Figuring out Class B is as tough as Class A, while there may not be as many challengers, predicting the winner is difficult.
"As far as the section goes, there is a whole lot of open competition this year.," Valhalla Coach Rich Clinchy said. "Last year, you could probably have picked four of the last five teams when the season began, but I don't think you could do that this year. There are no really great teams, but there are a whole lot of very good teams. Byram Hills and Ardsley come to the B sectional after playing mostly a (Class A) regular season schedule, and so you'd have to give them an advantage based upon the quality of their competition, but I am absolutely certain that with half of our season left to play, there are some "Invisible Losses" hiding out there.
"I have a list of ten possible sectional champions in B," Clinchy added, "the most that I've ever had on any of my lists. And our B league (with Westlake, Briarcliff, Pleasantville, Rye Neck, and Blind Brook) is a mini-version of the Big East with a slugfest almost each game. It's a very physical league with very good coaches, each with unique wrinkles of how they approach each game, and those varying styles make it not only more fun to be part of, but I think prepares all of us well for the sectional tournament. Winning this league is a great goal to have, and one that is very hard to achieve."
Valhalla, though, is strongly in the mix, and will get a taste of it when they see Byram Hills on Jan.25 in what should be a whale of a game.
"I've had this group of 13 for most of the past two years, so we really know each other pretty well by now," Clinchy said. " I downplay the state ranking each day and just say that it makes people want to defeat you even more than ever; but if you want to be a champion you have to welcome the challenge, not avoid it. And that's true in most of life. Just part of the mental toughness that you can learn from sports. Embrace the adversity. We had to wait until the New Year to really see what kind of team we had because we had three concussions, a cracked bone, and a terribly sprained ankle before we even started last November. It has been a somewhat unique situation, but I think we now are finally getting things set; good thing, too, because we are entering a stretch of ten days with six games."
That rigorous stretch began with the aforementioned loss to Briarcliff; again, Class B will be a beast to maneuver. One of the good things about this Valhalla team is that it has had six different players who have scored in double figures thus far.
"We can be erratic," Clinchy said. "There are stretches of great, exciting, fast-paced basketball, such as the 14-0 run (vs. Briarcliff) to begin the second half, and then there are some stretches of ugly basketball. My guys know they could be very good, and they have very high dreams and goals, but consistent excellence and constant improvement from here on will determine how far we go."
In Valhalla's 57-50 win over Bronxville, Butcher helped the Vikings bounce back after the loss to Cliffy. The butcher carved out 20 points.
Five-time sectional champion BRIARCLIFF needed overtime to defeat Westlake, 57-55, behind a game-high 27 points from Jason Rosenbaum for the Bears (6-3), who snagged three titles between 2007-18, are always a threat to do so again as the current No.4 seed.
Jack Neglia had 20 for the Wildcats and Nick Castellano added 16 points in the loss.
State-ranked (No.24) BYRAM HILLS, which has won two Class A Section 1 titles since 2011 (3 overall, 1978), are the current No.7 seed after dropping two in a row.
HALDANE took full grasp of repeating as League III-D champions when the Blue Devils (8-4) knocked off league foes CROTON (6-6) and PUTNAM VALLEY (4-7) last week. If the six-time sectional champion Blue Devils take care of business down the stretch, III-D is there for the taking before they bounce toward a major Class C undertaking against odd-on favorites Tuckahoe and defending champ Hamilton with Coach Joe Virgadamo's Blue Devils hoping to snap a six year dry spell after the great three-peat (2014-16).
Against league foe Putnam Valley, which has never won a sectional title, the Blue Devils trailed throughout the game before eking out a 51-44 road win. Down six points, Haldane wing Ryan Eng Wong (13 points) drilled back-to-back 3's. Haldane senior G Ben Boszik (15 points) hit four clutch free throws and senior swingman Matteo Cervone added four of his 14 points in the final 1:53, including a home run ball of a full-length in-bound for the final margin. James Apostolico led the Tigers with 13 and Hudson Sperrazza added 11.
"PV really brought it tonight," Virgadamo said. "We need to learn to play four quarters."
In Haldane's 66-62 win over Croton, Cervone dropped a game-high 27 points while Matthew Nachamkin added 17 points. Bozsik and Eng Wong combined for 17 more. Aidan Callahan led the four-time sectional champion Tigers (1934, 1936, 1942, 1945) with 16 points, but it's been 78 long years since Croton hoisted a gold ball.
"We were up 18 in the beginning of the fourth and a tough and well-coached Tiger team made it a game by the end of the fourth," Vigadamo said.
In Haldane's 69-62 win over Washingtonville Saturday, Cervone went off for 28 points. Nachamkin added 13 points and Bozsik and Eng Wong had nine apiece for the surging Blue Devils, winners in six of the last seven.
In Putnam Valley's 55-41 win over North Salem, sweet-stroking sophomore James Apostolico netted a game-high 18 points. The front court was bolstered by the play of Hudson Sperrazza and Sean Holzman, who went for 15 and 14 points, respectively.