Lakeland Approves Property Tax Exemption for Veterans
We are part of The Trust Project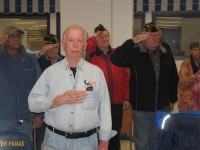 An estimated 1,500 households with veterans who served during wartime or in a combat zone or have a service-related disability will pay lower school taxes in the near future after the Lakeland Board of Education approved a tax exemption last week.
The board's 7-1 vote came two years after Governor Andrew Cuomo signed a bill giving school districts the authority to offer the exemption. Lakeland was one of the last districts in the region to adopt the provision.
"I'm not asking you folks to do this because we deserve it. I'm asking you to do the right thing," said Armin Merkle, 77, an Army veteran who served in Vietnam and has lived in Cortlandt for 38 years.
Starting in the 2017-18 school year, the tax savings for veterans will range from $317 to $1,583 annually, while non-veteran homeowners will experience a tax increase of .75% to 1% (approximately $55 to $110 based on a home's value) since the exemption will redistribute the tax levy in the district.
The veterans' exemption will also provide a tax break for certain family members of veterans, including spouses and un-remarried surviving spouses. Gold Star parents, who lost a child who was serving in the line of duty, may also qualify.
More than 150 veterans and supporters packed the Walter Panas High School cafeteria last Thursday to urge the board to pass the exemption.
"It's very expensive here. A lot of the veterans are leaving the area. The taxes are too high," said Neil Gross, a retired Lt. Colonel, a Lakeland graduate and a resident of Mohegan Lake. "We need your help. We gave up our blood, sweat and tears for you. It's the right thing to do."
"My generation is heading south. They can't afford to live here," said William Nazario, a U.S. Marine Corps veteran and head of the Cortlandt Veterans Committee. "Look at all the other school districts. They're all passing it. What do you have to lose? Show us you care. Don't be the last holdout."
Lakeland board members Steve Korn and Elizabeth Kogler criticized the state for putting the burden on school districts to approve the exemption.
"I very much resent what New York State did. We shouldn't be putting one set of taxpayers against another," Kogler said.
Kogler later joined the majority of the board in granting the exemption, but Korn held firm and cast the lone opposing vote.
"I wish the State of New York had solved this at the state level, instead of imposing it on local school boards," said Korn, a school trustee for the last 15 years. "I see this vote as much more than a political or symbolic statement. It has economic consequences. Any tax exemption that treats taxpayers differently I don't support."