Know Your Neighbor: Robert Katzenoff, World War II Veteran/Retired Engineer, Briarcliff Manor
We are part of The Trust Project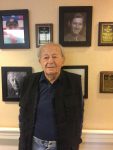 Listen to Robert Katzenoff speak about his military service and it's easy to understand why his generation is called The Greatest Generation.
The World War II veteran, a U.S. Army medic from 1943 to 1945, was captured by the Germans while he was tending to wounded American soldiers during the Battle of Hurtgen Forest, the longest ground battle of the war in German territory.
Katzenoff, who would be awarded a Silver Star and a Purple Heart, spent close to seven months in a prisoner of war camp surviving on scraps of nearly inedible food.
Today, at 96 years old, much of the same toughness and spirit he needed to display during his Army days and which helped him to survive, surfaces more than 70 years later.
"If my mother had been attacked, I would defend her," Katzenoff said. "This country, I love her. If they get attacked, I'll be the first to go again."
Born and raised in the Bronx, Katzenoff was attending North Carolina State College studying general engineering when the United States entered World War II. He was told to report to his draft board and be prepared for his number to come up. That Katzenoff would be called was never in question for him – it was only a matter of time.
Once he was called during his junior year in April 1943, he was sent to Patchogue, L.I. for training where he and other servicemen got into shape mostly by walking, starting at five miles a day, then reaching 25 miles in eight hours. He was sent to Europe later that year.
"I wore glasses all the time and I think that was one of the reasons why they put me into a medical unit," Katzenoff said of becoming a medic. "I'm not sure, but I think so."
He served on D-Day in June 1944 and a few months later found himself in the Hurtgen Forest, a lesser known World War II battle for many Americans but arguably the bloodiest. It was waged in rugged terrain in increasingly cold weather.
"It wasn't so much a battle as it was a struggle against nature," Katzenoff recalled.
After a particularly rough fight, Katzenoff stayed with a group of wounded soldiers.
"We didn't have any sulfur to keep the wounds clean and here I had six or seven guys lying on stretchers in the mud, in the cold, in the dark," he said. "I couldn't tell who was alive and who had passed on."
It was there Katzenoff was captured by the Germans and sent to a prisoner of war camp. Because of the Germans' dwindling manpower, the camp was actually run by British officers who had been captured during the Battle of Dunkirk four years earlier.
Late in his stay, a nurse asked the soldiers for their home phone numbers so their families could be contacted.
"(My parents) didn't know I was alive until the nurse had taken our phone numbers, called and told them I was alive," said Katzenoff, an only child.
Upon his release in April 1945, Katzenoff was given $300 back pay and a two-month furlough. He finished his service in North Carolina where he washed linen in a hospital's maternity ward.
Katzenoff would be awarded the Silver Star and Purple Heart, the same honors that his father, a World War I veteran, earned a generation earlier.
He returned to North Carolina State to finish his degree before moving back to New York. He would become a homebuilder, marrying his wife, Norma, in 1950. They eventually moved to Rockland County where they lived for close to 40 years and raised two children. He also has four grandchildren, one great-grandchild and another on the way.
Katzenoff, who moved to the Atria in Briarcliff Manor about five years ago, said he didn't believe he had any ill effects from the war, but his thoughts have periodically turned to the wounded men in the forest.
He acknowledged that he had a longtime battle with alcohol that his daughter, Joanna Cohlan, believes may have been related to his wartime stress.
However, that never diminished Katzenoff's ability to be a great father and someone Cohlan has always looked up to.
"It's amazing. It's hard for me to believe, but I do believe it," she said of his service. "I know it. I have his Silver Star and his Purple Heart."
Katzenoff said the fact he survived through dysentery, injuries and infection and has had a long and rewarding life is almost miraculous.
"I feel like I have an angel looking over me," he said.