Know Your Neighbor: Robert Bonvento, Actor/Writer/Publisher
We are part of The Trust Project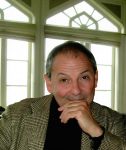 Everyone handles getting older differently. As Robert Bonvento approached his 70th birthday, he decided to use his talents to help himself and others gain a greater perspective about aging.
A writer and actor who has transitioned into and out of varied careers, Bonvento interviewed eight people all at different stages, ranging from a six-year-old child to a 103-year-old.
Using music, audio, photography, videography and his own spoken words, he weaves their stories into one-man multimedia show, "Aging – a Bad Rap," this Sunday at Tarrytown Music Hall at 2 p.m.
"It's what they've dealt with, how they've handled some of the tragedies, what have been some of their successes, what they hope to accomplish, what they feel they have accomplished and we just basically talk about their lives in a very, very personal way," said Bonvento, now 71.
Aside from different ages, Bonvento, who was raised in Tarrytown and graduated from Sleepy Hollow High School, looked for people with varied experiences. Some of the people featured in the production he has known personally and others were introduced to him to interview.
"Each individual that we contacted and we sat down with, has such a rich life and such an honest life within them that there was so much interaction there," Bonvento said.
"What I found is that each one of these people that we contacted, they unfolded like layers of onions," he added. "Some of them make you tear up, but they just had such depth to them."
The production is a benefit for Hope's Door, the Pleasantville-based nonprofit that combats domestic abuse and assists victims with a range of services. That choice of charity is not by accident.
The show blends two – or maybe three – of Bonvento's careers into one effort. After serving in the Army and graduating from the University of New Hampshire, Bonvento earned his master's degree and became a counselor in community mental health centers in the 1970s. He worked with people battling substance abuse or had experienced physical abuse, sexual abuse and depression.
His career was rewarding – he had always wanted to work in a "helping profession" – but the difficult situations he encountered took its toll. By late in the decade he needed a different outlet where he could escape – and found one.
"When I had done that work for a while, I had the need…to take a break from that for a while, so I took an acting class in the evening and it was an improvisation class," said Bonvento.
The acting class and subsequent instruction turned into his next career, a 12-year period where he worked on stage in various off-Broadway productions and in television. His first big break occurred when he auditioned and was accepted as a writer who also hosted an on-camera segment for PM Magazine, one of the first television entertainment shows. Originally picked up by one of the networks, it was later shown in the New York area on Metromedia, the forerunner to Fox on Channel 5.
While Bonvento could hardly believe he got that job, the best was yet to come. He met a casting director for the popular soap opera "All My Children," and snagged a recurring role as a restaurant maître d, which lasted six years.
"As an actor, you're always looking for work," he said. "Unless you're nailed down with a multiyear contract and doing pretty nicely, you're always looking for work."
Bonvento moved to Los Angeles for some other television opportunities, and had a role in a film "Private Wars," which was shown on HBO.
He and his wife, a nurse, and their two children longed to return to New York, but Bonvento no longer wanted to endure the grind of constant auditions. Instead, he decided to start a local newspaper in 1997. Now, 20 years later, the monthly River Journal, covering Tarrytown, Irvington, Sleepy Hollow, Briarcliff Manor and Ossining, has carved an important niche in those communities, Bonvento said.
"I decided to look and see how I could use my talents and do things that were meaningful to me," he said.
Presenting this Sunday's show is next in the string of many meaningful endeavors for Bonvento. He said he isn't nervous about his return to the stage because he knows exactly what he wants the show to be.
"I want it to be a high-energy, sensitive, comedic and unpredictable show," Bonvento said. "That's what I want it to be and it has every opportunity to be that."
Tickets for "Aging – a Bad Rap" are $25 for adults and $15 for seniors and students. Tickets can be purchased by visiting www.tarrytownmusichall.org or by calling 877-840-0457.