Know Your Neighbor: Nathalie Dembele, Stella & Dot Independent Stylist, Mt. Kisco
We are part of The Trust Project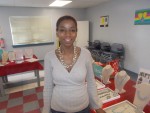 Given the uncertainties of the modern job market, finding your entrepreneurial side might not just be a luxury but a necessity.
Nathalie Dembele had a longtime desire to be in business for herself, yet her search was hastened by a downturn in the economy.
About eight years ago, Dembele moved to Mount Kisco while working in the Human Resources Department for PepsiCo in Somers. Soon after she was out of a job, laid off just as the recession was hitting full force as corporations shed payroll and millions of lives were turned upside down.
Dembele, who was born in Paris but moved to New York with her parents as a child, was always interested in fashion. Several years ago she established her own knitwear company while working various full-time jobs, including as store manager at Frannie's Goodie Shop in downtown Mount Kisco.
But it wasn't until two years ago that Dembele recognized a great opportunity by coming across a youtube interview. The subject of that interview was Jessica Herrin, a California mother of two children who had started the company Stella & Dot. Stella & Dot sells boutique-style jewelry and accessories but attracts women as its salespeople who are trying to raise children and who need the income but also the flexibility to work within their family's schedules.
"I've always been interested in entrepreneurs and how to become successful and I watched this interview with Jessica Herrin, who's the CEO of Stella & Dot, and I was really impressed with how she carried herself," said Dembele, the mother of an eight-year-old son.
Since April 2013, Dembele has transitioned into the role of independent stylist quite well. She sells jewelry–Dembele describes the merchandise as "affordable luxury"–and accessories, such as scarves, wallets and handbags. Stella & Dot's items range from $14 to $250 with more than half of the collection under $50, she said.
"What I really enjoy the most is seeing people step outside their comfort zone and try on items they wouldn't necessarily try on because it's discreet," said Dembele, a Fordham graduate who studied economics and business administration.
What Dembele also likes about the company aside from attractive and affordable products is that it encourages its partners to engage to be socially responsible. As many as eight times a month she engages in outings for charity. Depending on how much merchandise is sold, the hostess collects rewards points, which are donated to a specific organization.
Last Saturday, she was selling merchandise in the community room at Pinecrest Manor where she lives to help raise funds for the free programs that it offers its residents, such as the computer room and a place for children to go after school before their parents arrive home.
This Saturday, Art of Dressing in Mamaroneck has donated its premises for a show and all of the rewards will go to My Sisters Place. Dembele said she looks to hold eight trunk shows a month along with hostess events and vendor shows.
Not having to pressure customers into sales and meet quotas also makes it an enjoyable experience for her.
"It's not about making a quick sale because in the long run it'll do me a disservice," Dembele said. "I want to forge a relationship. Maybe the person won't make a purchase today, but they can trust me the next time they need something."
Dembele, who still has family in France but hasn't been back since 2006, said she feels fortunate that she did not follow her first inclination to move out of Mount Kisco once she lost her job at PepsiCo.
Her son enjoys going to West Patent Elementary School and on weekends he often accompanies her on her outings to see customers or go to shows.
"Little businesses like this, little entrepreneurs give life to the local economy because the income that I make goes back to the town, to the economy here," she said. "I shop here, I live here. When I got laid off from Pepsi, I thought of moving but I stayed here. I like this community, I love Mount Kisco. I love that it's a family town."