Know Your Neighbor: Kim Fotovich, Executive Chef, Mt. Kisco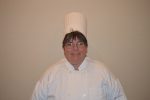 Kim Fotovich is accustomed to working long hours. Most of the time her marathon schedule, sometimes upwards of 60 or 70 hours a week, doesn't feel like much of a job at all.
That's how much Fotovich enjoys her role as executive chef at Holiday Inn Mount Kisco, where she oversees the facility's catering operations, Mount Kisco Events, and its on-site restaurant The Hub. She took over in November, promoted from sous chef.
"I don't consider this a job," said Fotovich, 51, a nearly lifelong Mount Kisco resident and Fox Lane High School graduate. "It's just a pleasure coming here. I really do enjoy what I do and with the great staff that I work with, the catering staff, Ms. Loretta Brooks, I mean she's awesome."
Fotovich has loved cooking since childhood. Most of her culinary skills were learned at home under the tutelage of her father, who did all of the cooking for the family, which also included Fotovich's mother, brother and sister.
"He was just your normal everyday cook and he taught me everything I needed to know," Fotovich said. "He's Hungarian, so I learned how to make Hungarian goulash the right way, stuffed cabbage the right way."
Enjoyment of cooking was also passed on to her siblings. In fact, Fotovich's sister is her morning chef at Holiday Inn.
The love of experimenting and creating delicious meals continued for Fotovich into adulthood. Unlike many of her peers in the restaurant and catering world, she never had any formal training for her chosen profession.
After a brief period of employment at Northern Westchester Hospital at 22, Fotovich started her restaurant career when a friend helped get her at job at the old Tumbleweeds, a Southwest-style steakhouse in Katonah. It was working the kitchen there when Fotovich realized it should be her life's work.
"From there on, I knew it," she said. "This is what I love to do. I love to do platters, make them look pretty. I just love everything about the aspects of cooking. I love it all."
Fotovich moved on to PJ's Restaurant, a bar and pub with American fare in Mahopac, before landing at Holiday Inn 14 years ago. Initially, she was the morning chef, getting to work by 5 a.m. and finishing by early afternoon. For someone who needs no more than five to six hours of sleep a night, it was a schedule Fotovich enjoyed because she had the rest of the day to herself.
About three years ago, Fotovich was elevated to sous chef. During her time at Holiday Inn, with the help of supervisors and colleagues, she's refined her skills and felt ready to lead the eight-member restaurant and catering staff.
"I had a great mentor here before he departed, Juan Carlos," she said. "He said you'll make it one of these days because you love what you do, and I think that's what helps me go on and try new things because I love what I do."
Now as executive chef, it's Fotovich's responsibility to not only staff the shifts but make sure the operation runs smoothly while periodically coming up with new offerings. She said in recent years there's been rising demand for gluten-free products and vegetarian and vegan selections.
While The Hub offers dishes that are unique to the restaurant, by the middle of next month Fotovich and Holiday Inn are scheduled to unveil a revised menu to create something new.
"It's going to knock the socks off of the people coming in," she said. "I'm excited, I'm very excited."
Currently, a few of Fotovich's standout dishes are the chicken saltimbocca, fried halibut, the Queso burger and butternut squash ravioli with an amaretto cream sauce sprinkled with walnuts on top. She said the restaurant's roasted potatoes and vegetables are favorites.
Some of the same dishes are available on the catering menu but in larger portions.
With Fotovich's long hours, it is helpful that she lives five to 10 minutes from the hotel. She is the primary caregiver for her elderly mother, so it's fortuitous that she doesn't have to travel far.
Fotovich counts her blessings that she does something she loves so close to home and is deeply appreciative for the opportunity.
"It's a great company," Fotovich said of Roedel Companies, the firm that operates Holiday Inn. "They have a lot of faith in me and I'm grateful for that. They took a chance and I think it's paying off. I know it's paying off."