Know Your Neighbor: Jun Seok Yoon, Computer Scientist, Chappaqua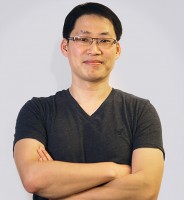 Jun Seok Yoon's dream was to start a business. He figured the best way to accomplish that goal was to find his way to the United States from his native Seoul, South Korea.
He began applying to master's programs at universities throughout the U.S. in 2002, eventually choosing  Stony Brook University because it has an excellent computer science program, was close to New York and accommodated international students.
The move was a natural progression for Yoon, after earning his undergraduate degree in computer engineering and initially working as a software engineer.
"After finishing my college degree at Chung-Ang University and working for a software company in South Korea, I wanted to become an entrepreneur and the United States is the best place to start a business from scratch in terms of infrastructure and environment," Yoon said. "In order to make it happen, I first needed to learn how to speak English, understand the new culture and build a network while developing my technical skills."
While Yoon acknowledges he's still adjusting some to American culture, he was able to grasp the new language and his skills flourished. After completing his post-graduate studies, Yoon worked for nearly a decade in computer engineering for several different companies in the metropolitan area.
About a year-and-a-half ago he became a co-founder and chief technology officer for the Manhattan-based Culinary Agents, a networking and job matching website dedicated specifically to the food, beverage and hospitality industry.
The company, which currently employs about 15 people, was launched by CEO Alice Cheng. Culinary Agents uses technology to help the industry find talented candidates to hire and fill almost any type of job opening, including executive chefs, cooks, sommeliers, social media managers and administrative and office help, Yoon said.
Individuals can create and post their profile to the company's website and employers can create a business page and market their company to job seekers in the industry at no charge. If an employer wants to post a specific job opening, they can choose one of Culinary Agents' plans with various price points, Yoon said. Over 6,000 businesses currently use Culinary Agents for their hiring needs, including more than 65 percent of all Michelin-star rated restaurants in the U.S.
Yoon, whose work ranges from simple engineering tasks to high-level platform architecture, said the company is filling a critical void. Over the past 10 years, the food, beverage and hospitality industry has evolved to where there are more opportunities for ambitious cooks to choose from, and not just in restaurants.
"Unfortunately with the increase in non-restaurant opportunities readily available to aspiring chefs, the restaurant industry is feeling most of the pain," said Yoon, who also lived in Jersey City, Harrison and New Rochelle before settling in Chappaqua with his family. "Businesses are finding it hard enough to find talent with the right foundational skills and attitude and so in many cases they have reset their expectations."
Yoon, 40, said a varied number of establishments in more than 30 markets across the U.S. are using Culinary Agents' service – upscale restaurants, fast-casual eateries, caterers and hotels. Since October, the company has had a presence in France and Italy and this month they're entering the United Kingdom.
Through the 1990s, technology was an exciting area for Yoon to pursue, realizing he could help solve real-life problems.
"I have always been curious regarding how things work together and how that can be applied to the real world," said Yoon, who met his wife while at Stony Brook and has two children. "Especially when search engines like Yahoo and Google became more popular in the late 1990s, I wanted to understand the logic and algorithm behind listings and tried to manipulate their functions to create another application."
In addition to being on the ground floor of a still young company, Yoon recently received another thrill. In December, he learned he was on a list of distinguished Stony Brook alumni to be honored with the school's 40 Under 40 Award. According to the school, the honorees represent some of the university's most creative young professionals.
Yoon doesn't know who nominated him for the award but was grateful that in his last year of eligibility he was recognized.
"I'm deeply honored to receive this award because it's a kind of certification on my career history as an entrepreneur and technologist," Yoon said.