Know Your Neighbor: Jodi Baretz, Psychotherapist/Holistic Health Coach, Millwood
We are part of The Trust Project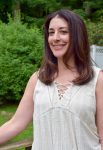 Jodi Baretz was through striving for perfection. Unrealistic expectations spawned by viewing others' lives through social media, societal expectations of always needing to succeed or the obsession with attaining the perfect body or having the perfect family has led to an abundance of stress and unhappiness.
"It's just an experience," Baretz said. "We don't have to look at everything as good or bad or right or wrong. It's just experiencing life and enhancing it instead of struggling with imperfection."
Between battling her own life's daily struggles or listening to her clients in her integrative psychotherapy and holistic health coach practice at Mount Kisco's The Center for Health and Healing, her experiences led her to write a new book, "Mindful is the New Skinny: 10 Transformational Steps to a Lighter You Inside and Out."
Just because her livelihood has centered on helping people overcome their challenges doesn't inoculate against getting caught up in bad habits. Baretz said even writing her book – released in print last week – about reducing stress and anxiety caused her too much stress and anxiety. So instead of finishing the book in time for an originally scheduled March release, she took a few extra months.
"I had to regroup and recalculate because when we're not paying attention we go back to our old programs," Baretz said. "We go back on autopilot and I got caught in that. Even though I know all the information, I got caught. I was perfectionistic, I was beating myself up. I was being judgmental. I was not spending time with my family and I realized it."
Baretz's evolution into practicing and supporting mindfulness, as she calls it, started in earnest in 2003. Although she had no symptoms, she was diagnosed with celiac disease. Baretz was forced to change the way she ate and started to pay attention to many things in her life she took for granted.
As a result, Baretz, already a therapist, started counseling clients on gluten-free diets, but needed to return to school to learn more. She enrolled in the Institute for Integrative Nutrition, which not only helped her to assist people with their diets, but to understand the entire body and how the mind and the body work together. That is when Baretz learned how one's mindset and stress level play a crucial role in their health.
During a mindfulness retreat, she and other attendees were told to meditate for 45 minutes Essentially, meditation is "a brain-training exercise," she said.
"Never having meditated before I raised my hand and said this was the most torturous experience," recalled Baretz, a 20-year Millwood resident. "I can't believe I signed up for five days of this. By the end of the retreat I was able to discover the benefits of mindfulness."
Baretz spent most of her years growing up in Rockland County, before her family moved to Florida while she was in high school. She graduated from Emory University in Atlanta. Upon graduation, moved back to New York and began her professional career as a social worker, employed in the adolescent inpatient psychiatric ward at Bellevue, before moving on to Beth Israel and other major New York hospitals.
After marrying, she put her career on hold and later turned to counseling. Once she finished her schooling at the Institute for Integrative Nutrition, that's when Baretz realized a healthy mind and body are linked.
"It just all came together," said Baretz, who has two sons, one in college, the other in high school. "I had the psychotherapy degree. I heard about the institute but I also was always interested in the mind, so it all came tighter for an integrative approach."
For the past four years, Baretz has been one of a number of counselors who has office space at The Center for Health and Healing. Most of her clients are women, many of whom are stressed, frustrated or anxious, often about weight, but also about the unspoken pressure of striving for perfection, she said.
It's all about changing mindsets. If someone exudes confidence, it usually doesn't matter if they have a few extra pounds.
"So once I began changing their mindset, they were eating to be healthy, exercising to be healthy, to improve themselves because they loved and cared about themselves, not because they had an extra five pounds," Baretz said.
Baretz will be speaking on Tuesday, June 26 at the Chappaqua Public Library at 7 p.m. about her book. It can be purchased at Amazon.com. For more information about her practice, visit www.jodibaretz.com.