Know Your Neighbor: Joanna Mosca, Country Music Singer, Bedford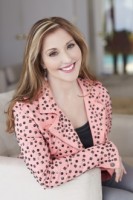 You wouldn't expect a country music singer to grow up in Connecticut and live in Westchester County. But much about Joanna Mosca's ascent in her music career has been out of the ordinary.
This summer Mosca's third EP, "Have a Little Mercy," will be released, following up on the success of her first two works, a self-titled debut album in 2010 and "Let It All Begin" in 2012. "Let It All Begin" featured the single "Dream on Savannah," a song about the emotional toll bullying has on children. The EP helped get Mosca named as an artist to watch by the country music website CMT.
Mosca credits her parents for helping her to realize her love of music and for allowing her to hone the skills that would eventually lead to a professional career. Her mother urged her to take piano lessons as a child growing up in West Hartford, while her father, who Mosca described as having had an outstanding singing voice, never pursued his musical dreams.
Mosca recalled her dad bringing home a record one day that opened her eyes and ears to a different kind of music.
"It was my father and he loved to sing but never got to do that professionally," Mosca said. "He liked to listen to a lot of different types of music and he brought Patsy Cline into the house."
Mosca performed in school concerts, and at 13, formed her own all-girl band with friends while teaching herself how to play guitar. She acknowledged she wasn't very good, but like a lot of teens playing in bands had plenty of fun.
As Mosca went through high school and onto college, music took a back seat to a seemingly more reliable pursuit. She went to Western Connecticut State University in Danbury, then earned her master's in hospital administration at Yale. For about seven years, as she married, had two sons and moved from Connecticut to Pound Ridge and then finally to Bedford with her family, Mosca worked as a nurse.
It was her father's death more than a decade ago that reignited her desire to return to her first love–creating music and performing. Still, it was far-fetched to believe that she would become an increasingly in demand artist now sought by a collection of notable Nashville-based songwriters and producers.
"I never thought I was going to be a singer, there never was that opportunity to become a singer, and I was married, working, raising a family," Mosca said. "But I think I got a little bit of a push from beyond."
She left her nursing career with the blessing of her husband, a published poet, and enrolled in acting classes at HB Studios in the city and took voice lessons as well. Mosca's first taste of success was between 2006 and 2008, when she released three well-received singles on her own music label.
From there, Mosca found work in three one-woman shows Off Broadway that earned her praise from reviewers. In the shows she not only acted but sang, which helped to further showcase her talents.
In her debut EP in 2010, Mosca wrote six of the songs, including the single "Keep on Going," which reached Billboard's Adult Contemporary Top 30. Although she enjoys listening to Adele, Bruce Springsteen and The Beatles, among many other pop and rock artists, country music allows her a greater opportunity to relate more stories about life, including her own, Mosca said.
"I'm not 18 anymore," she said. "I've had a life outside of music for a while so it gives me more to sing about."
For "Let It All Begin," she hooked up with Grammy Award-winning artist Bryan White, who produced the EP. Originally, she was supposed to sing a duet with White on the release but that had to be scrapped because of contractual complications with his recording label.
Now, with her third EP set for an Aug. 19 release, Mosca has become a well-known talent in country music circles, with songwriters sending her material in hopes she will record their work. Meanwhile, she hopes to resume recording some of her own songs soon.
About the only drawback is that living in Westchester Mosca has to make frequent trips to Nashville, the center of the country music world.
"The problem is you're not there, you're not performing there regularly," she said. "We're not in the coffeehouses."
Given her unexpected rise in the industry, it's a problem that Mosca can live with.